Anaïs Mitchell @ Latest Bar, Brighton 13.11.16
Storied US singer-songwriter makes a rare visit to these shores and puts in an outstanding performance on the South Coast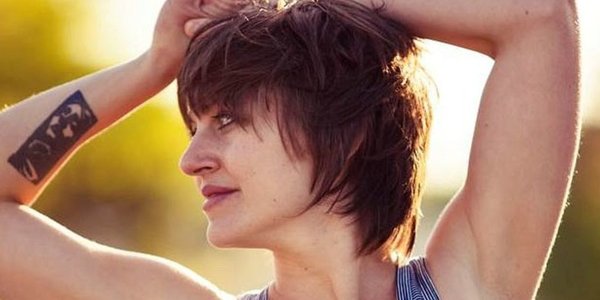 If recent name checks at gigs are anything to go by, American singer-songwriter
Anaïs Mitchell
is channelling the zeitgeist. In the past month, I've seen her lauded as co-writer of thought-provoking migration music theatre show
Flit
, and three days before this Brighton gig, Billy Bragg and Joe Henry's storming appearance by the sea saw them choose Mitchell's Why We Build The Wall as their riposte to the election of Trump.
And it's here again tonight on its route to becoming an anthem of post-Trump protest, delivered with fantastic poise and precision – though not before Mitchell has struck a beautifully judged note with her opening number, coming on stage and without a word of introduction launching into a gorgeous rendition of Leonard Cohen's Suzanne.
"First Trump - then Leonard Cohen goes and dies" she says with resignation when she finally addresses an adoring Brighton crowd - even if Mitchell's melancholia at world events makes for a downbeat opening few numbers before things pick up strongly.
The set seamlessly mixes Mitchell's own songs with others from the folk canon old and new. There are a few from her ongoing
Hadestown
project, which recently received its New York theatrical premiere - the best bringing acclaimed Brighton musician James Smith up to join Mitchell to provide mandolin and vocal harmony accompaniment on a fantastic version of Wedding Song.
This is followed by the arrival of another fine Brighton musician, Sharon Lewis, to create spine-tingling three-part harmonies on Dyin' Day, followed by the potent torch song Changer.
The highlights come thick and fast now. Two Kids offers its engaging Syrian back story and Arabic verses drawn from Mitchell's youthful travels in the Middle East, while Come September exemplifies her ability to be sad and joyous at once.
Cosmic American offers further joy in melancholy, while making its case to be one of the most perfect songs written in the last decade.
Mitchell is joined on stage by outstanding Celtic singer Jarlath Henderson – BBC Young Folk Musician award winner this year, and the night's support act – for a loose, almost jazzy recorder and acoustic guitar take on Wilderland.
For an encore, Mitchell's call for requests delivers a resounding vote for Tailor, duly delivered in brilliant style. "Sad songs make me happy," she says at one point in the set. And though the songs are often sad, the experience is far from it.
She doesn't play this side of the pond that often, so please go see Mitchell on the remaining dates of this UK tour in London, Bristol, Gateshead, Selkirk and Edinburgh.