Allo Darlin' @ The Cellar, Oxford 01.03.12
Allo Darlin' crept into The Cellar in Oxford to tease their adoring followers with a handful of new songs from their forthcoming album alongside some already-vintage sounding tracks from their debut record.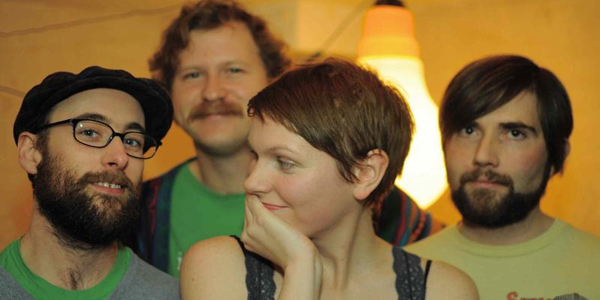 With Allo Darlin' bassist Bill Botting also playing guitar in the hilariously fun duo
Moustache of Insanity
as one of warm-up acts, the evening was off to a jovial start. Moustache of Insanity make gleefully playful music about fantasy dinner parties, sending postcards to strangers and choruses that consist entirely of horror film screams of "Aaaaaaaarrrrggggghhhh, Nooooooooooo."
Allo Darlin'
bounced onto the stage and brought a little sanity back to the world. They opened with 'Capricornia', the first track to have been let loose from their forthcoming album,
Europe
. It's nothing radically different from what has come before from them, but it does feel like a small step in a different direction. The original twee-indie sounds from the first record are still there, but 'Capricornia' throws in some jangly guitar riffs over the top, evoking comparisons with the likes of Neutral Milk Hotel.
A few other unnamed new tracks get an airing and one slower song in particular really stood out. The lyrics were about missing someone who is far away; it was played with such emotion and meaning, it really connected with everyone squeezed into the venue.
Lead singer Elizabeth Morris leads the group with such an enigmatic presence. She flips between playing electric guitar and a ukulele; there's something so wonderfully joyous that comes with watching someone really rock out with a uke in their hands. Moments like these come along frequently with tracks like 'Polaroid Song' and 'Dreaming'. Allo Darlin's bigger moments on record sound even more widescreen on the live stage.
The encore featured a couple more of these big 3D moments. 'Kiss Your Lips' offered up a kind-of mirror reflecting into another mirror moment, as the crowd sings along with Allo Darlin' lyrics, while Allo Darlin' are singing old Weezer lyrics. The show finished with 'My Heart Is a Drummer' which features more foot-stomping indie-pop fun. Best of all is that this was Allo Darlin's 11th consecutive show in 11 days, and they were clearly still having such a great time playing their music. With a new album on the way, 2012 is promising to be a big year for Allo Darlin'.