Allo Darlin' @ Proud Galleries, Camden 25.08.10
Feeling tired and sick Bearded drags itself across London, into the hazy red-lit fug of the Proud Gallery, Camden, and takes it's place in front of the stage. After a short delay and some geek-based banter from Elizabeth and Bill, Allo Darlin' launch into their opener 'If Loneliness Was Art'. As the opening chords and bouncing base washes over me, entwined with the lyrics 'If loneliness was art, I could hang you from the wall', suddenly the fug of smoke and the heady scent of Red wine isn't too much. It is just enough to support the weight of the energetic Indie melodies that resonate through the audience.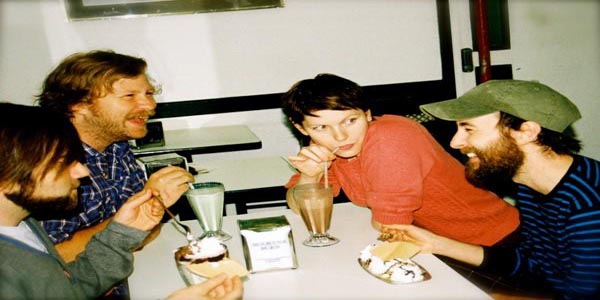 Creating a sunny disposition in all of us on this, the most wintery of days, the love of the music they make is contagious and can be seen most openly in the way Bill hops up and down whilst cradling his bass guitar. A difficult feat to play and hop, but he manages it nonetheless, as Elizabeth joins in, ukulele in hand and a childlike sense of play in her voice as she sings a song 'about physics'. There is the underlying sense that this gig is a tribute to loving the geek inside you!
A personal favourite track arrives in the shape of 'The Polaroid Song', which perfectly captures the whimsy and wonder that is encapsulated in every instant photo that springs from the mouth of the vintage machine. There is something about Elizabeth as a front-woman, like the impossible love-child of Lisa Loeb and Kirsty MacColl; with the vocals to match, she is positively glittering with a refreshing confidence, feeding into the band as a whole, brimming as they are with open smiles. The audience participation of this gig is phenomenal, as a couple engage in an impromptu jive stage right, and Paul expertly riffs into the seminal classic 'Walk Like An Egyptian'. After a few cheeky bars of the cheesy tune we are plunged back into the closing lines of Polaroid. Receiving a particularly large burst of applause from the crowd, the energy on stage seems to double and fill every gap in the venue, expanding like shaving foam.
Ending with the beautiful 'My Heart Is A Drummer', Elizabeth leads with the Uke, as Mikey kicks in with a staccato rhythmic trip on the drums. In lyrics like 'As i am preparing myself to say farewell to my pride again, I remember how it was back then,' it is clear that this is a song which perfectly depicts just what these guys are about, seizing life, regretting nothing, and having a damn good time whilst they are at it! The fluidity of their style on stage is fantastic to watch. It puts you in mind of the kind of uninhibited prancing you would do in your bedroom unobserved, though toned down so as not to cause any damage to instruments or each other! With lyrics, riffs and beats which are at once childlike in joyousness, and mature in structure and delivery, one can go in feeling less than grand, and come out full to the brim with optimism and energy. Allo Darlin' are a definite must-see for anyone who likes music, and whimsy; so that's everyone right? Yeah, thought so...