Alela Diane @ The Louisiana, Bristol 07.07.13
Californian singer-songwriter in stunning live form in Bristol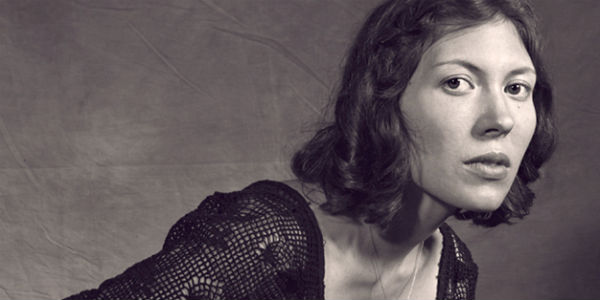 It's a hot balmy night and the air con is very welcome as hoards of eager Alela fans cram into the tiny loft venue with the low ceiling. You can taste that Nirvana once played here, it's an understated venue, with a healthy focus on music. Before her set Alela slips through the crowd, she is polite, humble and wherever she walks the hubbub of quiet conversation falls to revered silence. Respectful eyes watch her, the room holds its breath as she plays.
She opens with 'Tired Feet' the opening track from her second album
The Pirate's Gospel
. There is a beautiful burnished rawness to her vocal. Her voice stays delicately husky, breaking poignantly as it soars. She is half lit by a serene blue light, and she gazes openly at the audience. Her grin is wide and honest, framed by poppy red lips.
Delicate melodic wandering guitar passages entwine around her vocal. There is a real tenderness and honesty to her performance. The acappella passage in 'White as Diamonds' is particularly poignant and resonant.
Alela Diane
also introduces us to her brand new album
About Farewell
which she is releasing on her own label
Rusted Blue Records
this month. These tunes stay in a similar vein with delicious low tones, yearning sweeping highs and fantastically evocative poetry pulling it all together. Her songs paint sketches of very vivid scenes, wreaking of emotion. There is a real finesse to her storytelling. Her forehead puckers and her eyes strain at the memory of what she sings. She gazes beyond us as she breathes each story into life.
'Lost Land' stands out with its lazy vocal, lying heavily against the delicate guitar flurries that shimmer like sunlight. 'The Way We Fall' has a welcome disconcerting discordance to it, and is refreshingly fraught. The guitar is more percussive and stronger than on other numbers.
There is a real sincerity to her music, you can see that she feels every note and the story that she is singing is her song. The gentle broken notes that she rasps add her trademark tenderness. The soothing tones of the rolling guitar keep the sadness that seeps from the vocal from destroying us all.
She's sweet, grateful and charming between songs as well as being very sincere. She has a unique way of drawing out syllables and occasionally unexpectedly slipping rhymes into the middle of lines (most of her lyrics follow the path of meandering meditative prose). There is a rare unity between her voice, her guitar, her songs and her story and her quiet modesty sits at the core of it all.
The sound is exquisite, delicate touches of reverb illuminate the occasion phrase and there is a rich warm clarity to the overall picture.
The audience keep an air of respectful silence throughout the set. Every eye is on Alena. But after her final song the room erupts into raucous and expressive wild applause that transforms the room. As she starts up her encore the silence resumes. She sings 'The Rifle' and her avid fans silently mouth the lyrics along, no-one sings. No-one wants to break the spell that she has cast.
She ends on 'Oh My Ma' adding that "It feels appropriate right now." with a reference to her swollen womb. It's a fitting ending to a profound and intimate experience.