Dirty Dike, Verb T, Fliptrix, Lee Scott & Defenderz Of Style @ West Indian Centre, Leeds (16.10.15)
UK hip-hop label High Focus presents a dazzling evening in West Yorks
Oct 21st, 2015 at West Indian Centre, Leeds / By
Sam Bennett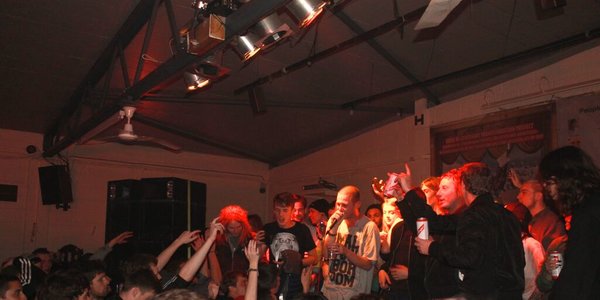 Tonight,
Dirty Dike
and
Verb T
's album tour reaches West Yorkshire. Touring the UK in support of their
Sucking On Prawns In The Moonlight
and
The Man With The Foggy Eyes
albums respectively, along with
Fliptrix
,
Lee Scott
, and local support
Defenders Of Style
, who released their excellent
The Death Of Meaning
album earlier this year.
Prys and Jack Danz of
Defenders of Style
warm up the room before the
High Focus
show. They bring gritty, authentic West Yorkshire hip-hop, to which the crowd are definitely receptive. The haunting and gloomy boom bap of tracks like Mosquito and Moon Moods, both taken from their newest LP, show why they have such a stellar reputation around the country. Danz and Prys both have a style that is based heavily on hard hitting punchlines, and as Old's Cool thunders through the West Indian Centre, the strength of these visibly builds anticipation around the room at rapid pace. Leeds duo
The Northaze
, and familiar WY head Matter also make an appearance during the set.
Lee Scott
opens with Butter Fly, taken from the
album of the same name
which was released earlier this year through High Focus Records with production handled entirely by Dirty Dike. He constantly moves from side to side of the stage, dropping bars with clear experience and confidence. Don't Make Me is now a firm favourite from the
Butter Fly
album judging from the reaction of the Leeds crowd tonight. Lee's authority is on full show as he delivers a swagged out performance of So Cactus, So Owl from his 2014 album, before taking a suitably wavy turn with SMFDB from the
Cult Mountain EP
. Lee raps with precision on Don't Tell Me, switching flows without missing a millisecond of a step. His set mixes newer tracks with some Children Of The Damned material, and the sheer depth and variety of Lee Scott's catalogue is obvious when watching him live, which makes his set really enjoyable. Sell Drugs gets the entire room vibing, and the ultra-energetic Ellesse, Ellesse is a real highlight.
Next up is
Fliptrix
, with Verb T accompanying him on hypeman duties. Graffiti Won't Die is a reminder as to why Fliptrix has had a long and reputable career; he brings a certain authoritative energy that few can to the live arena. His positive messages and experienced stage show make his set engaging and enjoyable. Fliptrix's capability and skill when dropping bars on grime beats is very under-rated. It's been a part of his albums too, and he shows it again tonight on an unreleased Molotov production. Edward Scissortongue, not actually on the line-up, is also present, and Fliptrix announces that it's his birthday. The crowd sing what's to be expected in the situation, and it's a prime opportunity for a grime cypher and some 'birthday bars', and I'm quoting Fliptrix there. A new Illinformed and Fliptrix collaboration is also debuted tonight, and it's the raw, rough and rugged Flipper at his best. Wylin' Out is another incredibly energetic track, and it's a definite highlight of his set.
Fliptrix swaps to the hype-man role as
Verb T
takes centre stage. T's jazzy and retrospective vibe brings a welcomely mellow change in atmosphere to the West Indian Centre as he drops tracks from
The Man With The Foggy Eyes
, his excellent recent collaboration album with producer
Illinformed
. Verb T's detailed writing and the subtle instrumentation he goes over are the perfect combination, and his experience shows with fantastic crowd control, keeping the room engaged with him as he energetically runs through his set. T's smooth flow is completely in the pocket on every jazzy instrumental, and the crowd is receptive to his flawless live delivery. Fliprix and Verb T hold down some Four Owls tracks, including Burning Vapour, a real highlight of the set, with real authority. The excellent Leave Me Alone, from the
Morning Process
album is clearly a crowd favourite, and the chorus rings out through the Leeds air.
As
Dirty Dike
takes to the stage, DJ Sammy B-Side spins a selection of UK classics, including Klashnekoff's Murda and Blak Twang's So Rotten, as well as some Dead Players cuts to hype the crowd, who are increasingly anticipatory. Opening with He's Getting Judged Like An Idiot, instantly Dike has the crowd on his side. The energy is kept sky-high with Ten Dike Commandments. When Dike drops Mallory & Josephine, from his newest album
Sucking On Prawns In The Moonlight
, he rides a thin line between heartfelt lyricism and the raw enthusiasm he is renowned for. I Ain't Got A Clue, the first single from the new album, is a real highlight of the set, and is met with an overwhelmingly positive reception. Next up is Catch Me If You...Nah, from the
Return Of The Twat
, followed by How Many Dikes, which comes complete with a stage invasion (see above). The title-track from the aforementioned album is another standout, and at the end of the track Dike encourages those on stage to dive back into the crowd. The last portion of Dike's set is fantastic, with tracks like Return Of The Twat and Hi, I'm James reminding us why he's one of the most exhilarating live performers on the circuit.
The headache the next day was definitely worth it; High Focus' shows are always energetic and entertaining, and the music always top quality. Each set was lively, well structured and delivered flawlessly; if you've never experienced a High Focus party, keep an eye on the
site
until there's one you can, trust me it's worth it.
Photos by Seren Heyward Jones