Interview: Verb T
The London MC chats about his acclaimed recent album The Man With the Foggy Eyes and forthcoming UK tour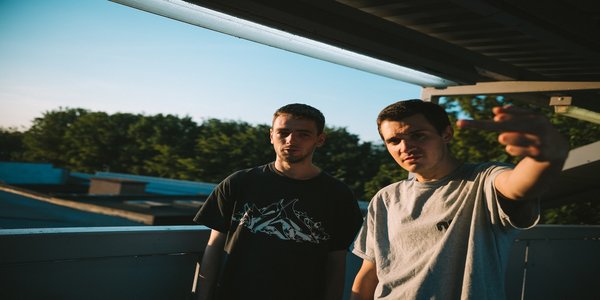 Verb T
has a very extensive discography. He's one of the most recognisable faces in British hip-hop, with a catalogue of quality projects. Part of the High Focus record label, both as a solo artist and with
The Four Owls
, his latest release is a collaboration album with producer
Illinformed
(pictured), entitled
The Man With The Foggy Eyes
. Bearded caught up with him to chat about the new release.
'Yeah, not too bad' says T when I ask how his day's been. 'It's been a nice day outside so I've been out with the kids, getting back into the swing of things after Outlook'. The Four Owls played the Croatian festival the previous weekend. 'It was dope. Saw some stuff I wanted to see, did my show. We did a High Focus boat party which was lots of fun. '
I ask about the honesty in Verb T's music. 'It's not a conscious thing. When I first started, I had a lot of battle raps; the hip-hop 'you' that you aim your insults at. That gets boring, not that I never do punchlines now, but I try to make them fit my point. I put down what's on my mind. If you listen to albums from when I was younger, that's the young me. On my recent albums, I'm talking about my life now. Anyone that's followed me, they've kind of grown up with me'.
I wonder whether he means that the more 'battle' themed lyrics became boring to write, or boring to listen to. 'I suppose both. When I first started, braggadocio lyrics got boring for me to write quickly. I'd assume if I wrote those kind of verses every time people would get bored. I've also written a few story raps; I do try and create stuff outside of the ordinary'.
I ask how he hooked up with High Focus. 'I knew Fliptrix before it existed. A mutual friend put on nights in Clapham Junction, and we played at the same one. I spoke to him after his set; I think some MCs can be stand-offish, but if someone's good and you like what someone's doing you should let them know. He got in touch saying that he'd nearly finished his first album and asked if I wanted to be on it. We did a track for that, which he put it out independently, not through High Focus. We started doing shows together, stayed in touch and became better friends. My first release as an artist on High Focus was with The Four Owls, and that went really well. Then when it came to releasing my solo stuff, it just made sense'.
'Now you've got a lot of people that didn't grow up on hip-hop who have got into hip-hop' says Verb T when I ask about the changes he's seen over the years. 'I think that's got a lot to do with being on the festival circuit. A lot of people have told me that the first time they saw The Four Owls was the first time we played at Outlook. High Focus as a label always play different festivals; you don't always get a hip-hop crowd. Back in the late nineties, it would be a hip-hop audience; you might get some D&B heads at a hip-hop night but there wasn't really much crossing of genres. Now though, there isn't like a cardboard cut out hip-hop head'.
Verb's work with The Four Owls, along with Fliptrix, Leaf Dog and BVA, has received much acclaim; the four-piece have released two albums, including
Natural Order
earlier this year. 'Leaf and BVA came down to London to film a video for Leaf's album, and it featured Fliptrix' says Verb T when I ask how the group started. 'They started to make an EP together. Leaf and BVA were listening to Cypress Hill's Spark Another Owl, they started calling spliff's 'owls'. They asked me to feature on a tune, and I was down. I'm quite quick once I have a set idea for a song. Then they asked if I wanted to be part of the group. We started hanging out a lot more, became closer as people. I think when we make the Owls albums we come together and make something that you might not hear from us as solo artists; it was a fun side project, but it worked so well it became the most popular thing on High Focus'.
Their profile hit new heights with the new album, which included Think Twice, produced by DJ Premier. I ask how that track happened. 'Leaf Dog had produced for Apathy. I supported Apathy and Celph Titled in Bristol, and Leaf came and chatted to Apathy. He got introduced by text or e-mail to Premier; Apathy knows him personally. That's how the initial link happened. There was a lot of back-and-forth. He listened to our music, and wanted to work with us. It took a long time man, it took over a year. It was definitely worth it'.
I ask what's next for the Owls. I mention an RA The Rugged Man collaboration that was mentioned on twitter. 'That's the next thing. We met him in Romania at Airfield Festival. It was crazy; Molotov was DJing for us, and he took over for RA. Rugged Man called us up on stage, we exchanged details. It's happened proper quickly. We've also done some tracks with Champion Sound, a band from Czech Republic'.
Conversation turns to his new album with Illinformed,
The Man With The Foggy Eyes
. I ask how they came to collaborate. 'llinformed is Leaf Dog's younger brother. I've rapped on his beats on other people's projects, but we've never done much together, and I've always liked his beats. He sent me something for his production album which I really felt, and wrote on impulse as soon as he sent it. He wanted to work on an EP. At first I wasn't sure; I was working on the Owls stuff. I said, 'I really like your beats, send some stuff through, I'll see if I get any ideas'. When he sent me something it just fit with what I wanted to write about. I said 'let's do an album', and he was down'.
I ask his approach when writing the new album. 'There are two things. As you mentioned earlier, a lot of what I write is very honest. I wanted to keep that, but have it from a perspective where 'the man with the foggy eyes' is the main character, it's not necessarily me. I'm writing it, so there's going to be my experiences in there, but I wanted it to be from a character's perspective. Not everything on there is literally true, but it's stuff that I've felt or gone through.
I was quite inspired by Scorcese's
The King Of Comedy
; I just liked the mood of that film. Anything from that era; like
Taxi Driver
, where the main character's a bit of a loner, fed up of his situation but determined to make it big in the end. Those films feel quite tragic, but they've got a happy underside.
Taxi Driver
is so bleak, but then the way it turns out', he hesitates, 'I don't want to spoil it for anyone who hasn't seen it. It's the same with
The King Of Comedy
. I wanted to do it like a blues album; finding happiness in your low points. When you're ill and don't feel good, eventually you'll laugh and everything isn't terrible. I don't want to make the album sound completely depressing, 'cause it's not. There's a lot of humour and happier stuff on there, but my initial influence was to do something that came across as quite serious and sad, but the positive message hits you by the end. It was interesting to write because I was working on it over a few years, so it's not about stuff that was going on at one time. I knew the feel of it, I didn't know exactly the content'.
I've always thought your albums are really cohesive, often with running themes. 'I guess that starts from what's going on in my life. Some tunes are a straight up commentary on what I'm going through. I don't really know to be honest. It starts with what I'm going through and then my mind kind of wanders off. A lot of making an album cohesive is down to editing the album. It could have been in a different order, leftover tracks could've been included. They might sound like the best tracks standalone but that doesn't mean they're going to fit together. It's funny because a lot of the time I think my mind's all over the place, you can probably tell from talking to me! (laughs). Hopefully like you'll edit this interview, I edit my albums to make them more cohesive. I think that's how creativity should be; when someone's trying to invent something they won't sit there with a one track mind, they'll think outside the box and have a million crazy ideas, and then focus on one that makes sense'.
With an upcoming album tour, a regular occurrence for High Focus, I ask T how important he finds touring. 'Very'! He says. 'For personal reasons, that's my source of income. Also I think that live shows are as important as the recorded product now. People have everything at their fingertips online. As a kid I'd listen to the same two albums for weeks; now people have got everything in one iPod. Live shows can set you apart. When you see someone live, it stays in your mind and you're more likely to listen to their music; I do the same thing myself. Also, meeting fans, playing festivals abroad; that's what I dreamed of doing when I was younger'.
Verb T appeared twice at Boom Bap Festival this year. I ask if he thinks the festival is important. 'Definitely. If you're a hip-hop artist from the UK, Boom Bap's amazing because you get to meet everyone else. It's good to have something that's kind of 'ours', and that the fans can enjoy; people should support as much as they can if they like hip-hop in this country. If you don't go out to these hip-hop jams they will start to fade away. If there's a hip-hop show in your town, you should support if you can. If Boom Bap can grow towards the level of Hip-Hop Kemp every hip-hop fan in this country is going to be pleased. It's a hip-hop festival, and as a hip-hop fan you should want that. That's why I think it's important as a hip-hop artist and someone who loves hip-hop'.
I wonder what he likes about recording over playing live. 'It's a good question. I love both. I like that recording is the last point of creativity. People think writing is the creative part, and in the vocal booth you're just reciting, but there's creative recording techniques; intonation, adlibs, punching in words. I enjoy that. Rapping along with the beat, you're not listening, you're performing. I love that first listen after I've recorded something. Sometimes things don't pan out, and you're like 'Man, I thought that was going to be a good one'. The opposite is amazing, when you're like 'Ah that verse could be good' but you're not too hot on it. Then something happens when you record, and you listen back and realise how good it sounds. You get to listen to it as a song for the first time. It's an exciting process and I've never really lost that excitement'.
High Focus regularly release music videos, and Verb T has released several visuals for his new album. I ask about his process when creating videos. 'I'll pick a song that's a strong standalone single. I think about, not necessarily a storyline, but how I want it to look. It's not just about being completely literal, sometimes it could be a particular message or style. I think the feel of the video has to match the feel of the song'.
'I think people like to see the MC perform. The video is there to be a performance so that people can enjoy the song, but with a visual there. I appreciate the creativity in certain videos, I just think you should bear in mind that it's also a performance. A lot of iconic videos have just looked right and fit the track. Take Electric Relaxation by A Tribe Called Quest where it's black and white, couple of different locations. It captures the mood of the song perfectly'.
I ask if he thinks it's important to have a video output. They're definitely a lot more common now. 'There weren't as many back in the day', T agrees. 'I think a few were on Channel U. I had one on there with a producer called Ghost, featuring myself and Asaviour. A lot of people found out about me through that. They've always been important. They're an avenue to get noticed. There's tons of competition; a lot of people put videos up on YouTube. You can get decent equipment that's not too expensive. I do think you should study it and work with people who know how to edit and colour grade. Also on YouTube you can have a video of the album cover and the song plays; those get lot's of plays; people go there as a port of call to find out what's going on'.
As I near the end of my questions, I ask what Verbs has been listening to lately. 'I've been listening to Anderson. Paak's
Venice
album, he's on Dr. Dre's
Compton
album'. I ask his feelings on the album. 'It was good but it didn't stay in rotation. I definitely wasn't disappointed. I don't know; it feels like there's not as many classic albums. I came up when all the classic nineties albums were there. You get good stuff now but not in the same way. I don't know why; iPods, people's attention spans, maybe there just aren't as many big albums being made. There is still great music; some people think it's the best time for hip-hop, but a lot of it seems to get forgotten about quickly. Maybe there's too much out there, or people just aren't making those long lasting classics anymore'.
Well that's a depressing note to end on I say. 'What? It's a question though. Some people feel that way about some High Focus music; they still play the first Four Owls record which came out in 2011. There are certain recent albums I still play, like the Celph Titled and Buckwild album. Everyone's got their idea of a classic album. Some people think now is the most exciting time for hip-hop, some think it was the turn of the millennium, some think it's the nineties, some even say the eighties. Everyone's got their own opinion'.
I ask if he's working on anything else. 'I'm producing albums for MoreOne and Chillman. They feature on
The Man With The Foggy Eyes
. I'm working with Madlean on some things. I've worked on some tracks with Pitch from The Mouse Outfit. Kashmere and I are slowly working on a joint thing over Leaf Dog's beats. Kashmere's a good friend of mine, we've worked together a lot over the years'.
With an upcoming album tour in October to promote
The Man With The Foggy Eyes
, and a number of other projects in production, Verb T's excellent discography is far from complete yet. The album is another in a list of great releases for High Focus in 2015, and there's still a few months left.
Dirty Dike / Verb T & Illinformed joint album tour:

October:
7th – Southampton, Junk
8th – Bristol, Motion
10th – Brighton, Concorde 2
14th – Nottingham, Rescue Rooms
15th – Liverpool, Kitchen St.
16th – Leeds, Beaver Works
17th – Manchester, Gorilla