Interview: Jim White
With his latest album Where it Hits You on the stereo, Bearded caught up with Florida's gothic country man, Jim White.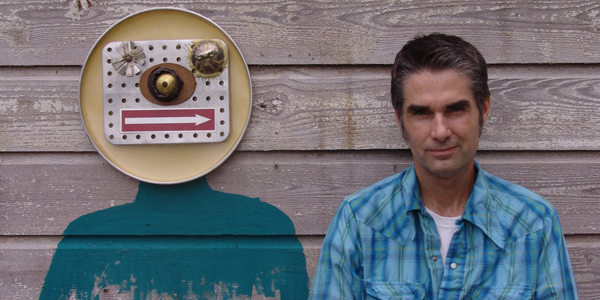 Jim White
is a household name in the contemporary country world and before we go to see him perform at the Union Chapel as part of his European Tour, Bearded took the time to bombard Jim with a barrage of mildly generic questions that prompted some very insightful responses.
Bearded: First of all, thank you for taking the time to complete this written interview. For our readers who aren't so familiar with you, how did you start playing music and writing songs?
Until I was roughly eighteen years old I was essentially an illiterate athlete. I was likely an undiagnosed ADD kind of personality and so spent all my time playing sports, eating a lot of sugar and watching TV. Thankfully at that age I broke the same leg twice in a short span of time and was all but crippled for upwards of 10 months. I had a full length cast on my left leg and couldn't even drive my standard shift vehicle and so was stuck in the house for the most part during that time. I thought I'd go slap loco. By chance a friend of my sister's had left an old guitar at our house and had never returned to fetch it. So out sheer boredom after a few weeks I began to try to teach myself guitar. I would sit for hours a day watching TV shows like 'The Price is Right' and '$10,000 Pyramid', shouting at the TV as I forced my fingers to move through basic chords like D-C-G-A. I'd found a beginners guitar book inside the case and after I'd mastered the simple chords I tried to learn some of the songs therein, but what I played sounded nothing like what I recalled the songs sounding like.
Thinking it a problem with the book, I phoned an acquaintance who was a talented guitar player and asked if he would come over and teach me a song. He agreed and spent the next few hours trying to show me how to play the introduction to 'Stairway to Heaven', by Led Zepplin, which was a popular song at that time. No matter how hard I tried, the notes I played sounded nothing like either the song I had heard on the radio, or what my friend was playing. He told me to just keep practicing and that eventually it would come.
A few days of excruciating experimentation ensued, and eventually it became clear that I had no talent for learning songs on the guitar. It was frustrating, I had gone to all that trouble to learn how to play chords, so I decided to try and see if I could make up my own songs. This was considerably easier. Within a few hours I had written an acceptable melody and started putting words to it. I never looked back from there. I've now been playing guitar and writing songs for over 35 years and am embarrassed to admit that the only song by someone else I know is that intro to 'Stairway to Heaven'. It still doesn't sound right.
B: Who are your major influences, especially as you were developing your song writing skills?
I was deeply influenced by the loneliness, desperation, and isolation I felt as a child. When sports failed me I turned to artistic expression to dialogue with my troubled mind and so sought out artists who were involved in similar dialogues: John Prine, Jesse Winchester, The Temptations, were artists I admired. Later I listened to Tom Waits a lot. What impressed me about these good souls was the beauty they found in the sorrow they confronted. When I wrote songs about my sorrow, they were just sad. But when these folks wrote about them, the sadness was transcendent.
B: What's it like on the tour bus of a Jim White tour? Do you get much time for songwriting whilst on the road?
Tour bus? I believe you have me confused with a successful musician…I'm not Midlake, Wilco, Willard Grant or Calexico. I travel in small vehicles and am usually the driver, the tour manager, merch seller, navigator. When I go on the road the average day is 16 hours long and it's hectic, harried and varied. In this context there is absolutely no time for songwriting. Besides, I need stillness and calm to write my songs. Touring is the least calming activity I've ever done so I tend to write songs after the touring has ended. Then I sit down and for a year, just write song after song. I'm slow, so typically for each record I write maybe 30-50 songs, then whittle them down to what appears on the record.
B: How do you think your new songs on Where it Hits You differ to some of your older material?
Over the years the way my lyric writing has changed the most centers around my eternal vigil to somehow, some way find a healthy path around the colossal roadblock of self. I've talked a lot in my work about my struggles as a human being, and unless that talk is aimed at some constructive end, then what's the point? At times on this record I feel like I slipped away from my keeper and said some thing than might be of value to others, and that's my eternal goal with whatever I do, be of service to others. I've navel gazed long enough. Young men who endlessly navel gaze are called poets. Old men (and I'm certainly inching my way into the heartland of that territory) who endlessly naval gaze are called worthless narcissists.
Musically I'm trying to break away from the template that settled into my music early on. Verse, pre-chorus, chorus done twice, followed by a middle eight section then the same pattern for a final verse and chorus. It's become a predictable frame that I hang around most of my story songs and I'm bored with it. So on this record I tried to mix up that pattern. Songs like 'Sunday's Refrain' and 'Epilogue to a Marriage' are good examples of me breaking away from my traditional songwriting approach.
B: You have often collaborated with other artists and worked as a producer on a number of projects including Dare Dukes just last year. How do you enjoy that side of your career?
I'm looking for ways to employ knowledge and insights I've gained in my struggles to help others. In fact, at this point I prefer working on other folks' material than my own. You get bogged down in your own material a lot more than working on other folks stuff. As you mentioned, I produced a track for Dare Dukes weird wonderful record
Thugs and China Dolls
. He'd been struggling with trying to find a form for 'Simon Says', and asked me to jump in. When I heard the song I knew exactly where it needed to go. It was really rewarding helping Dare lay hands on an ephemeral notion and bring it to life. Likewise last year I produced a record for a Belgian band called Stanton. Two of the band members are now my official European backing band and these guys are some of the best musicians I've ever worked with, particularly the guitarist Geert Hellings, who just kills in every style. Working on Stanton's record was a dream come true. Great material, incredibly focused musicians who wanted my help and guidance but who also knew who they were and where they wanted to go with the material. We worked in my old friend Willem Franken's studio in Holland, so it was a lovely experience through and through and I'm really proud of the Stanton record, which will be out in the fall.
B: How much of the producer role do you take on your own records?
To some extent or another I've co-produced most of the material on my records, I just didn't list myself as such on the credits. I learned so much working with Paul Rabjohns, the producer of my first record, that I'm still trying to put into practice some of the ideas he generously conveyed to me. As I said, I actually prefer producing others work over my own. When it comes time to produce your own material, frequently your take on the song is fixed, ossified inflexible and it takes a lot of undoing to find a way to help the song blossom and become what it needs to become.
B: What records are you listening to at the moment?
Been listening to Abagail Washburn's
City of Refuge
. Beautiful luminous compositions. A unique talent. My 13 year old has me listening to the ubiquitous Gotye record. It's beautifully artfully arranged. Very experimental and off kilter. My 5 year old loves a kids record by an utterly unknown guy out of Orlando named Davey Rocker. It's like Harry Nilsson and the Beatles made a kids record. He engineered some of the songs on my new record and gave me the CD the last day. This happens a lot and mostly ends badly. I figured I'd listen to a track or two then sell it at the flea market for 50 cents. At present I've listened to it hundreds of times, frequently putting it on even when my child is not with me.
B: What can we look forward to on this tour?
This tour will feature the two Belgian players I spoke of, so the level of musicianship of the shows will likely be a benchmark for future band incarnations. These guys kick serious musical ass. They'll be showcasing some of their material as the opening act for me, so my fans will get to hear a bit of their material as well.
B: than this Summer Tour, what are the future plans for the band?
Since I have a new record out I'll tour it into the fall, then settle into some producing. I've done the preliminary tracking for a record by west coast songbird Haroula Rose. We've taken an esoteric path that I think will compliment her bell clear voice and lovely sense of curiosity. I'm looking for more work as a producer, as it's gratifying and also I have a pretty good feel for it at this point. I hear arrangements, and thanks to Dan Nettles, my long time collaborator in Athens, I now have an amazing stable of musicians to work with in town.
B: How has the new album been received by American audiences so far?
America could not care less about me and my music. I'm sort of known as a musician's musician there. If I sell any records its to musicians and oddballs.....College professors..... Inventors. That kind of thing.
B: How do you find European shows compared to American shows?
Europe is different than America in that the shows are attended by actual human beings, rather than ghosts and memories. Hard to play to a roomful of ghosts, although I've done it many times, most often in places where the eternal specter of WalMart causes compasses the malfunction and wrist watches to bark like demented seals.
B: Do you have any concerns about the tour?
My major concern about the tour is that I'll die or be seriously injured as the result of the conflagration of poorly integrated international urban planning. I'll be driving a small van with the steering wheel on the wrong side all over England. I was going to say all over "bloody England" but that sounded too ominous, even if it's only a figure of speech.
B: Are you working on any other projects aside from music at the moment?
I'm working more and more on my other minimum wage job: fiction writing. I published several stories last year and will have a few more out in the coming one. I'm nearly done working on a memoir-ish collection of short stories called 'Incidental Contact'. When a few spare moments present themselves I'll put the finishing touches on that. Between my career and my kids and girlfriend, finding spare time has become increasingly difficult. But in some ways that's good. It causes you to appreciate something that should never be taken for granted. Time should always feel precious, particularly as you get older. That's how it feels to me at present.
Jim White's latest album 'Where it Hits You' is now available for sale on CD, vinyl and Digital Release.