Interview: Jack Danz
Bearded chats to the Defenders of Style MC and producer about his acclaimed solo LP Ouija Slang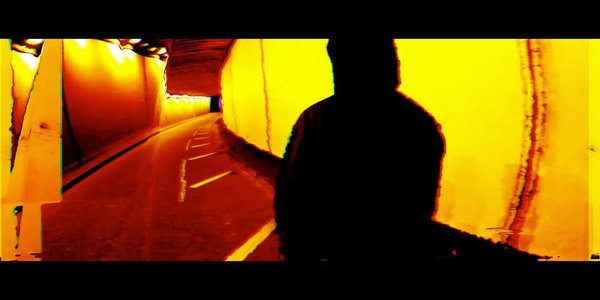 Leeds is buzzing with a diverse selection of hip-hop artists who are making the city one of the most exciting hotspots for British hip-hop. Defenders of Style are one of the scene's longstanding familiar faces; the group recently released their fourth album entitled
The Death Of Meaning
.
Jack Danz
is one of three MCs (along with Prys and Joe Snow), and also serves as the in-house producer. He's just dropped his outstanding debut solo LP
Ouija Slang
through Sheffield's Bad Taste Records; the project features appearances from
Lee Scott
and Swish of The Northaze, a duo from Leeds who are making some exhilarating, futuristic music. Bearded caught up with Jack at the Brudenell Social Club to talk about the new release.
I ask Jack how he first got down with the Defenders crew. 'I've known the lads since school. We all used to knock about together; we got into hip-hop at an early age doing graffiti and MCing. We were just smashing it at parties and stuff, and then decided to take it a bit more seriously. I started learning how to make beats, and it just went from there. It's a fucking long struggle innit'. So you weren't making beats beforehand? I ask. 'Nah not at all, I got into that as a product of the MCing. Obviously there was a need to have a backing beat'.
Danz' production style is one of the most recognisable in the country, and his gloomy boom-bap beats are always excellently received by the heads checking for his music. I ask what influences his distinctive sound. 'It's a combination of a lot of different influences. Living in Leeds, bass heavy music is predominant. There's definitely influences from that. Obviously growing up in the nineties, in terms of being into music, it was a fucking mad time, both commercially and on an underground level. It's a future take on an old sound I'd say; there is a strong bass driven element, but at the same time it retains that classic sound'.
I ask how Defenders of Style approach working on a new LP, if there's any planning in terms of the direction an album will take. 'In some cases there's strategy, but that's not necessarily the best thing. When you put deadlines on yourself it makes you rush the work. It's probably better to just start making a couple of songs and decide as you're going. When you've got to a certain number you know that all you've got to do is make a few more and then you've got a full project, if that's what you decide to do. Or you make it an EP and save a couple of tracks for promotional things. I do also think there are really good albums that have probably been premeditated, with a lot of thought being put into the concept before even starting to write the album. There are a lot of ways to go about it, there's no winning formula'. Danz quickly corrects himself. 'I mean there is, but you'd need to have backing for that I'd say'.
I ask if there was anything in particular the group wanted to tackle on
The Death Of Meaning
. 'It was more like a collection of songs like I was saying before. We wanted to retain the Defenders sound. It went in a certain direction because of the beats I was making at the time. Producers go through periods of styles, and it's just real simple on that project. I think with hip-hop the key is simplicity in a lot of cases. As long as the loop's good, you don't need to do too much with it, it's more like effects with the vocal and stuff. That's what I like to do anyway'.
That's definitely something that sticks out on the
Ouija Slang
album. 'Morriarchi just asked me if I wanted to do a project for Bad Taste, and I just started knocking tracks by myself' says Danz when I ask him how the project came about. The direction was pretty dark as a whole, but there's all sorts on there. It's not just a dark album, there's content that makes you think about stuff; it'd be an interesting read if it was a book. Then it's got that really dark backdrop of the beats, they're holding this looming feeling. With the title,
Ouija Slang
, the idea is that it wasn't me that actually wrote it, it's been passed down from an unknown source'.
I ask how he first got down with the Bad Taste crew. 'I met Morriarchi when he was at uni in Leeds, this was like seven years ago, We just started hanging out and making beats together. I ended up going up to his house in Sheffield and linking with Trellion, Figment, Sniff and all them lot. I just doing some tracks with them which was a sick little insight into another way of approaching things in the studio'. In what way? I ask. 'It was just different to the way that Defenders do it. It's always good to get a perspective from outside of the camp, especially from someone who's on a level, and with Bad Taste, you can't really fuck with their hip-hop'.
Danz handles the majority of the beats on the album himself. Morriarchi and Prolific also have a beat each on the project, and I ask what made him want to collaborate with them on an album otherwise entirely self-produced. 'It was just for a bit of variety. I know that it would have all been just one sound if it was my production the whole way through. They both still fit I think. It's that kind of sound'. You almost wouldn't know, I agree. 'Exactly' says Danz. 'I have to give my boys some credit too because I fully rate Morriarchi for bringing me in. I fully rate Prolific too; me and him have done some things over the years, he's a sick producer but it's just like talent wasted 'cause no-one pushes him. There's also a beat from JND on there as well, it's the hidden track. That's probably one of my favourite bits on the whole album'.
I ask if he finds it different writing to his own beats compared to writing to an instrumental from another producer. 'Nah it's pretty much the same. Sometimes when I'm making the beat I'm thinking of lyrics at the same time which is good. It just goes from there really fast. When it's someone else's, sometimes it's hard to get the start, but once you're going you're going'.
I ask how Danz first met Lee Scott, and what made him want to get the Blah Records MC on the album. 'Well obviously I've known who he was for a fucking long time. I linked him doing the same festivals and that. I ended up bumping into him and we got talking. He was feeling it, obviously he knows I'm feeling his shit, we just got on a track together. I think we're going to some more shit too'. Swish from the Northaze also makes an appearance on the track Sanctuary Steps. I wonder what attracted Jack to their sound. 'I rate them. They've got real originality within the scene. They're proper sound lads too. Being younger in the scene, you don't always get the handout. Bringing people in is what I'm all about, especially if I'm feeling it. They were doing everything independently so I helped them out with a couple of gigs and stuff, and we'll definitely be doing some more shit with them'.
Ouija Slang
is tied together with vocal samples that really contribute to the overall feel of the album. I ask Jack what they're taken from, and why he decided to use them. 'They're just to fit the mood of the beat. A lot of them are from this documentary about LSD, it's like an old stock USA educational film. I thought it'd good to have the same voice reoccurring but saying different things. Some of them are from this B-Movie horror film called
Blood Orgy of the She Devils
. It's crazy man. There's bits from all over on there'.
Jack Danz also recently released a project in collaboration with Bradford MC and producer JND. The album is called JNDanz, and I ask how they linked up, and what made them want to partner on an LP. 'I'd always known who he was', says Danz. 'I first linked him when they were doing the WY Cypher thing. He's just a sound lad, and he makes similar beats. We started linking up, and decided to do a song, then it went to an EP, and then a whole album. If you can make music together that first time, then you know that there's potential there to make something good. Plus he's bang on it. It did take a little while, but I'm happy with the results'.
The hip-hop coming out of Leeds definitely has a distinct sound to it, and I ask Danz what he thinks contributes to its characteristics. 'It's like I was saying before, Bass driven music is definitely an element, of all it's forms. It's got that heavy undertone. Then also the classic, boom bap element. The old sound from Leeds, people like Eliphino and D Double Dagger, that's what started us off doing it, just for that sound. It's weird; you don't even understand that it's boom bap at first. Hip-hop is fucking intricate man'.
I ask what he thinks the main differences are between hip-hop from the North of the UK, and the South. 'Well there's the accent, and you'll never get away from that. That's the beauty of it though; it's refreshing to hear some Northern shit, I mean only if it's good, and there's bare wack Northern shit, but then there's bare wack Southern shit as well. I'm not saying one's better than the other, I think it's good to hear both. Then there's regional accents as well, Lee Scott from Runcorn, he's got his own accent'. Then someone like Dr. Syntax on the other end of the spectrum, I say. 'That's the beauty of it, everyone's going to sound different'.
Danz has worked with a number of MC's on full length projects. I wonder what kind of thing he looks for in a potential collaborator. 'It's more about meeting the person I guess, just talking to them. I prefer to work with people who are also teaching me'.
I ask if he likes to experiment with different things when working on different projects, with different people. 'Not really. I think it's more of a constant progression; every time you write a verse it's going to be better than the last one, every time you make a beat it's going to be better than the last one. It's like training, martial arts or something. That's how you get good at it'.
Having seen Defenders of Style a number of times live, most recently at the
Dirty Dike and Verb T album tour
at the West Indian Centre in Leeds, I ask what Danz enjoys about the performing aspect. 'Feedback from the crowd is good. You can see what your audience actually likes, so you know how to craft it. Also it's just, what's that words, camaraderie (laughs); you're going out with your mates, we don't see each other that much outside of it, and just get drunk and that, it's life (laughs)!
Are there any plans for more Defenders of Style material? I ask. 'Well, Snow's out in Australia. Prys and I have been talking to The Northaze about doing an EP. Shouts to Prys, shouts to Snow'.
As we approach the end of our conversation I ask Danz what stuff he's been listening to lately. 'I listen to all sorts. Through digging for samples it's expanded me to listen to all sorts of weird shit. I can't think off the top of my head', he pauses to think. 'I like Lee Scott's new shit, in terms of UK stuff. The beats on there are crazy'.
I ask what's next for Jack Danz. 'The Upper Echelon stuff with Disgust who we were just chilling with. We've got a full LP coming out next summer I guess. There's already a couple of clips on my
Soundcloud
and they've been getting a lot of love. Me and him get together, and we've made beats since we started. It's a good working environment, a lot of weed (laughs)'.
Ouija Slang is available now from here