Bearded Label Love: Discount Horse
Durham City based DIY punk label Discount Horse mirrors what we believe in here at Bearded, so we decided to have a catch up.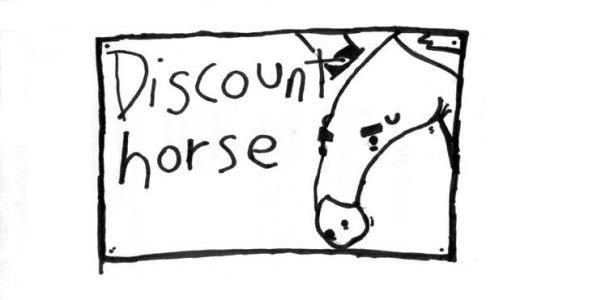 "Discount Horse is not a business. Discount Horse is about stealing photocopies, cups of coffee and marker pens."
So says label owner Jc. Started in his bedroom in Chester-le-Street, County Durham, Discount Horse has been running for three years, putting forward some of the best punk sounds that you're yet to hear. It's insisted that you'll never pay more than £5 for one of their cds, as they're one of those rare beasts, they're in it for the love of the music, the movement, and to be generally awesome.
Hello! Who exactly are you and what do you do?
I'm Jc! I co-run
Discount Horse Records
, a DIY record collective from Durham.
What's with the name?
The name stems from a relationship between our good friend and a toy horse. The horse's name is Discount Horse. He still plays a very active part in the daily operation of the label.
How did the label start?
The whole thing started as a bit of an accident. I got in touch with
DIY Bandits
, an anarchist record collective in the US. They sent me a bunch of stuff to distro and it grew from there. We never intended to start a label but somehow I ended up being up to my eyes in cardboard boxes. We build the best efforts.
How does the average day pan out for you?
Drink some coffee, send some emails, send some post, serve some coffee. Occasionally I get interviewed, that's nice. Discount Horse is super small, so I still get to work in a coffee shop.
You're based in Durham, and the acts you represent are largely local too. Is it important for you to promote the local scene or is it simply a matter of convenience?
Not sure. I definitely wouldn't say it's a matter of convenience. I guess we're just lucky to live so close to so many awesome people doing brilliant things. Durham doesn't get a great deal of attention, so I think it's important to promote the local scene. It's more renowned for its rotting buildings than its thriving punk community, which is a shame, I like to think we're involved in something really positive here. It's a real bastion of DIY culture.
What do you look for in bands/artists to garner your time?
Positive politics and wicked beats. Most of the bands/artists we work with could be described as being "political".
ONSIND
,
Ghost Mice
and
No Fit State
are all fiercely outspoken.
You've been going for over 3 years now. How do you feel that the label has progressed in that time and where do you think you could be heading with it?
We've put out some fucking mint stuff and made a lot of friends along the way. I'd be overjoyed if we could carry on doing more of the same.
In an ever changing world of music formats and distribution, how do/are you evolving and keeping current with the current scene?
We're devolving. We like tapes, cd and vinyl. Something that comes in a box that you can hold in your hand. I think the punk scene as a whole feels much the same, so as long as the punx are down with "obsolete" formats, we are too. That said, we do distribute our releases digitally, just to keep everyone happy.
What can you tell us about the Equestrian Collective that you're apart of?
In short, a crowd of anarchists that put together shows and vegan coffee mornings. Their peanut butter cookies are to die for.
You pride yourself on being a punk DIY label. What exactly does punk mean to you, and would you say that you run the label by an ethos?
Like the
Equestrian Collective
,
Discount Horse
is staunchly "against homophobia, sexism, racism, body fascism and the abuse of animals". That shit isn't punk. We work with like-minded artists. Proper punx.
What would you say to someone thinking about starting up their own record label?
I'd encourage anyone with a good idea and a little patience to start a label. It's not the easiest thing in the world but it's a heck of a lot of fun.