White Reaper: White Reaper Does It Again (Polyvinyl)
Debut platter of super charged garage-pop from Kentucky quartet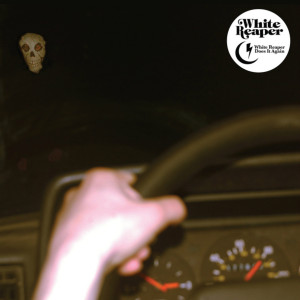 Check out the left hand clenching the wheel on the cover. You just know that car is speeding. That primal sense of breakneck recklessness oozes off every track on
White Reaper Does It Again
the first full-length album from the Louisville, Kentucky band.
From that first song "Make Me Wanna Die" the garage rock formula becomes all too evident, short, fast songs, saturated in a crispy distortion, clipped vocals.
White Reaper
picks up where bands like Japandroids and Thee Oh Sees (at least their later stuff) leave off, everything a little more here, vocals sound frostier, guitars sloppier and far more bombastic, the punk influences more brazen.
White Reaper dropped the all-too short self-titled EP in 2014. Those half dozen songs offered a tempting bite of what absolutely blows the doors off of
White Reaper Does It Again
. My favorite track, "On Your Mind" (the one that makes it onto the play list you share with those friends) feels the most like it's deep roots,
Nuggets
era basement rock, tinged with a somber, evocative refrain. The beery, drugged out delight is infectious on bouncy, manic songs like "Pills" and "Candy" veiled references to the spoils of a rock and roll lifestyle.
Mostly a guitar album, they're adept at using keys, a track like "Friday The 13th" spinning off the rails some, a haunted,
Halloween
like sprinkle. It's as though someone told these guys that if they slowed down, something might gain on them.