The Raincoats - Odyshape (We ThRee)
During our time with this album, the second release from experimental '80's post-punks The Raincoats, we have learnt that there's something really quite special about them. This said, Odyshape is not in the least bit easy to listen to, with awkward harmony, jerky tempo changes and atypical structure aplenty, but the more you listen, the less important it becomes. Odyshape is an odyssey that leaves the listener completely unsatisfied, a textured masterpiece that positively oozes pent-up aggression, anxiety and all those confusing emotive grey areas that others daren't touch upon.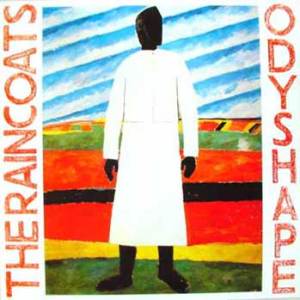 When the album started, it couldn't have been further away from what I was expecting, having previously only heard the tracks 'Fairytale In The Supermarket' and 'No One's Little Girl', themselves both almost polar opposites. First track 'Shouting Out Loud' initially sounded like an abstract mess in contrast to the aforementioned songs, and only on further listens, once this comparison was overlooked, did it begin to make sense as a fitting album opener. 'Shouting Out Loud' throws the listener directly into the
Odyshape
experience, a harsh taster of things to come with its sparse arrangement, free tempos and fragile vocal.
Although it was difficult to place The Raincoats neatly in the 'post-punk' genre, one could immediately hear the influence of the band on incontestably important artists like Cocteau Twins and Bjork, and similarly some influential elements from Jefferson Airplane and Siouxie & The Banshees, as the album progressed. 'Shouting Out Loud''s minor-key malice blended neatly into the stunningly juxtaposed 'Family Treet', with its soft atmospheric sections led by a beautiful bowed bass riff contrasting sharply with the faster sections characterised by seemingly random fits of violin tremolo. It was interesting to hear the difference in vocals between the two tracks – the band effectively had three main members at this point (the lineup changed quite frequently), all three of which wrote songs and consequently split lead vocal duties. 'Shouting Out Loud' is sung by Ana Da Silva, whose voice flits between soft and harsh, unstable and understated, compared to Vicky Aspinall's vocal on 'Family Treet', which is richer and breathier with less dynamic but a seemingly greater urgency therefore. Vicky's voice sounds pent-up, held back and almost instrumental, blending in and out of the harmonic detail in a way that makes the listener listen intently and intimately.
Third track 'Only Loved At Night' begins with a trebly guitar riff that you're sure you've heard before, and is perhaps the album's darkest and most urgent moment, aided by a loud ticking percussion and haunting kalimba line. 'Dancing In My Head' is Gina Birch's first track on lead vocals, and she certainly stands out as the most technically gifted with a controlled, confident tone and pitch accuracy and a beautifully bona fide folk ad lib. This song is perhaps the only one that can stand on its own away from the album with its repeated refrain and genre-specific authenticity, and consequently sounds a little out of place around the other tracks. Nevertheless, the song is beautifully spiritual, distantly reminiscent of the past few Antony & The Johnsons releases. Gina continues on vocal duties on the album's title track, which focuses on the pressures associated with the female aesthetic. The heavy guitar reverb adds a complimentary depth to Gina's dark lyrical bluntness which, accompanied by her soft aspirate vocal, transcends into sugar sweet malice.
The band's post-punk pocketing is most obvious in 'And Then It's OK', with its near-coherent structure, electric guitar emphasis and a quirky blend of spoken and melodic vocal. The song builds up and breaks down effortlessly with moments of calm transcending quickly into panicked tempos and brash guitar chords. It becomes incredibly apparent here just how good The Raincoats are at creating mood with music, and how comparably forced other bands can sound in this respect.
'Baby Song' marks the first instance of consistent drumming and steady tempo, but also brings the album back into the shadowy, awkward and stifled territory of the first three tracks. The lead vocal is so low-pitched as to be almost whispered and barely audible over the four-to-the-floor bass drum pattern, rolling snare and layered acoustic guitars, which seem as though they are building up to a climax that never comes. The song is ultimately a work of suspense, and although the vocal placement so low in the mix is inviting, the listener cannot help but be cautious to accept – the sheer malice emanating from the melody combined with the ghostly backing vocal refrain "don't look away, don't push me away" is at once concerning and intriguing, paving the way towards the inevitable finale.
Just before we reach it however, 'Red Shoes' takes us in a completely different direction. The two-chord guitar line and harmonica drone working alongside a repeated celtic-esque fiddle riff and Ana's wonderfully imperfect vocal, monotone melody and uncomfortable lyric placement makes for a near-perfect dose of short and sweet psychedelia. One for the ketamine playlist.
Finally, the angry, noisy spurt of full-blown insanity that the whole album seems to have been leading up to. 'Red Shoes' serves to lull the listener into a false sense of security so that album closer 'Go Away' sounds all the more messy, maniac and absolutely mandatory. The layered violins and guitars tremolo and siren to a strong punk vocal and painfully desperate lyricism. Indeed, Ana shows that she is arguably the band's best writer and most passionate vocalist here, with a feminine energy and a surreal feminist slant that ends the album in exactly the way it should - in this final implication of the female battle for personal control and recognition, it seems that the band have emerged from this album very much victorious.
It seems perfectly possible that The Raincoats made just as many friends as they would have enemies with
Odyshape
– it is not easy to listen to, it is not background music and it can't be digested in small segments. This album is very much an LP rather than the 'collection of songs' that bands of the last decade have been so tirelessly fond of, it is a piece of work that genuinely matters and genuinely succeeds in intellectually engaging and intellectually challenging any listener who will allow it to. The final stab at the end of 'Go Away' leaves the listener drained, affected and completely unsatisfied – all we want to know is where the heck The Raincoats have gone and where indeed they're going next.
One thing's for sure, they've been announced on the lineup for All Tomorrow's Parties in December, curated by multiplex beauty Jeff Mangum, and we're going. We won't be reviewing that though, we'll be far too busy loving our lives.