The Dwarfs of East Agouza: Bes (Nawa Recordings)
Cairo based trio of luminaries deliver stunning melting pot of desert blues, psych and Ethiopian jazz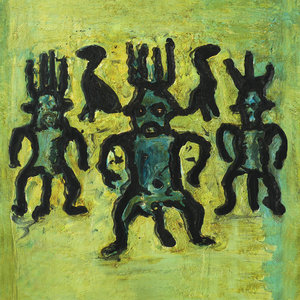 The Dwarfs of East Agouza
are Maurice Louca (organ, synthesizer, beats), Sam Shalabi (electric guitar) and Alan Bishop (acoustic bass/alto sax/vocals), who came together in 2012 when they were living in the same apartment block in Cairo's Agouza district.
All had played in other groups - Louca in Alif, Bikya, Shalabi in Land of Kush and Shalabi Effect, and Bishop in Sun City Girls, The Invisible Hands and Alvarius B – but the new trio has created a special magic that would please the ancient Egyptian dwarf deity that gives their debut album its name - a defender of all things good and enemy of all that is bad.
Bes
is a hypnotic free-flowing masterpiece, drawing on a clutch of ear-catching influences – Ethiopian jazz, desert blues, African township jive, psych, Krautrock and funked up jazz - like a Bedouin Bitches Brew uniting Mulatu Astatke, Funkadelic, Tinariwen and Moon Duo.
The album is tight and loose at once, compiled from hours of improvised material created in a three-day studio run in 2014. The playing is taut yet the vibe is one of free-flow. Tracks bubble away for anything from four minutes to the 35-minute free-form epic Museum of Stranglers – a brilliant melding of 70s funk, modal jazz and an Ethiopian dance night with its mesh of slowly keening horns and sweet jive guitar licks.
The loose-limbed Afro-jazz rhythms of opener Baka Of The Future has various echoes of Miles Davis – Circle In The Round as well as Bitches Brew. Resinance also hints at Davis, particularly its Tutu-style final flourish - though it's a beautiful distinctive thing of its own, built on hypnotic steel-drum percussion and noodling bass. Clean Shahin is an exercise in effortless Afro cool.
The 16-minute Where's Turbo? rides slinky steely blues guitar like a souped-up take on Tinariwen, while Hungry Bears Don't Dance boasts artfully-placed vibe-like percussion interweaving with a mid-tempo whirl of skittering guitars and funked up keyboard.
There's often an enthralling sense of the trio playing on the very edge, as tempos shift through the musical gears into joyful overdrive then back in control. Yet you know these guys are brilliantly in control as they create what is likely to be one of the albums of 2016.
The Dwarfs of East Agouza Links