The Bandettes - Take Me Home (Self Released)
Heart-warming indie-pop from Sweden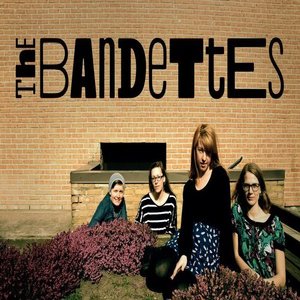 A delight of an album,
Take Me Home
is rammed full of sunny shimmery tunes that could only have come out of Sweden. I mean that with the greatest affection for this charming collection of songs and for the splendid country that lies underneath it all.
You can't help but be enchanted by the verdant rich tones, the pristine freshness and the bracing chill that adds depth and substance to it all, the guitars are glistening and shimmer brightly down the wandering synth passages, the rhythm beneath it all echoing of the shuffle of a train.
You feel like you are sharing a carriage with four feisty Swedish girls, their instruments and their soaring interwoven vocals as the tracks slide beneath you and the landscape zips past your window offering glimpses of the world outside.
Sweet without being saccharine; there are delicate washes of nostalgia, crisply sepia against the lush organic green.
Personality beams through with moments such as the quirky little bird tweets of backing vocals that cut through the opening track 'Train Song', the acappella vocal fusion of 'Talk' is underscored with just syncopated handclaps and the throaty primal thud of a kick drum to carry it along.
The album has sultry shuffling passages of jazz, in songs such as 'Niagara Falls' that has a brooding dangerous tone that borders on the pantomimic.
'The Beard Song' is the perfect example of humour, light-heartedness and pogonophilia. It makes you laugh, it makes you smile but underneath it all it is a well-formed song played with soul.
Bassist and guitarist Anna Linnéa and Hannah, have such beautifully malleable vocal styles that respect the needs of each song.
From sultry breathy jazz tones to softer pop passages through to Americana tinged folk, the vocals on the LP are emotive and honest, with an accessibility to their voices and to the overall tone of the album that is all at once endearing and familiar.
The two remaining members of the band Kajsa and Emeli provide the heartfelt feminine backing vocals whilst playing keyboards and percussion/drums respectively.
Each new song on the album bounds in with a flurry of irresistible hooks, contagious melodies and arrangements that reel you in and hold you.
While the balladic track 'Heartquake' is a little too smooth and contrived for my liking, the rest of the album possessing such soul and substance with that track missing the bounce and flavour of the other songs. However, its low key smoothness certainly added a different depth to the journey of the album.
There is a beautiful earthy rootsy feel to the music, and The Bandettes have a wonderful integrity that makes their album a heart-warming delight on a rainy grey Autumnal day in England.