Super Adventure Club - Chalk Horror (Armellodie)
Scottish spazzy-matchcore poppettes offer up another offering of their debut record for you to freak out to.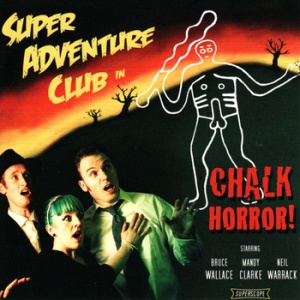 For the last six odd months, the punishing
Avoid Zombies
album has been heavily inducing joyous, impromptu body movements. In light of this, the quirksome Glaswegian trio re-approacheth with their hook-heavy debut of yesteryear on their thoroughly mon'd local outputters, Armellodie.
The sleeve unashamedly parodies a B-movie horror poster of the band shrieking before the Cerne Abbas Giant, providing a provisional vehicle of what to expect as a musical equivalent, at least for the brutal opener 'In The Wee Wee Hours'. Immediately anchoring an eerie background via a set of choice pedal musings, some would say it's risky business to start a debut album with a minute and a half of sound effects. Yet it seems more than the case that SAC care less for convention.
As well as teeth-grinding, uncompromising spazz-like mathcore moments laced with searing fuzz-olithic guitar, there are the more tuneful elements that lay down the backbone to the music yet still question conventional songwriting. They confidently merge the two at the best of times, while the ender 'Shoe People' indulgently tangents away as if the once-was catchy and spontaneous nature has now chewed through its lead and ran to the hills. On top of this particular trait they assumingly pay a tongue-in-cheek homage to math rock in, er, 'Math Rock'. Brilliantly written with a unique chorus, but allegedly declaring disagreement with things "one half beats too long" and the like – something not too dissimilar to the heavily mapped-out ending of 'Sharkey and George'. On to a winner with the bloodthirsty vocals and riff-boasting on 'Tommy Sheridan' a fierce, stabbing number ending with a pause which finds yourself expecting it to be resumed, like to the audience holding fire on an applause. However, it moves on swiftly to 'Sloths On TV' a delightful rant lyrically, and bridging on early Primus licks musically.
Chalk Horror
is rife with cultural references, though they take a while to pick up on, if ever. As not every listener gets a press release with this LP, nods to the likes of Chuck Berry et al are hard to hear beyond the rash of raucous sound and psycho vocals at times, which is a shame for those strong advocates of eloquent wordsmithery listening in. Though to be in the know that all this was recorded live over 48 hours is somewhat of a reassurance; all their hooks are well in place with a well captured sense of abandon too. The enjoyment of playing together is immaculately visible, with the dual male and female vocal playfulness being a dead giveaway. They clearly have their gift locked down, and the want to see them live must soar after a hack at this old beast.
Super Adventure Club Links