Earth - Primitive And Deadly (Southern Lord)
Ultra-heavy Washington state guitar slingers maintain the quality on album number eight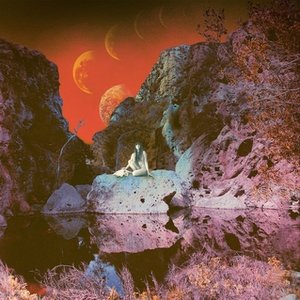 So much ink has already been spilled surrounding the inclusion of vocal tracks on
Earth
's
Primitive And Deadly
. Their presence isn't a small factoid; these are the first since Carlson sang on
Pentaster
in 1996.
Of chief curiosity has been the presence of Mark Lanegan, a snarling sage of American alternative (remember Screaming Trees?). At first blush, I felt as though Lanegan was odd for an Earth album, but after a few bars of warning through "There Is A Serpent Coming" his feral, bourbon tinged vocal quality served as complement, adding another shade of doom to their ominous terra firm. Are the vocals necessary? I don't believe so, but they certainly don't detract.
Which leads to Rabia Shaheen Qazi (of Seattle's indie psych band Rose Windows) and her contrasting vocal, an ethereal layer over top of "From The Zodiacal Light". Her wailing, witching hour vocals are mixed perfectly by Randall Dunn and add yet another layer, the best of the half dozen on the record (although live, without vocals, this song commands serious instrumental authority, something missing on the album version). When viewed on a macro level, album context, the choice to include vocals is, I believe, insightful and sets the record apart. While Lanegan leads Earth further down the dirt road, Qazi picks their sound up off the dusty ground for an entirely different view.
Earth is, however, primarily notable for their churning, heavy instrumentation and
Primitive And Deadly
doesn't disappoint on that front. The glowering "Torn By The Fox Of The Crescent Moon" kicks off, Bill Herzog's bass driving the nine-minute, militaristic march through an impossible muck. Each track shares a similarly thick, relentless quality, dropping off rather than splintering into pieces. In press leading up to the release, members said they wanted to be more of a rock band. Well, here it is, bold rock layers, the bell cow in their pasture.
Some have already called this record a masterstroke. Heaping such praise is a thorny proposition, especially considering a band of Earth's stature. At my most diplomatic, I declare that
Primitive And Deadly
is yet another record that, in spite of its murky and dampened orientation, pushes the entire genre another step out.