Bird Radio - The Boy And The Audience (Cherry Red/SFE)
Unrestricted and decidedly 'out there', Bird Radio's one-man-band effort is the epitome of fitting a square peg through a round hole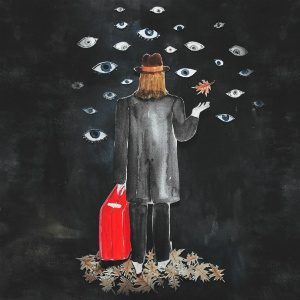 When it's the live show you experience first upon hearing an artist, it's guaranteed to alter the impact on your first impression of a record thereafter. Granted, however, when it's a flute toting, operatically bellowing loop pedal maestro of a one-man-band you find yourself associated with, it does indeed soften the blow a little.
If we're spending a little time contextualizing within that one-man-band category,
Bird Radio
(aka
Mikey Kirkpatrick
) has the energy of
Bob Log III
and
Son of Dave
, along with the sheer inventiveness of
Thomas Truax
. Aside from that, his character comes across in a strong, amicable fashion – a young fellow sporting a sizable hat & beard combo and a briefcase, the latter of which has a kick pedal attached to it. If you're currently listening to the record, it should all make sense now if didn't already.
He sets the scene with a most grand and inviting story within the opening title track, pulling the curtain open to lure you in to what the album has to offer. As this artist is obviously limited when it comes to instruments, what he has he delivers in a way that is hard to forget. There are lyrical phrases that automatically echo through one's memory - 'Black Car' is a classic for this. The opening lines show how the lyrics are captivating and thought provoking, quote "We are in a black car… Boat on the roof"; and also downright odd sometimes, quote "echoes of the hoof". As if to say it tells a story but with purposely-unclear narration that leaves it open to interpretation. Musically, the end of the track paints a picture of a speeding vehicle ruthlessly accelerating into oblivion, turning into rusty distortion and howling feedback screaming like brakes pulling harshly for dear life... Whoever said the flute wasn't a manly instrument should definitely take a ride in the black car.
'London The Forest' stands out as Bird Radio's most defining tune. If you were going to play this artist's music to someone who had not heard him before, this track ticks all the boxes as to what this gentleman has to offer – lyrically and vocally astute, while it also scores high on flute playing and looping executions that are so ridiculously bang-on it could have been recorded in one take. Then there are tracks like 'Devil At The Door' that include bits of guitar and rumbling floor tom included in the mix, nevertheless still powerful and punishing with a healthy dose of vibrato style bellowing on top.
For the sake of linking the general musical approach in
The Boy And The Audience
, it's a worthy nod to
Nick Cave
,
Tom Waits
, and lest we forget,
Jethro Tull
. A robust, musically challenging piece with a significant focus on folklore (note the traditional 'Who Killed Cock Robin?') and wild imagination (as heard on the free-flowing rhythm of 'The String'). This is an illustrious record to say the least.