Supersonic preview: iconAclass
Supersonic Festival is imminent, in fact, if you're not going to be in Birmingham this weekend, just what exactly will you be doing? With a whole range of superb artists to choose from, with new record For The Ones in toe, we caught up with former dälek man iconAclass, just to raise our excitment levels that little bit higher.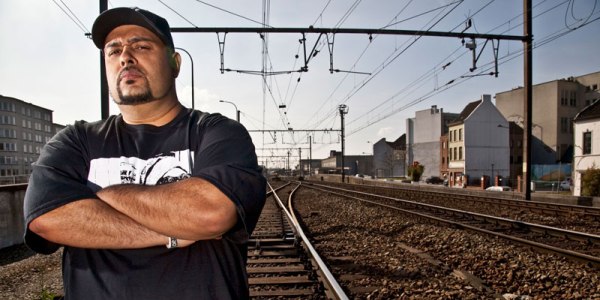 Why did you feel the need to create a new moniker away from dälek with iconAclass to create music?
I felt that because this was my solo project (production,lyrics, mixing) it warranted a different name. I also didn't want people to expect the aesthetics of the
dälek
project, although obviously anything I do will have my fingerprints on it.
There's a lot of word around about iconAclass being a "return to your roots". Have you ever left your roots of hip-hop? It's possible that the mainstream scene is bigger than it has ever been today, do you have influences now as you did, say 20 years ago?
It's more about a return to the classic hip hop sound that I truly love. Of course you never leave your roots. My hip hop roots were at the core of the dälek project and would be central even if working on any genre of album. I am influenced by music, new and old. I am constantly hearing new things that inspire me. That is one of the cornerstones of hip hop culture in my opinion.
You've been making music both sides of the century, how have you developed into the artist you are today? Have you achieved a sense of accomplishment with your work and the industry, or is there a sense of anger/disappointment which drives you on?
Years of touring, years of collaborating with amazing musicians, and just live experiences in general have formed me into who I am today as an artist and as a man. I most definitely have a great sense of accomplishment for what I have done with my brother
The Oktopus
. It isn't anger that drives me, it's Passion. I have a very deep passion for my culture and for the music I create.
The anarchist logo in your logo design may throw suggestions that iconAclass will see you adding an extra political edge that you may not have been so open about in the past, or are we reading too much into this?
I don't know if it is an overtly political group. I do know I have very strong opinions that I always voice. I like to leave some room for interpretation of my lyrics, but I think just the fact that the vocals are at the forefront on this project, makes my meaning much more focused.
At Supersonic you'll be sharing the stage with the likes of Turbonegro, Envy, and Wolves In The Throne Room. How do you see you music fitting in? Do you like to think that your music transcends any genre limits people put you in?
Oh I have never concerned myself with fitting in. I think that regardless of what genre people are into, they can sense the honestly and the passion in my music. That rawness is what transcends genre.
Dälek was widely renowned for its influences and liken to My Bloody Valentine. With reverting back to boom bap and hip-hop with iconAclass, does this put more of a limit on the music you can make, or does it perhaps focus you greater on a solid musical goal?
I think I still pull from all of my influences. Hip hop always has. IconAclass may not be as "noisy" as the dälek project, but don't let that fool you. It is just as intense and heavy. At times it is the lyrics that carry the weight though.
Supersonic is such an eclectic mix of styles with no real mainstream names, who are you looking forward to seeing?
Silver Apples
,
Zombi
,
Scorn
,
Circle
,
Mike Watt
... Honestly I'm excited to catch as many bands as I can. It's an ill line up.
How will you translate your new record For The Ones to the stage? Will we be seeing a stripped down hip-hop show or the glamour and 'bling' of a modern day rapper?
It's straight hip hop. Me on the mic and
DJ Motiv
on the cuts. We also do an improv beats and cuts section which has been a lot of fun to perform nightly.
How did your book The Written Word: The iconAclass Manifesto come about? Is this another way to express yourself through another media? Do you see yourself as an artist first, or perhaps a poet?
Initially the idea to put my words to the page came from drummer William Hooker years ago. a graphic design friend of mine Thomas Reitmayer approached me with the idea of making it happen for this project. It worked out nicely. I think I have always equated being an EMCEE with being a poet.
Have you thought about other ways outside of music to get across your views and opinions? For example, you've collaborated with graphic artist Thomas Reitmayer. Could art be a new direction for you?
I think as an artist new ways of expression are always exciting. I don't know that I'm an author but it was fun to make the book. Similarly, the Oktopus and I have been working on film scores together which offer us yet another new way to express ourselves.
You're currently on tour over most of Eastern Europe. Being exposed to multitudes of styles, tastes, traditions etc, obviously comparisons are drawn between, say a club in Poland, and back in your home of New Jersey. Do these moments put life in perspective for you: missing family, political oppression, your position in the world? Does this affect your creative process?
I am a strong believer that people need to travel, because not only does it affect the creative process, it affects you as a person. Traveling shows you that basically people, real people, want the same basic things. You learn how much we all have in common. And that our differences should be something we celebrate and cherish, rather than fear. I've been on the road a long time and I am always in awe of what is to be found in this world if we just take the time to look. And yes traveling does at times make me miss my family or be pensive as to the conditions we live in, but it also makes returning home that much sweeter.
Bearded are huge supporters of the independent underground scene. Do you have any recommendations of people we should be keeping an eye out for?
Immortal Technique
,
Joell Ortiz
,
Slaughterhouse
,
random Axe
,
Death Grips
,
Oddateee
,
Subtitle
,
Deadverse Massive
,
Gym Brown
,
Skalla
,
Dev-One
,
DLEMMA
,
MRC Riddims
,
the Bug
, to name a few.