Kickstarted: Bearded Chat to Antarctica Takes It!
Antarctica Takes It!'s new record Constellations is hand-crafted for the summer sun. Having fan-funded its recording using US-only funding site Kickstarted, Bearded was intrigued as to whether this was the future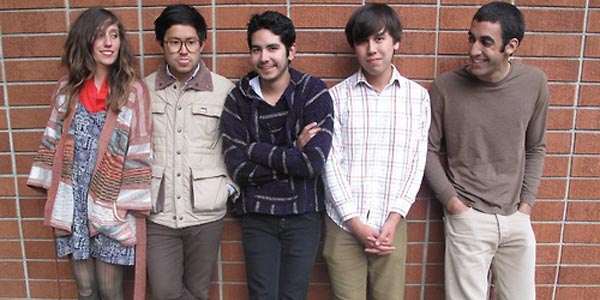 For those who don't know you, tell them who you are and what you do...
My name is Dylan and I've been writing, recording, and releasing records as Antarctica Takes It! since 2006. I've performed with different groups of friends or alone over the years - currently the band has a full bass-drums-piano-guitar line up. It's sounding good!
Also, I just came out with a new album. It's called
Constellations
.
The album's taken some time to come out, was it all down to getting the funding?
Well, for some time I wasn't able to write anything that I liked, so I didn't write at all. It wasn't until around late 2008 that things started picking up again and I began figuring out
Constellations
. The funding was more for helping print the album which took a bit longer than I expected.
I'm sure I read in the press release for [last album] The Penguin League that you recorded that album through the microphone on your laptop, how did the recording process change for this record, and do you think you've got a better result?
Yep,
The Penguin League
was recorded entirely through a laptop microphone on Garageband. For
Constellations
, I bought a preamp and a condenser mic. I still know very little about how to properly record and mix an album but I tried my best to get things to sound nice and full. I don't think I'd ever go into a real studio to record because for me, the recording process is also a creative process. Being able to try different arrangements and overdub endlessly and decipher what a song is really asking for are all essential to how a song turns out in the end. I'll often have a song that takes on a whole new life and feel once I start recording it.
How much work was succeeding on Kickstarter? Did you set it up and watch the money come in, or was it harder than that?
For awhile I was worried I wouldn't reach the goal but fortunately there was a lot of support from friends and family and fans. I tried to make a nice video for the site and posted it in a few different places but I didn't promote it aggressively or anything.
Do you feel that services like Kickstarter will replace record labels before too long? What role do labels have in an industry where any artist can do it themselves?
Kickstarter was very helpful but I'm not sure that it's the best option for everyone. How Does It Feel To Be Loved (the band's UK label) has definitely been great in promoting and releasing the album abroad. I definitely wouldn't have reached as many people if it wasn't for that. On the other hand, I think I'm doing all right without a label here in the States.
Will you go back to Kickstarter for the next record?
Not quite sure yet. I'll cross that bridge when I get to it.
With people saying artist focus should be on live performance, do you care much about how the album sells?
I put a ton of work into
Constellations
- around two years of my life, so I'd like people to hear it. I doubt I'll be able to pay the rent with the proceeds or anything but it's a nice thought. As far as live performances go, this is the first time Antarctica Take It! has had a full band so it's exciting to hear the songs in a live set-up. We're going to try to play as many shows as we can.
What made you want to be in a band/make music in the first place?
In high school I played the drums in the orchestra, jazz ensemble, and marching band, so I was definitely a band nerd early on. But it wasn't until college that I began learning how to play guitar and writing my own songs. I started out learning Belle & Sebastian covers but I had this idea that it would be great to have a song or two that were all mine.
Are you going to be doing any live dates over here?
Hopefully! Right now the band is trying to raise enough money to make it to this year's Indie Tracks Festival. Fingers crossed!
Constellations Kickstarter Video from Dylan McKeever on Vimeo.