Introducing… The Colourist
Our Introducing... series focuses on artists who we think are worth shouting about. Here we have Californian indie-poppers, The Colourist.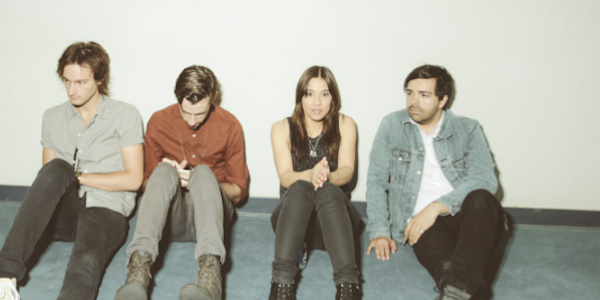 Here at Bearded we aim to shed light on acts who don't necessarily have giant labels or muscley budgets waving banners behind them. This Introducing series will focus on artists who we think are great, regardless of how much hype surrounds them or where their origin story lays.
Bio
Name: The Colourist
Location: California, USA
Genre: Indie-pop
Similar Artists: Matt and Kim, Foster The People
Contact:
Facebook
,
Twitter
Events: Video for 'Little Games' coming soon.
There is something undeniably badass about a band with a female drummer.
The Carpenters
had it, the
White Stripes
had it, and so do Orange County indie-pop band
The Colourist
. Made up of Adam Castilla on guitar and vocals, Justin Wagner on keys, Kollin Johannsen on bass and Maya Tuttle on drums and vocals, the band are currently garnering some serious attention, despite only having a couple of songs on their SoundCloud.
While the group's 'majestic rock' sound doesn't exactly qualify them for the badass status, there is no doubt they're a talented bunch. The foursome are coming off a series of impressive live shows, supporting bands like
The Wombats
and
Metric
and recently playing at Coachella, an experience they described as "incredible."
The time to get into
The Colourist
's catchy indie-pop couldn't be better, with their sunny tracks the perfect soundtrack to summer BBQs and lazy afternoons in the park. Taking inspiration from
Of Montreal
and
Phoenix
, the band say their music allows them to tackle sad topics in happy ways.
If some of the members seem slightly familiar, it's probably because they are. Castilla and Tuttle were in a group called
Paper Thin Walls
that disbanded shortly after playing a much sought-after spot at a
Led Zepplin
after party in London. Fortunately Castilla had some musically inclined friends in the form of Wagner and Johannsen, who were recruited, and
The Colourist
was born.
The music industry started taking notice after they won a number of categories at the O.C Music awards in 2009 including Best New Artist, Best Song and Best Live Band. Since then, they've been plugging away, playing shows across the US and Canada and building up a solid fan base. One such fan is
St Lucia
who recently remixed their single 'Little Games' which went on to become the #1 song on music mega blog Hype Machine.
Tuttle says that she was inspired to take up drumming after seeing a VH1: Behind The Music special about
The Carpenters
which incited what she calls an 'explosive mixed feeling of awe and jealousy.' With her passion and talent, no doubt she has inspired many a fan girl to take up the instrument. Of female drummers she says; 'There should be more' and with Tuttle championing the cause, there's no doubt there will be.