Introducing… Jordie Lane
Nostalgic charm, modern inspiration, sharp wit, beatific and wicked arrangements, all tied up with beautiful facial hair?! Yeah, we got your new favourite right here.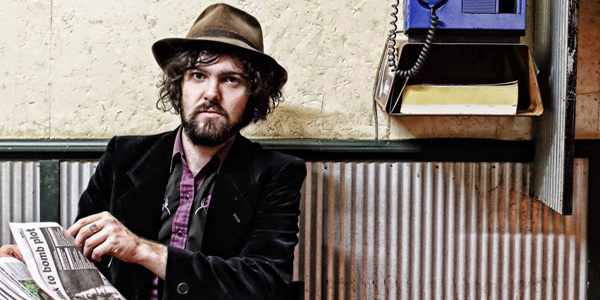 Draw back the velvet curtain and bask in the Alt. Country musings of the magnanimous
Jordie Lane
. With a keen ear for lilting rhythms, and a wicked delivery of tales from the road, he breathes a nostalgic quality into his music and live performance that is not to be rivalled. Hailing from Northcote in Melbourne,
Bearded
first caught a glimpse of Lane's captivating style when playing a Friday lunchtime gig in the packed out Basement Discs Record store in Melbourne's CBD. Professionals escaping the grind, mothers, children, tourists, all gathered for this short break from the winter winds. Singing only three songs, he stole the room with tales of travels through America, and gorgeous acoustic arrangements resonating from the historic caverns of folk and country.
But there is more to this artist than first met the ear. Lane's quiet persona inhabited in Basement Discs gives way to a larger charismatic display combined with a bigger band sound. Bearded's second foray into the Lane-way saw him removing his purple cowboy shirt (as pictured above, in fact) for a ritual burning, apparently because he had been jibed for wearing it too much. We bore witness to a five minute instrumental set inside 'The Publican's Daughter' with Lane dancing around a metal bucket, flames rising inside. This was not a planned event. An employee of the venue came to douse the flames with a fire extinguisher. It was a very smoky encore.
Lane does not confine himself to the stage either. He has played gigs on Melbourne's Tram system, Ferries from North to South New Zealand, and just recently returned from a Caravan tour of America. Since releasing his first solo album
Sleeping Patterns
in 2009, Lane has garnered respect from Australian artists such as Wally Debakka of Gotye fame, Mike Noga of The Drones who played drums and supported his tour last year, and Clare Bowditch, whom he played with in London's Hoxton Bar & Kitchen. He has also had the good fortune to include Clare Reynolds in his touring troupe, who starred alongside him in the theatrical biopic 'Grievous Angel: The Legend of Gram Parsons' as Emmylou Harris which ran in July of this year. Having supported Loudon Wainwright III and Cat Power, with a planned support slot on Billy Bragg's Australia 2012 tour, there can be no doubt that artists worldwide seem spellbound. Industry professionals too, as Lane teamed up with American producer Tom Billa, known for working with Kanye West and War Paint, on Lane's latest album
Blood Thinner
. The result of which is a pure record borne out of a necessity to create music.
Leaving Australia mid 2010 to simply travel the States, Lane didn't even have a guitar to his name. There was no intention to write about his trip. That is until a chain reaction of events, including a stormy relationship break down trapped inside a New Orleans Motel room, bouts of illness, the loss of his grandmother and the ever changing soul of the nation, took hold of his creative mind.
"I finally did buy a guitar and [the songs] were just vomiting out of me. To get to the actual stage of the album took a lot more work... I went to the desert, Joshua Tree National Park, two hours East of LA, towards Las Vegas. That's where I stayed in the room that Gram Parsons died in, and started making the album." Here, Lane was alone with only a four track cassette, a handful of instruments, his own talent and the ghost of Gram Parsons for company, recording separate parts to layer each track.
Having played Gram Parsons in the theatrical production earlier this year, one can see strong links between the pair feeding through Lane's own style, echoing the 'Cosmic American Music" Parsons purveyed. Using personal experiences to colour the lyrical picture, there is a rare investment in each verse and harmony. Lane defines his first solo record
Sleeping Patterns
as "a best of the first 21 years of my life". Within the record, the polarity between such tunes as the sweet and soft 'I Could Die Looking At You' and the rousing roots number 'The Publican's Daughter' perfectly encapsulates his sensitivity to the brevity of human emotion. 2010's
Blood Thinner
is more immediate, framing the experience of the past couple of years, lending urgency to tracks such as 'Feet Fall', musing over places you go, and the feelings and memories you attach. Though thoroughly modern subject matter, Lane's turn of phrase coupled with the universal constants of love and loss hold a heady nostalgia, and a mature grace. 'On The Net 'Til Morn' muses over long distance relationships through a computer screen with a plucky banjo rhythm which displaces the present.
Whilst there is a raw power in his solo performances, the acquisition of a live band in his last Australian tour in 2011 owned a depth and energy of five souls, perfectly orchestrated by Lane's stunning arrangements. Melbourne's opener 'Thin My Blood', rattled bones with a cacophony of voices, strings and skins, crying "See you sinner, be my blood thinner" as the volume amped. This track has a special resonance, echoing the album title which echoes the album's fruition. As Lane explains, "I was with this girl at the time, that I was going out with. That didn't work out so well. She got me these pills for this migraine; they had this blood thinner in them. That was the start of the idea in my mind for different metaphors and meanings for those words. That was where the album started."
These crafted vignettes offer a basis in fact, whilst allowing the listener to take their own meaning from each lingering vocal. The twirling facets of 'Diamond Ring' offer a key into our protagonist's failing relationship, yet the line "I'm going back, back in time, where hearts are true, true and kind" is a familiar desire to return to honesty and truth. This dichotomy in each track forms a valuable border between tales and his own reality, as Lane explains; "You start to worry that your life is dictated by the song. It's a little paranoia. I'm aware enough to stop that happening. I've seen friends make terrible decisions and admit that it was about a song. That's insane. But I do flirt with that idea. Leonard Cohen says that to the max, you just have to go and live and if you love and experience life, that will become the song. " This thought pattern perhaps is the catalyst that lends a nostalgic quality to his music, giving each moment on the record a sepia tone that distances the experience.
The purity of
Blood Thinner's
inspiration, and the organic fruition of the arrangements sends the cliché of 'the difficult second album' running to the hills. This was not, however, a record free from turmoil. During the recording process in April 2011, Lane was called back to Australia to be with his family when his Grandmother passed away, before heading back to LA again to finish recording. Living and working with Tom Billa, he remembers this as a bitter sweet time.
"First week or two was total shit. I didn't do anything, I just stayed in bed and he would bring me breakfast. I was sleeping in this hot garage, and he was like 'man, you should get up, it's too hot down here'... Then finally it all started rolling again a week before it was due to the publicist... We got drunk at a bar and brought some girls back, his wife and another band mate, and we formed this gospel choir for the final song ['I Sinned Today']. We were so drunk, and he was saying 'guys just stand in front of the fucking microphone and sing this note!'... He's a really understated subtle engineer and producer. He makes things happen without realising they're happening. I don't work so well under pressure, so when I feel comfortable and confident, that's the best time [to record]."
Billa's positive engineering skills worked well with Lane's own internal drive and pressure, as seemed to be able to alleviate this and let the creative energies flow when they were ready. There is a quiet yet strong drive behind all Lane's endeavours, and a will to push his personal boundaries; "Otherwise I feel this absolute impending doom or feeling of guilt. My mum says I can blame it on her growing up Catholic and having that guilt whipped into her by all the shit she learned in Sunday school about burning in hell. That is a whole big part about this record as well, definitely the final song on the record. That's about my Mum and my Grandmother "
The contradictory soft yet sharp quality of 'I Sinned Today', alive with the chorals Billa and Lane engineered, holds the value of family love whilst also embedding a strong reproach reaching from the external. Softly yielding vocals "she's still got a soft spot for Jesus, and I guess I do too[...] How will I ever find my way if I don't know who to follow" conclude the album with a heavy question mark. This is a fitting end to an album that observes, lives, suffers and rejoices in life being just as it is.
In Lane we have a joyful, complicated, subtle, unceremonious artist, capable of exploring the minutiae of movements in musical endeavour. He is passionate, intelligent, funny and thoughtful, and this pushes through lyrics and arrangements and touches the soul of the listener. In the final throes of his latest Australian tour, hosting a whole heap of new songs fresh from his Caravan tour of America, there are rumours of a new record release in March 2013, though this is yet to be confirmed. Having witnessed this new tour, and heard a few forthcoming numbers, we can tell you that there is a lot more to come from this man. In the mean time you can get Lane's full back catalogue from all good download sites. Oh, and keep checking in with us and we will be the first to bring you news of a UK tour, for we will be shouting it from our e-rooftop!