Introducing: Rossi Noise
Our man Deluzzion, with his ear firmly to the ground, catches up with Newcastle-based "rockstep" group Rossi Noise to discuss who they are, what they're doing, and taking their unique sound to the masses.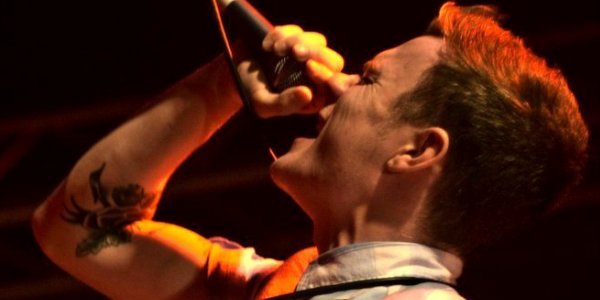 Firstly introduce yourself and tell us how Rossi Noise came about?
We are Rossi Noise, a five piece live rockstep band. We consist of Ross Holland (Vocals, Production), Scott Holland (Drums), Neal Harrison (Guitar), Gavin Lee (Bass, Electronics, Production) and Absorb (Live MC).
The band began with myself (Ross) wanting to use some of my ideas that I'd written a while back that weren't right for my band at the time. I then enlisted the help of my brother (Scott) on drums and Neal on guitar. This brought together a great live sound. Neal had then gone to rehearse with his other band, and showed Gav (Owner of BaseHQ Studios) some of the tracks we were working on. I then went to meet Gav to see if we could work on some stuff together. We instantly knew what each other wanted from the tracks, and seemed to click in the studio. We decided on a few tracks, but ended up recording five in total!
Gav showed us one of his tracks featuring an MC called Absorb. We were totally blown away with his style and ability, and straight away knew we had to work with him. Since then, we've been playing live as a five piece band.
You mentioned the term "rockstep", so for anyone unsure about what's meant by that, how would you explain it?
Rockstep is a bass heavy fusion of Dubstep, Dance, Drum and Bass, Hip-Hop and Rock. Something for everyone really! We've been told we have elements of Linkin Park, Pendulum, 30 Seconds to Mars and even Muse.
Most of the group are from Newcastle. What's the music scene like there for gigging and also going to gigs?
I'd say it's getting there. The crowds seem to be picking up again, and I'd love to see it back to how it was about seven to eight years ago.
What's been the best gig you've done so far and why?
I'd say our first heat of NExposure at Newcastle Academy recently was pretty awesome. The crowd were great, we won over a big amount of fans and we had no tech problems. Perfect.
Do you have any rituals before/during your live set?
I think we all have our own little things we do before we go on. I generally have a few beers and just chill out.
When recording, do you have any studio essentials?
Lots of synths, lots of coffee and the occasional beer.
What are the long term objectives/goals for the group?
We all want to do this as a full time job, we all have an idea of where we want to be in a couple of years and my idea certainly doesn't involve call centres.
Who would be your dream feature/collaboration?
I'd love to collab with someone who'd bring something totally different to the table. Someone like Lil Wayne or Kanye West, that'd be a hoot.
What are you listening to on your mp3 player at the moment?
I currently have Whitesnake's greatest hits on in the car!!
If you got locked in a car for 40 minutes and your car was filled with all the CDs/mp3s you own, which CD would you choose (you can only choose one) to listen to from start to finish before you got rescued?
That's a tough one, but probably Lost Prophets'
Start Something
. It brings back good memories.
Are there any releases/gigs/tours/videos etc that we should be looking out for soon?
We've got a few offers on the table, so we're going to take our time and make sure we make the right decision. Hopefully all of the above will be happening very soon.
Where can people find you online and what's the best way for people to get in touch?
You can find us on
Facebook
and also on
Twitter
.