Introducing… Bo Keeney
Clementine Lloyd chats to Bo Keeney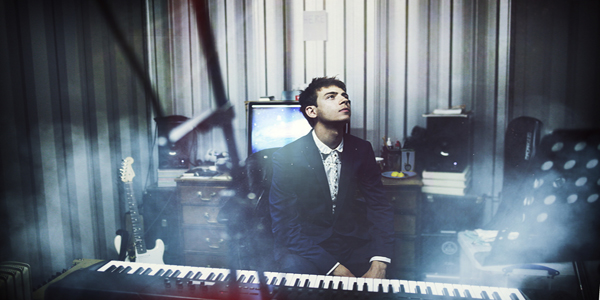 His name might sound slightly like a ladies swimming attire, but he is definitely not girlie, and in no way wet. Harnessing a wealth of musical instruments, audio quirks, and a vast variety of influences,
Bo Keeney
has an acute sense of how to build and maintain a beat, tie it to a rhythm and set it running through fields of music, past and present.
Bo Keeney
is a man of many musical talents. His projects are grand, and he has the passion to see his projects through. The son of a woman who ran with such industry greats as Van Halen, hair stylist by day, singer and guitarist by night, as well as Art and Music History professor, it seems his talent was nurtured by his family's respect for music's powerful presence in their lives. Whilst living in California, from the tender age of four, his father would take he and his brother to watch their mother sing and play in her band. Music also proved a great source of strength when the family upped sticks and moved across the pond to Winchester with his father's job. Bo was just 11.
"We pretty much just pulled up the roots and moved overnight… after moving, that 2-3 year period... it was inspiring, but also alienating. You see the world through a different pair of eyes, people are different, the whole culture is different… In a way that was really stimulating. But it was painful being detached from so much. I didn't belong anywhere. I think that pushed me into music, hard." Spending hours alone in school, playing piano in the music room, his interest in collecting and playing instruments grew;
"I started nicking my older brother's guitar, when I got into metal at about 11. It lured me in… I would just sneak it away and start bashing it. I'd been playing drums forever, but it felt like something I was encouraged to do… But at the age of 10 or 11, when you're about to become a teenager you want to do things that really irritate your parents, you want your own identity." Standard fare for youngsters to flout expectation perhaps, but to have such drive at that age is admirable. To date, Bo has become accustomed to playing bass, drums, piano, guitar and harmonica. However, he cites singing on his EP as his most difficult hurdle;
"Some people maybe are born to sing. I was totally hopeless. I would write songs and nobody would hear them cause I couldn't sing the melodies I was writing. It was just a garbled, potato down your throat kind of sound. I had this horrible habit of craning my neck and half-speaking… I didn't really want to be a singer, anyway, I just really wanted to get my songs across, but I wanted to get them across my way. So I had to teach myself to do it."
With the release of his new EP, it is apparent that this self-professed difficulty Keeney has faced head on. Gracing all three original tracks on the EP with his vocals, there is a confidence that breathes natural ability. Nowadays his gaze has moved, from metal, to encircle a vast array of genres and eras; which soulfully inform his vocals as the centerpiece, he layers title track 'Don't You Worry' with a pinch of funk, blues, soft rock, electro and drum and bass. The resultant chapters in the audio narrative have been artfully blended for a smooth finish that shimmies across vast borders, forming an experience that you will not forget. 'Ambulance' forms a more linear funk structure, with blues-ey vocals adding the cherry on the top, whilst 'Motivation' has a modern feel, alive with engaging staccato drumbeats, and sustained synth strokes. His collection of instruments has expanded to include electronic equipment, and collected audio that informs every corner of this judicious and eclectic EP.
Hearing this concoction first hand, its difficult to believe that this EP was conceived, nurtured and created by just one person. Hiring a shipping container last year, after receiving an advance from his PR company, Keeney holed himself up in his container, decked out with musical equipment. This became his studio for the remainder of the process. But did he find this a lonely existence? His response is something rather wonderful.
"The isolation was sort of the idea of renting the container… to make loud music all hours. I love people, I need people in my life. But I'm almost not bothered by the isolation, when I've got music playing. It's just
so good
. When you look at the amount and the variety of recorded music. You could just live in it, there've been so many people over such a long time putting their life into their recordings, you can live off that energy. It's intoxicating. "
It's refreshing to meet an artist who does not believe you can be alone when recording music, or listening to it, no matter how far from a living person you are. Citing a vast array of admirable musicians as his inspiration; Beck, Louis Armstrong, Stevie Wonder, Sly Stone and Brian Wilson, Keeney also notes, "My whole approach was taking in every kind of music I could, so it's kind of backwards to limit it to one or a few people that influenced me". Recognising the thread that runs through Bo's work as well as his forbears, it is obvious that his intelligent understanding of these people, of who they are and how they work, informs his maturity as an artist.
"Those guys were all at the helm of their own records, very hands-on, really ambitious, never sticking to one style. Louis Armstrong, as a person and a performer, [I'm in to] all kinds of people. Anybody who's real, and whatever they put back into the music. That's what I'm into."
With the EP done, and a move from the studio to the stage, the shift from the isolation of the studio to the teaming nature of the live performance could be a difficult step to take. But we know Bo is one to roll with the punches. With a live performance on December 13th at the Seabright Arms, London, we asked Bo how he felt about relinquishing control to his live band;
"The recording was everything, that was the goal. So putting it out in front of people… it's a totally different game. I don't want to recreate the recording on stage… All the guys are contributing their own personality to it. I love handing them the stems! I want everybody to have the stems. I kind of lost the plot for a while and made every song an album in itself… so there's about ten thousand ingredients per song. I wish people could see them all laid out. If they were at all interested. "
Show of hands people, who is in? We know we would love to see the ingredients of this tasty EP!
Keeny's EP
Don't You Worry
is due for release on December 9th, complete with delightful remixes from long-term Magnetic Man collaborator Sam Frank, and another from Breton Labs. Don't be the last on the band wagon.