Interview: White Reaper
Bearded catches up with the acclaimed Kentucky garage rock quartet for a chat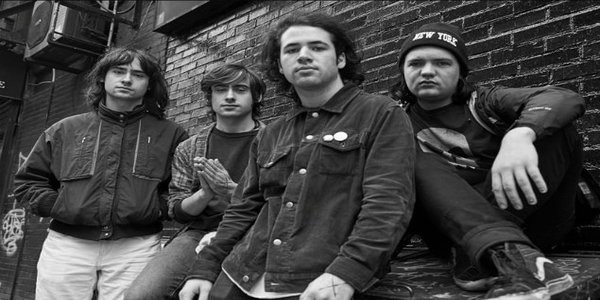 Ever hear the old one about men of few words and more action? Well Kentucky quartet
White Reaper
fits hand in glove with that old-time, John Wayne Americana ideal. They have eyes on the glittering rock 'n' roll prize, focused more on deed than word, hence their stoic, no time wasted approach to well, pretty much everything.
Circumnavigating the globe with fuzzy alt. pop group Alvvays recently, the Louisville ensemble made their maiden voyage to Blighty on the jaunt.
After falling in love (over and over) with their recent debut record
White Reaper Does It Again
, a hot-cross hybrid of vintage rock and punk, I had a chance to sit down and talk to guitarist/singer Tony Esposito about what it's like to be so badass.
Bearded: How are you guys?
Tony: We're doing great thanks! We've just finished our first tour in the UK and it's been a blast
Every time I listen to White Reaper Does It Again, I picture you guys, white knuckled on some illegal off-road racetrack. Am I way off?
If we took our shitty cars off road they would fall apart but I would love to race my band mates.
On one hand, I feel like this album is a real throwback to older ideals about rock. Who are your influences?
We love Ozzy Osbourne and Black Sabbath, The Cars, Keith Moon, just a bunch of stuff like that.
How do you guys respond to quotes like, 'You play classic rock 'n roll while trying to dissolve it in acid?'
That sounds like the nicest thing anyone has ever said to us.
Was there any trepidation about trying to expand on that energy captured on your self-titled EP?
I don't think anybody was worried about how energetic it would sound. We were more worried that the new record would be too fast
Favorite tracks for me? "Pills" There is such a bounce in that song. Is that what makes it a perfect, White Reaper single?
It's just a really fun song to play and people seem to like it
I think the most interesting song on White Reaper Does It Again is "Friday The 13th" which is darker and more cinematic than any of the others. How did that song come about?
Actually I wrote that song the night before our last day of tracking. I recorded a shitty demo at my house and brought it the studio the next day and we made it work.
This album is a constant bundle of energy. What's a White Reaper show like?
Our shows are a bit faster than the record, and much sweatier.
How has playing with Alvvays been?
They're probably some of the nicest people we've ever met, and their show sounds just like the record.