Interview: Welcome Back Sailors
Sam Kelly speaks to Welcome Back Sailors...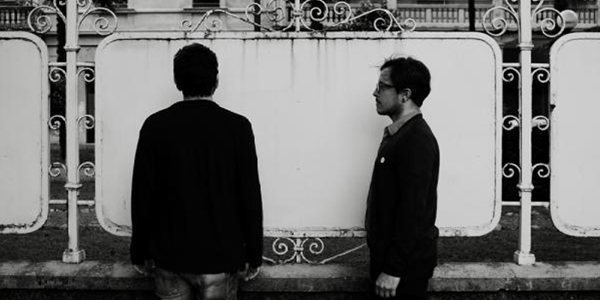 "Imagine a Polaroid shot of backlit trees" is how
Welcome Back Sailors
(WBS) once described their sound. It certainly seems fitting, as their lush harmonies, attractive melodies and quirky take on a now repetitive chill-wave scene set's them apart from sub-standard acts. The Italian duo have been creating a circulating current around music blogs for quite sometime now, and the electrical energy they've been building is incessantly rising, with new songs, new releases, arty visuals, impressive live shows and finally, a long awaited full-length album.
Bearded
caught up with Alessio and Danilo to demystify their origins, the making of
Yes/Sun
, future plans, and everything else musical Sailors get up to.
_______________________
Hi Alessio & Danilo! How and when did you guy's first get together and start making music as WBS?
Hi Bearded! We've been in the same band for a long time - there were six of us once, I played the bass and Danilo was the lead singer. Towards the end of 2009, we got part of the equipment we currently play with, and we started our experience as WBS.
Was there a significant moment, artist or song that made you want to write music in the first place?
It's hard to find an answer to this question, but considering that we've always been very fond of Manga, I can tell you that many of the signature tunes of the animations we watched have definitely influenced our craving for music (especially 'It Makes Me Higher' by Ganjmed).
You've released a few EP's over the last year or so, but now finally your full-length album Yes/Sun has been released, how does it feel for it to be out in the public?
When we started WBS, all we wanted was to write songs and enjoy ourselves. We feel very excited that after less than two years and several digital releases (also with the help of some very special people who made it all possible) our first vinyl came out, and I guess this has been a really cool way to carry out all we've done so far. In addition to that, we're lucky enough to be supported by the guys from We Were Never Being Boring, and this, too, is great!
Were there any major influences in the writing and recording of this album?
The creative process that we follow in order to compose our music comes from many different sources. We don't restrict ourselves in any way and we don't follow any particular direction, we just lay back and go with the flow of our emotions. However, our cultural background has influenced everything we do, and I'm not talking about music only. Music wise, we pay a lot of attention to what's around (or has been around in the past) and there are so many things that fascinate us, but I think that the greatest boost we get during the composition and recording of our tracks comes from our everyday life.
Is there anything different about the album in comparison to the earlier EP releases?
Yes/Sun
is our first full-length and it actually includes all our previous digital releases plus three unpublished tracks ('Hero', ' A Fortune Teller Song' & 'Inner Charm'). Every song has been customized for the vinyl, so this is something that makes them different in comparison to the previous digital versions. The ten songs contained in 'Yes/Sun' were not originally intended for the vinyl, so they are all very different in content and can be seen as a range of different emotions which don't correlate, but each has been expressed with the same intention.
Your live set-up is pretty impressive, and you've recently been working with Fuse Creative Lab, an Italian interactive and media design company, to create some live visuals. How did that come about, and how has it worked out so far?
Live shows are essential for us. That's the precise moment when all our emotions blend within the place we are in and with the people who are receiving them. It's pure energy, and the last step of our creative process. So far, we've only collaborated with Fuse Creative Lab for one show in Modena. Those guys have great talent (I met them through work) and we got on really well right from the start, so when we've been asked to arrange something for the AntWork event, I immediately thought about them. We talked about our ideas for the live show, and I knew how they worked, so we didn't need to tell them much, and even with only a few brief notes, they did all the visuals brilliantly. Unfortunately, it isn't easy to organise this kind of visual performance, and not every location is ideal for that, but that doesn't mean that our collaboration will end - we certainly hope not, as we're very fond of each others work!
Sweet, we hope so too! You've got a few dates lined up back in Italy, are there any intentions to do a tour in the UK?
We are currently on tour in Italy with our 'End of Summer Tour' to promote
Yes/Sun
, so we'll be in many different cities. We are also trying to plan some gigs abroad for the next few months, and obviously U.K. is on our mind: let's see what happens!
What have you got planned for the rest of 2011, and for the New Year?
We'll be very busy with our tour until the end of October, and we're currently working on a remix and recording lots: some tracks are ready to come out, together with their remixes, so we need to decide how to handle this material as well. New Year's Eve is still far away, so we're just going to concentrate on the end of the summer and enjoy that for now!
_______________________
Here
is a video for the track 'Hero' off the new album
Yes/Sun
, and you can access the remix of the track by Nazcarnation
here
.