Interview: Wedlock
Coming from an area of the States with a rich music heritage of its own and bringing a love of English electro pop, here is a musical marriage that deserves to last. David Brown talks to Wedlock's singer, Paul Allgood, about this band of gold.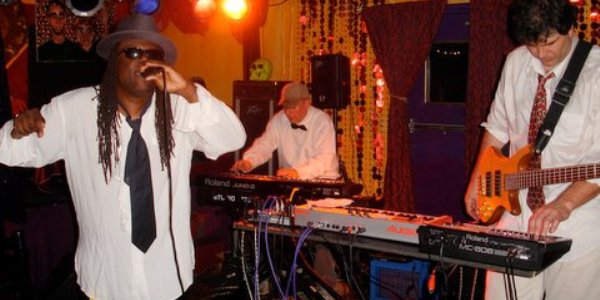 The continued dominance of guitar-based bands emerging from America makes it such a pleasure when you discover musicians who not only choose to feature other instruments, but also know exactly how to use them to interpret their own sound.
If you just heard the name, Wedlock, you might expect yet another guitar-led rock outfit, but no, Wedlock is everything but that. Instead they choose to explore the possibilities offered by electro keyboards with a mix of techno pop and dance beats.
They are based in Chapel Hill, Orange County, North Carolina, on the eastern seaboard of the USA and comprise Paul Allgood on vocals, Baxter Smith on keyboards and programming and Lee Whitsel on bass and programming.
Speaking to Paul recently, it was not too difficult to work out some of the influences.
"I spent some time in England at Chichester Polytechnic in 1990 studying jazz and pop music on a course," he said. "I loved the dance and house music, the Pet Shop Boys, New Order, Soft Cell, Happy Mondays, acts like that."
That influence is plain to see on the first record which carried Wedlock's name
Matrimony – The EP
, six tracks that took that techno pop vibe of the late '80s/early '90s, shook it up a bit and gave it a sonic blast of contemporary edge. From the start it is a sound that has been picked up for airplay by their local college radio stations, eager to find something a bit different.
Released in 2006 on their own Kounterfeit label (as with subsequent releases), Wedlock originally consisted of Paul with Jeff Hathaway, a pair of like-minded musical souls. It was very much a sound honed in the studio, but for the first Wedlock full-length,
Exogamy
, issued in 2008, a band that could perform the material live had been formed. From
Exogamy
came singles such as 'Reverend Charisma'(a song about cult leader Rev. Jim Jones) and the soulful 'Black Sundress', which typified the intelligent lyrics of songs that took on subjects such as politics and religion in addition to those about personal relationships (or the lack of them). This is that rarity - disco music with lyrics worth listening to!
The band has seen a few line-up changes, including a female drummer for a while. "We're open to having a drummer, but it's not essential," explained Paul. "We use electronic drums for the beats anyway." There is also the economy of space on the road to consider too, of course!
It was the current trio that feature on the most recent album,
Continuity
(released last year), which, if anything, gives them even more of a live band sound. "I think it represents our current day sound best," Paul says. "All of the material was created by the three of us in the same time frame." He added that some of the material on the second Wedlock record had been leftover from the first recording.
They appear on
Br'yanna Rain's
new
Blameless
EP, which is also released on Kounterfeit. Indeed, this EP very much involves Wedlock as the title song is written by Br'yanna with Paul and Lee, while Lee engineered the recording and produced it with Paul. One track on the EP, 'String Theory', is, in fact, Wedlock featuring Br'yanna Rain, with the final track being a remix by The Beatguild.
"Most of the bands in the local area are guitar driven and we have taken our sound to cities further out," said Paul. "People come up after a gig and say that they have not heard of us before but that they do appreciate something different. It is amazing what you can do with keyboards."
The core of their present set is, naturally enough, from
Continuity
and they have taken their sound to different sized venues from small clubs to large festivals. One of their favourite free festivals to appear at is at
Carrboro
, just outside Chapel Hill, held each September. "A variety of all types of music are played across the city on one day – all mixed in. One year we played at a cafe and the next year appeared on a bigger outdoor stage near the radio station," said Paul.
Chapel Hill and Carrboro share a strong musical presence with Cat's Cradle at 300 East Main Street, Carrboro deserving special mention. It was here that Nirvana first played to around a hundred folk in 1990. Three years later Pearl Jam packed the place. Chapel Hill is the home town of James Taylor, while other bands to first make their mark there include Ben Folds Five and the Squirrel Nut Zippers. The Kenan Memorial Stadium is where Bono defied the thunder storms to climb to the top of the stage bearing a white flag during their 1983 'War' tour. Chapel Hill was the home of the now lost Mammoth Records indie label, while Merge Records is based at another neighbouring city, Durham.
"Saturday night is still the biggest night to listen to new music around here," said Paul. "There's everything from dance clubs to live rock 'n' roll."
Needless to say, Wedlock would not mind bringing their sound across to this side of the Atlantic, where it would doubtless find a ready audience, especially considering those Brit-inspired techno pop and dance influences. Thanks to the worldwide web, people have already been picking up on Wedlock, of course and you can find out more for yourself
here
.
Meanwhile Paul, who is also an author and playwright, is busy working on a new band project called
Celadon Candy
. That's not to say we've heard the last from Wedlock. "There's a strong possibility we will work on a retrospective of past Wedlock material, with the chance to do some remixes. Vinyl is still strong here and we'd love to release something on vinyl," Paul reassures. That's good then because some of us are just discovering Wedlock and it would be a shame if they brought out a 'Divorce' album just yet.