Interview: The Xcerts
Gary Green joins Jordan from The Xcerts at their free show at The Haunt, Brighton. They talk about supporting Manchester Orchestra, the death of the single, and Wagner.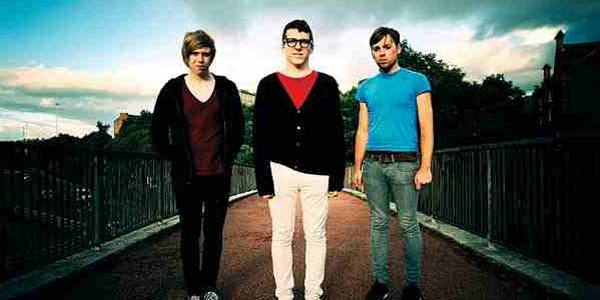 Hello Jordan from The Xcerts. How's it going?
It's going very well, thank you.
How do you feel about playing this free gig, and playing for free?
Playing for free's always good. It's always good when you can work something out with the promoter, you know – everyone's happy.
Especially the people who get in for free.
Yeah, totally. There's still a guest list, for some reason which I find really weird. A guest list for a free show…
You recently played the Royal Albert Hall with Biffy Clyro.
Yeah, a couple of months ago. It was… surreal, to say the least. First time seeing the Albert Hall, never being in the space before, so it was pretty mad seeing it for the first time.
Is it one of your favourite venues you've played?
I can't really say that, 'cause it's not like we're going to go back there any time soon (laughs). It was an incredible experience, and a couple of weeks later I actually went back to the Proms to an orchestral performance, and really got to appreciate the building – though it's not really designed for rock bands. It's made for Wagner, and stuff.
Would you say you lived up to Wagner?
We were just as imposing as Wagner.
You've come off tour with Taking Back Sunday, and you're about to go back on tour with Manchester Orchestra. How the hell is that?
It's still sinking in. We played one show with them (Manchester Orchestra) just after their first record came out a few years ago at the London Barfly, and they were just the nicest guys – we were big fans, and we still are.
Do you think you're inspired by them playing live?
They're really consistent. They have all their settings nailed, you know – they know exactly how things have to sound live. And it's always so much heavier than the record, and that's what we try and do as well – just really double up everything.
I've noticed you've pushed things in the volume department.
Yeah, much louder and much heavier.
Would you say that's imposing on the dynamics?
We can get quiet if we want to – that's very important, especially for a three piece. That's what we took from Manchester Orchestra
You've had the single 'Slackerpop' re-released, along with the video. What was the reasoning behind all of that?
Well, the re-release of the single was basically because we heard of the flexidisc thing, and we didn't really want to just put out another single from the record because the whole ceremony of putting out singles just feels really redundant nowadays. Why would you bother when everyone can just stream stuff online? And we always really liked 'Slackerpop' – it was the first single, but we really rushed it when we first put it out – so we thought it'd be a really sweet limited edition, nice thing to have.
You talk about the internet, and singles being redundant. What do you think is the future, for The Xcerts at least?
Obviously you have to move with the times, or you'll get left behind. But I don't think we ever really changed dramatically the format we do – we're always going to make records, and they're always going to be available physically, 'cause we love doing that.
Do you ever consider doing just singles, like Ash did a few years ago, or will you continue releasing albums as their own artform?
The latter, definitely. But in terms of one-off songs to get people into your band, a single feels like a really big waste of money when you can just put up a link and give it away for free.
Along with The Xcerts, there seems to be a slew of Scottish bands who seem to be getting more noticed recently – obviously, Biffy Clyro have gone stratospheric, being the most extreme example. Also Twin Atlantic seem to be getting big at the moment – do you think you can follow and become just as big?
They're good buds of ours, actually. We toured with them a few years ago and have known each other for a really long time, so it's great to see them doing so well. But it's different, really, everyone has different approaches to it. I don't think anyone goes into it thinking they want to be big, but they have a really good label behind them pushing them – and our label is really good as well, but just sort of broke. In terms of marketing and stuff, we can't really do it to nearly the same extent. Which is fine, because word of mouth has always worked better for us.
So word of mouth and just hard graft are the key elements?
Yeah, I mean it's the old standard – you play a show to three people, and you come back and play a show to six people. It's how you have to do it. You have to play a good few shows before people start taking notice, and we've always been aware of that. It's always been our ethic.
I found a definite shift in tone – and an up-scaling of anger – between In The Cold Wind We Smile and Scatterbrain. What was the reason for that?
It wasn't conscious. The songs getting darker and heavier… the producer was a big factor. Mike Sapone was like a fourth member the whole time – he was really involved in getting tones and sounds. This album just grew out of the time we were there – we didn't really have it ready to go into the studio, we just kind of went in and it happened.
I've heard the description 'grunge pop'.
Distorted pop. That's a tag that kind of stuck, because we always approached songwriting in a classical pop sense – verse, chorus, verse chorus, middle eight, chorus, end.
you say that pop in that definition is the real essence of a good song – of good songwriting?
Yeah, it spans any genre – any song in any style can have a kind of pop mentality or pop basis, if it's written really simply.
So pop isn't the dirge of music?
No, absolutely not. I don't think so – there are always going to be good pop songs – someone low-fi like Wavves write really good pop songs, then Arcade Fire write really good pop songs – and they sound completely different. But it's the same ethic, the same mentality.
Talking about Arcade Fire, what are your favourite bands right now?
The last record I bought was D by White Denim, and I think it's the best record I've heard all year. In my opinion, it's amazing.
The Xcerts are currently on tour supporting Manchester Orchestra.