Interview: The Varp
Bearded puts The Varp through a thorough interrogation to see what we can extract...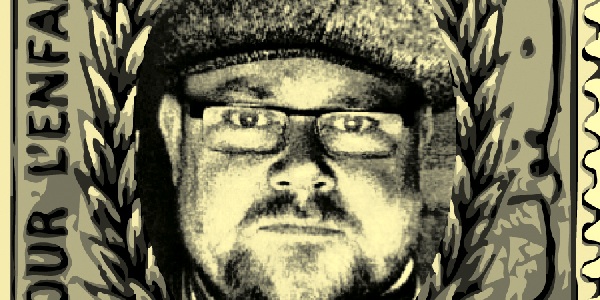 The Varp are Richard Taylor and Oliver Betts from Market Harborough in Leicestershire. After forming the band in 2003, their first album,
Hymns from Inside A Snail
, came out three years later.
Full of other galaxies, oddities and eerie drones, The Varp have just released a new album,
Kid Cargo & The Wicker Jet Plane
. Whilst they aim for interesting music that doesn't give too much to the listener, we've given them a minor grilling to see what lies beneath.
What made you want to be in a band/make music in the first place?
We have both been in bands for over 25 years and started when we were teenagers, having only first played in the same band with The Varp, so (well) seasoned musicians. We originally came from a small Leicestershire village where there was nothing much doing. The village hall, boys' club and church halls were cheap to rent so we got some like-minded souls together and away we went. We just carried on…and here we are nearly 30 years later.
I'm intrigued by the statement 'doesn't give too much to the listener', what does that mean in terms of the music?
This is going to sound pompous, but we are really trying to push ourselves to make interesting music - we are way past the "when we make it big" stage in our music. We try to make the best, most interesting stuff that we can and if it falls flat with the listener so be it. Equally, we cant take it too seriously (hence some of the song titles) and if we came across all arty and serious I think it would be a disaster. We are walking a tightrope here and I think this is why it took us as long (three and a half years) to finish
Kid Cargo & The Wicker Jetplane
, we are pretty ruthless when it comes to editing our work to try and keep the quality as high as possible.
'The Last of the Eel Traders', 'The Riddle of The Glass Limbs' - many of your songs have quite surreal titles and story lines, how much of it based on the truth and how much is your imagination? Is there a concept behind Kid Cargo?
The song titles are pretty organic and they do change as we go along, we don't set off with anything firm in mind but both of us keep little books with lyrics and observations, which we fall back on. We are very democratic and often discuss the song titles until we arrive at a compromise. The lyrics we normally write individually so it's always a bit of a surprise when one of us wants to lay down a vocal track.
The track 'Kid Cargo' is based upon an imaginary colonial rogue, 'The Wicker Jetplane' is a track about a cobbled together aircraft crashing in the American Midwest, 'The Last of the Eel Traders' was a title formed after watching a TV program about the decline of eels in the Thames. The main concept behind the second album was being outside, travel etc… Our first album,
Hymns from Inside a Snail
was a very claustrophobic album and had a bit of a trapped feeling running through it, so a reaction to that really.
Describe your songwriting process.
We record our initial stuff really quickly, no going back and re-recording the same tracks again, just getting music on disk. When we have a few hours we plough through it only keeping the pieces we find interesting. Then we usually play over the original track with different instrumentation and build it up like that. The vocals can be added at anytime (or even be there from the start). We normally add the drums towards the end, which is what give The Varp that disjointed feel.
Sometimes we are left with very little of the original track in the finished recording. Then we spend months on each track nipping and tucking until we are happy. Sometimes we still end up shelving the track if it is too straightforward or lacks that certain something at the end. We have a healthy collection of B-Sides and rarities in the bag for the future.
What is your earliest musical memory?
Richard:
Listening to my Dad's records – The Beach Boys, can't stand them even now; I have to turn them off if they are on the radio. I know people always do the "Pet Sounds, it's a great record etc." but I don't (or can't) like it, scarred for life. Same goes for pretty much all of my earliest experiences based on my Dad's records, Lulu, Cliff Richard, Queen, The Shadows and Hank Locklin. I really grew up on punk (but not the Sex Pistols, another band I struggle with), I preferred the Buzzcocks, Crass etc. much to my parents delight.
Oliver:
A Louis Armstrong song on the car stereo on a family holiday in Spain, I had prickly heat and my brothers were car sick. Someone got shot on a hill in the number and it disturbed me a bit. Also seeing my Dad play jazz in the mid 70s - Ear-bendingly loud gigs shrouded in French fag smoke, they seemed to go on forever.
Who do you most admire, and why?
Richard:
In life, people who have more than one career: Albert Einstein, Michael Palin even Ronald Reagan, people who have enough talent or influence to completely change from one thing to another. In music, people who stick to their guns and churn it out for years without changing the basic recipe, the Cowboy Junkies, Momus, Belle and Sebastian, I'm not keen on musical chameleons.
Oliver:
In stark contrast, I love the idea of changing approaches to music. People who matter: Robert Wyatt, Bowie (I take comfort from the fact that he has the capacity to be really awful), Scott Walker, Miles Davis – usual suspects, really. In real life, my Grandmother gets my vote, she's endured a lot and remains happy and content which these days is rare.
I've tried in vain to find The Varp on MySpace – is it true that you don't have one? If so, how come? And as independent artists, what other ways do you promote yourself?
We did have a Myspace site when we released our first album in 2006, I forgot the log-in details and the rest is history. We have our stuff on Itunes, Emusic, Amazon, Lastfm, The 61, we have a blog and our own website, with a Paypal/Credit card set up for buying hard copies of our music and a few free downloads. I think it's great these days how bands can promote themselves so easily, of course the problem is it's so easy everyone can do it, so standing out from the crowd is the issue.
If all your wildest dreams came true, where would you be in a years' time?
Richard:
Knocking out another Varp album to lukewarm praise.
Oliver:
Ditto, without the praise bit – my dreams aren't that wild.
If you could've written one song in the entire world, which one would it be?
Richard:
Probably 'Suzanne' the Leonard Cohen classic, or maybe 'Song to the Siren' by Tim Buckley
How does The Varp translate into a live performance?
We have played live, we play interpretations of out studio work so not like for like replicas but definitely identifiable as the originals songs to some extent. My wife came to see us once and described it as "the longest hour of her life", which I think is a pretty funny review! I don't really see us as a sing along anthemic type of an outfit so playing live is always going to play second fiddle to our studio work. Having said that, we have enlisted a drummer for the third album and the new direction is certainly going to be more tangible than our previous albums and so more frequent live performance is likely in the future.
Is it really better to burn out then to fade away?
Fade away definitely.