Interview: The NorthaZe
The rising UK hip-hop duo chat about their acclaimed new LP Mellow Thrills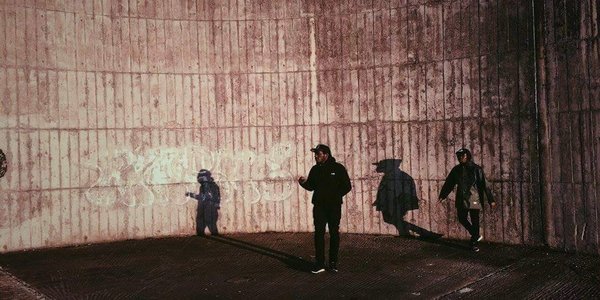 Leeds based duo
The NorthaZe
, consisting of MC's Kosi Tides and Swish, have been developing their sound and reputation for the last few years. This came to its highest peak so far this month, with the release of the nine-track project
Mellow Thrills
, distributed by independent powerhouse Blah Records for free download. I caught up with Swish and Kosi at a good old fashioned local to talk about the new release.
'Well my Dad used to listen to a lot of hip-hop; Capone-N-Noreaga and stuff, that was when I was about eight years old' says Kosi about his introduction to rap music, 'It just went on from there'. 'That's sick' says Swish. 'I wasn't into it that much' he continues, 'I was into grime more when I was 15, 16. All the hip-hop I saw was on TV, so I never really got into albums, I just used to see geezer's spitting on MTV and shit. Grime was my thing, and then I converted when I met Kosi'. I ask Kosi if his ears crept up to 140 BPM back then. 'Not really. When we linked up we kind of passed the knowledge onto each other'.
I'm intrigued as to how the duo first met. 'Through my cousin Abs' says Swish. 'They went to the same school, so it was through that and linking up a few times. Where were we?' he asks Kosi. 'We were in Gipton, do you remember? We were at Akai's and you had a verse'. Kosi interrupts, 'Oh, yeah. To Meek Mill - Burn (laughs), I remember'. Swish reaffirms the point, 'he spat a verse, and that's when we started getting the music stuff brewing properly'. I ask if rapping was just a hobby in the beginning stages of their career. 'Swish was doing it as a hobby, he was putting out videos and stuff' says Kosi. 'I was rapping but I was nervous to put it out and see what people thought. Swish was in a group at the time called DSE with four other members, they were like 'Do you wanna join?', and I was like 'Why not, it's a good place to start'.
I wonder how long the duo have been making music for. '15, 16 I'd say' replies Swish. 'It depends what you class as music, I used to spray on media channels, if you class that as making music, when I was 15, 16. In terms of making tunes, I only really did that once I'd linked up with Kosi'. The other half of The NorthaZe agrees, 'Yeah, it was about 2013'. So then they dropped the Bonsai tape the following year? 'In fact no' says Kosi. 'We did a mixtape that's on DatPiff only called
Up North Trip
', Kosi and Swish exchange knowing glances with each other at the mention of the title. 'If you listen to that you'll see the progression' continues Kosi. 'It was a while back man' adds Swish; 'it was fun though'.
The NorthaZe have carved out a niche in the UK scene; their atmospheric production and uptempo flows set them apart from their counterparts in the healthy West Yorkshire scene, and they also stand-out when compared to their peers up and down the country. 'We like to try different things' says Kosi. 'Sometimes we'll be in a mood where we're like 'we're serious now' and we'll get some serious instrumentals and write some serious raps. Then there are other times when we'll listen to a beat, think 'that's banging', and we'll just run all over it. We enjoy it all. We like to be versatile. If we went to a grime show we'd be able to give them something different to a hip-hop show. It's a wide variety, it lets us branch out.' 'He was into hip-hop, I was into grime' says Swish. 'That fusion came together. We both like spitting fast, so we had that implemented. We started off with proper old school stuff; we dropped on Deep Cover, Fat Joe and Big Pun, that kind of stuff. Then we tried to look for a new sound, and that's what we brought through on
Mellow Thrills
. We call it the saber sound'.
That is certainly brought through with the production on the
Mellow Thrills
project. I ask what drew them to the beats . 'We were searching for ages' replies Swish. 'We were listening to stuff like XXYYXX, stuff that we kind of a had an ear for, but nobody really ran lyrics on. We linked up with Jatce from Texas, we hollered him over the net, he sent us the Volume 8 beat, that was the first beat he sent us for the whole project, and we were like 'that's it, that's that saber sound'. 'It's like a mystical sound, but with a little bit of trap in it' adds Kosi. 'It's weird. It's sort of like The Underachievers sound, but it's a bit mellower'. I ask who else contributed beats to the LP. 'Jatce did 3' says Kosi. 'Two from a guy called Kalum Hall, from Leeds. Death Tarrot from Bristol'. 'Madbliss, and then a guy called Nick Leone' adds Swish. 'We just found the beats on the net and hollered at the producers'. 'Nick Leone produced the new Denzel Curry song UHT'. 'Did he? Sick' replies Kosi. 'Did he?'. The gravity of what Kosi just said hits Swish as he sits back. 'These are levels'.
With Bonsai and Outset being the first projects to really make an impact, I wonder what The NorthaZe wanted to do with those releases. 'Make an introduction' says Kosi. 'Once they were out I wasn't really happy with them. That's just me though I don't know about Swish'. 'At the start I was' he says. 'Looking back on them, I don't know. I think because we care so much about adapting our music, and getting it to the next level, listening back to the old stuff is kind of like 'Hmmm'. We could have this, we could have that. But it's all beautiful, it's all history, it's all sick. It reached out to a lot more people than I thought it would have. I didn't really see it on the net, but when I link up with people they'd say 'I like the Bonsai tape, I like the Outset tape', and it's like 'Yeah, sick'! It was definitely a good introduction to where we are now'.
With 2016 bringing the release of
Mellow Thrills
I ask what they wanted to do with the new release. 'The rebirth' says Swish. 'To be honest,
Mellow Thrills
went so well, we didn't expect it' says Kosi. 'We were literally like, we've got these songs, we'll put it out and we'll pay a blog or something to feature it, take it overseas and branch out' he continues. 'Then Blah Records hollered us like 'we've been looking at your shit for a while, how would you feel about putting a project out with us'. 'It was the perfect thing' adds Swish. The way we were trying to do it was just go for it, but when you're talking to these blogs overseas it's just different conversations. The way
Lee Scott
and Blah got at us was just sick'. 'They proper took us under their wing' says Kosi. 'Yeah man' agrees Swish. 'They birthed it for us. That was important about this one; rebirthing and reintroducing ourselves to a bigger audience. This was the perfect situation from Blah to our music to spread it out'.
Swish appeared on Defenders of Style MC/producer Jack Danz's
Ouija Slang
album, and I ask how that collaboration came about. 'It was from a while back, I can't remember exactly when'. I added him on Facebook and he had some beat-tapes on Soundcloud, so I used to get at him to see if I could use some beats. He heard our stuff and was feeling it, and then he sent me the tune one time to see if I wanted to get on it. He's one of my favourite rappers in West Yorkshire, he's too sick. Him hollering me to get on the album was like 'it's that time'. I'm glad to see how it's gone down, he released it on Bad Taste, and they're a sick collective. Lee Scott's on the album too'.
I ask if there are plans to do more work with the Defenders. 'We're meant to be doing an EP with them shortly' says Kosi. 'We're just waiting for a couple of things to finish, and begin. That's something we've been idolizing; they've always moved correctly in our eyes'. Swish continues; 'from the Leeds scene and in terms of their music, their flair and their bars and what they come with, it's just the symmetry to what we feel and how we want to move. Plus it's straight from the Leeds road, when you hear the stuff they say it's like 'Yoo'. You can relate'. I mention Prys' bar in Moon Moods "I'ma diva, still catch me yammin' brekkies at Popina's". 'Yeah man, exactly' says Swish. 'In terms of the music in the Yorkshire region, they're the guys that we're idolizing and it's sick that we'll get to do some more stuff with them'.
The duo also appear on Jack Jetson's recent
Lo 5
EP, and I ask how that situation happened. 'Where was that?' says Kosi. Swish takes a moment to think. 'I know' he says. 'So, someone posted that beat on Instagram and we thought it was cold, so we mailed the guy and it turned out to be him. We said can we get that beat to spit on, and we looked at Jack's stuff and he's been killing it for a while. The fact that we could jump on it for his EP was sick'. 'Hopefully we'll do more stuff with him soon too' says Kosi. Swish nods; 'Yeah man. It's a cold EP. People need to go and check that'.
The NorthaZe have been gaining experience on the live circuit, with a guest appearance during Defenders of Style's set at the High Focus show in Leeds last year (
review
) and an excellent set at Teknico's recent album launch. I ask Kosi and Swish what they enjoy about performing, and how it differs to recording. 'The whole vibe of it, I think everything about performing is good to be honest. The set at Teknico's launch was like a warm up to our Asteroid Boys one in Cardiff. That was the first time we got to do the new songs from
Mellow Thrills
', 'Everyone there, Teknico and that, they went in' says Swish. 'In the studio it's different when you're getting your bars out. Flow switching on stage, and seeing the crowd's reaction; you feed off them, they feed off you'.
I wonder if Kosi and Swish have both learnt their bars before laying them down in the studio. 'He always does' says Kosi. 'I don't. That's my problem. I always think in the studio, if I write them down, it messes with my delivery, and that's haunted me. That's why I don't like Bonsai and Outset, I was always going in phone in hand. On
Mellow Thrills
, it's a lot more accurate and I'm a lot happier with it.
The NorthaZe, like any up and coming artist or group, have been prolific with their
YouTube releases
, and just like the sonics, the visuals stand out. 'We try to make it like...' Kosi pauses for thought. 'If you were sat at home, smoking a spliff, big screen TV, what do you wanna watch? I wanna make it like that. If I'm at home, I think what do I want to watch? I want to watch a Northaze vid. A lot of videos nowadays, they're getting better from every aspect so you've really got to up your game to stand out and get attention. Swish was editing Volume 8 with a guy from Sheffield called Ellis; these two were on acid. When we look at it now it's like 'Friggin' hell, it's a work of art' (laughs)'.
There are lots of psychedelic references and drug-related concepts in The NorthaZe's music, and I wonder where that came from, and how that found its way into their writing and vibe. 'I was only really a weed smoker until I was like eighteen' says Kosi. 'Then I started trying all these new things. When you try all these new things they open new doors. It opens doors for content, I know people say you shouldn't use drugs for content, but it's useful; it helps. I could tell people about my life, but my life isn't as entertaining as when I'm tripping, and I'm lost in astroplanes and shit (laughs)'. 'It helps us to bring a sicker view on things that we actually do as well' adds Swish. 'Me myself, I'm not really a drug heavy person, but I've been on the waves before. To describe it all and bring it back to the sound of the music; it's sort of like a puzzle. It's just how it ends up. we don't intend to put it out like that, but when we're writing, it's just how it's formed, and it just compliments each other.
I ask how The NorthaZe see the music coming out of Leeds. 'Over here it's wavy' says Swish. 'Leeds is a place man, it's a sick place. Grime gets shouted a lot. With Defenders of Style, the way they move is sick. I mean their name, it's literally like they're defending the North, like they're a back four and that (laughs). That's how we like to do it for Leeds as well, and make sure that there's another lane people can go through, like this is Leeds too'.
I wonder how they see it progressing in the next few years. 'I think it definitely will' says Kosi. 'I mean, we're progressing, and we take Leeds with us no matter where we go. With grime, P Solja and them are going to the Eskimo dance. Everyone's trying to push for something, but it's just about patience'. 'In terms of us, and where we want to be' says Swish, 'more stuff is about creation, and doing the sickest that we can in our own abilities. You can look at where you want to go, but when we sit down and we're penning, that's when we really want expansion. Everything else is law of attraction. The one thing we want when we're older is a label'. Kosi agrees; 'One day we want to be able to bring artists through, because we know what it's like to be an artist who's got something there but they're not being heard. I know artists as well who have got amazing talent but they don't get respect for it, and it doesn't make sense. It's hard to get every talented person to be respected'.
I ask what's next for The NorthaZe. 'Well, I had a lovely acid trip this weekend and it's opened doors for me' replies Kosi. 'I wanna link up with Jatce, get Danz on it this time, get something from Jetson, get some Blah features, some Defenders features. We really wanna get everyone involved in this next one because we feel it's a big step forward. I feel like the content's there, it's just about getting the beats. Neither of us are producers, but that's definitely something I want to learn. I feel like that's something we need to own ourselves too. The sound we've got now is something we're happy with, so I'm not in a rush to try and master anything. We're good to go'. 'Definitely' says Swish. 'The way things are moving, we're opening doors by speaking to different people, so something's bound to come this year'.
Is there anything else they wanted to say? 'We're just in the hyperbolic rhyme chamber right now' says Kosi. 'Yeah man' confirms Swish. '(laughs). Nah, thank you to everybody who's downloaded
Mellow Thrills
, 'cause the support from it's been nuts And keep waving'. 'And thanks to Sam for the interview of course' says Kosi. Swish agrees; 'Of course man'.
Mellow Thrills is available now through Blah Records