Interview: The Jim Jones Revue
Nicole Ryan chats to The Jim Jone Revue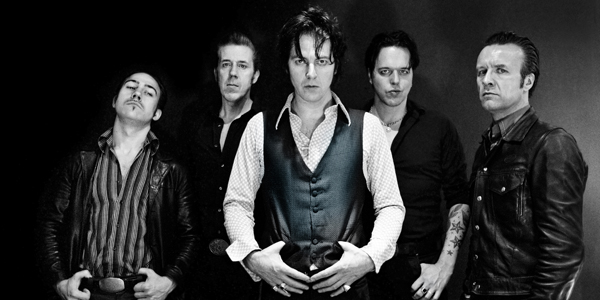 Rock'n'roll may not be the hippest style of music in Britain right now but Jim Jones, front man of loud and proud rockers
The Jim Jones Revue
doesn't care. 'It's great for us' he says of the lack of similar bands competing for the spotlight; 'it's like having the whole amusement park to ourselves.'
After noticing a shortage of bands in London playing the Little Richard and MC-5 style of rock'n'roll they dug, the quartet (now a quintet following the addition of Henri Herbert on keyboards) decided to fill the gap. Four years of tireless touring later, Mick Jones of the Clash is among their fans, recently saying 'there is no band bigger than The Jim Jones Revue.'
Key to the band's success has been their wild live shows, which Jones considers something of a community service 'I'd like to think that we help a little, every show we try and free everyone from the bullshit of their lives and elevate them as much as we can…try and help to put all that other shit in the distance, even if it's just for an hour or two.'
The band have developed a reputation for being loud to the point of deafening - so much so that they recently created an app to measure the sound levels at their shows. 'That was just a fun idea that came out of the situations we are often in where there's some official checking to see if we are breaking the sound laws with his little meter' Jones explains of the The Aural Decimator 'We thought we'd turn the situation on it's head and put it on the hands of the fans where it becomes a good thing… the mark of a real gig!"
Having toured their 2011 album
Burning Down Your House
significantly ('the house has been burned to the ground…now we're off in search of new adventures' Jones tells me) the group have been focusing their attention on the creation of their third record,
The Savage Heart
which is due out on October 15th.
Considering their first album
The Jim Jones Revue
only took 48 hours to record, how has the process changed? 'Whatever our resources we always try to make the best album we can and pour everything we have into it.' Jones explains. He believes there is a definite improvement in the sound on this record, which can be attributed to the use of three different studios (including The Chapel in Lincolnshire and Edwyn Collins' London studio) in the recording process.
Also key in the creation of
The Savage Heart
was producer Jim Sclavunos (of The Bad Seeds and Grinderman) who worked with the group on the last record; 'We knew he was someone we could trust to have around as we attempted to journey out into deeper waters. We were in search of new monsters and we knew Jim was a dab hand at that stuff.'
What these monsters will entail remains to be seen but Jones has hinted that there are surprises in store for people who see them as 'straight ahead bash bash boom'. One thing that fans can be certain of is that the cover art for
The Savage Heart
will be interesting, considering the band did actually set a property on fire for the cover of
Burning Down Your House.
The exploration of deeper waters certainly seems to be paying off if the response from France (where they tested the new material) is anything to go by. 'It's always a great feeling when the crowd picks up on something new straight off the bat' Jones says of the reaction to new material 'You feel like…"well I must be doing something right!"'
The French aren't the only ones who seem to think Jones and his band mates are doing something right, with the U.S also starting to sit up and take notice. Following appearances at SXSW and The Late Show with David Letterman, I ask Jones whether their success in America has always been a goal or just a happy surprise? 'Bit of both really…The lion's share of our influences and inspirations come from the States, so it's somewhere that holds a mythological attraction for us, and it's always great to be there.' He notes that they also have a responsibility to their fans in the UK and Europe though 'so we have to try and divide our time carefully.'
Along with the U.S, the group have also been working the festival circuit including Pukklepop and Gutter Island. But it's clear that the band's preference is to be masters of their own domain. Jones explains 'Festivals can be great and they're a really good way to connect with people who may not have had a chance to see you before, but there is something about doing your own shows that takes it to the next level, it's your own environment.'
The band has a months-worth of being in their own environment to look forward to, as they embark on a 15 date UK tour to promote
The Savage Heart
. Considering more than half the group are in their forties, you might expect them to be taking their collective foot off the pedal. Apparently that's not the case; 'Touring is hard work but it's a labour of love…once the band is three or four gigs into it, you can feel a change coming over the whole touring machine…and once you get that rolling, it's like nothing can stop you!'
The Savage Heart is out on October 15 through Play It Again Sam/Punk Rock Blues Records.