Interview: The Barr Brothers
Starting their UK tour this Friday, singer Brad Barr chats about the band's highly praised 2017 LP Queens of the Breakers and upcoming shows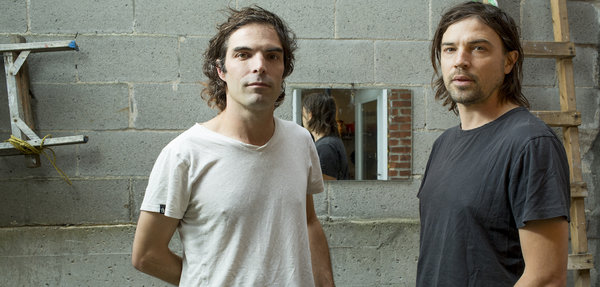 The turn of the New Year sees Montreal-based Americana doyens
The Barr Brothers
celebrate the release of 2017's venerated
Queens of the Breakers
(
review
), with a string of tour dates in the UK and Europe. Bearded managed to catch the band's very own singer/guitarist Brad Barr for his take on the new album, life on tour, and neon frog heads...
Bearded: You're about to head out on a fairly extensive tour of the UK, France and Germany - where's been the most memorable place you've played outside of North America?
Brad: Good question. There have been a lot of stunning and memorable tours over seas. Japan left an indelible impression on all of us.....the wild design, the mysterious doorways, the unfamiliar smells. And the shows there are often unusual in their format--like playing on the fifth floor of an entertainment complex in Shibuya, or starting the show at 2am. Once, a Japanese friend of mine brought us to his parent's house in a rural area on the outskirts of Tokyo, basically farmland. After dinner, we went for a walk through the dark and quiet streets of this village. Low and behold, in the middle of a small pond with no houses around it, there was a blinking neon frog's head. I asked my friend what the meaning of this was. He just kind of shrugged.
This time around you're playing in a church and a brewery! Where's been the strangest place you've played?
We like to accentuate the full spectrum of virtue and vice. Can't have the Gospel Sunday mornings without the drunken evening toasts, as my friend Nathan Moore would say. And, apparently, they're both willing to pay us. The strangest? I don't know. In New York we once played behind the bar on a raised platform, so our feet were level with the bartenders' heads. That was pretty strange. And one of the easier shows to get a drink.
Which European artists are you guys listening to at the moment?
Mostly Top 40: The Beatles, The Stones, Led Zeppelin, Elvis Costello, The Pogues, Van Morrison, The Kinks. To me, Radiohead is still modern contemporary music.
What one thing must you bring with you whilst on the road / in the air?
A working credit or debit card. And optimism.
There were a bunch of great new sounds on the new album, Queens of the Breaker including a few new inventions from Sarah Pagé, how do you plan to bring these to the stage?
With great difficulty, of course! The harp provided a lot of inspiration as far as sonic landscape. You need a few good pedals and a great sound person.
Which song from LP#3 do you most enjoy playing live? Unless you don't want to spoil the set list...
So far, they've all been really fun, some more challenging than others. 'Look Before It Changes' comes to mind, maybe because its as tender and controlled as it is unhinged. I also get to play my 6-string ukulele on that one, which is a treat.
Queens of the Breaker also brings some social commentary into the fray, in particular what gave you the inspiration for songs like Kompromat? Is there a story behind the name?
A lot of my songwriting revolves around trying to figure out what the music is saying, then putting words to that. It was obvious to me, when we came up with the riff and arrangement for Kompromat, that it had that simmering brood that seemed to articulate what many of us had been feeling on the social and political levels. Andrew named it before I'd written a single word. For me, it's mostly about the politics of consumerism and the role it plays in our collective mental and physical un-health. Almost none of us have clean hands.
Now we've rolled on into 2018, what does the New Year hold for you guys as a band? Any quirky New Year's resolutions?
To stop throwing cigarette butts on the ground (if I won't quit, I can at least stop littering). Sarah needs a break from being in the band, so we begin the year without her. We can't say if or when she'll return, but we honour her decision to NOT drag herself through the trenches with us right now. So that opens some doors up to trying new things instrumentally, and we're fortunate to have some wonderful musician friends here in Montreal who have stepped in to fill her shoes. Right now we're braving the transition. We'll miss her greatly.....such a huge part of this band's identity and experience was she.
Reflecting on last year, what would you say were your best moments of 2017?
I know its corny, but I would have to say that watching my son become one of the most delightful individuals I know is at the top of the list. That and finishing this record, which really seemed to have us against the ropes for a while. Not just finishing it, but being genuinely happy with it and enjoying what its brought to the live show.
The Barr Brothers UK tour:

Fri 26 Jan - Manchester, UK @ Gorilla
Sat 27 Jan - Leeds UK @ Brudenell Social Club
Sun 28 Jan - Glasgow UK @ Drygate Brewery (Celtic Connections)
Tues 30 Jan - London UK @ Rough Trade East (7pm stage time)
Weds 31 Jan - Winchester UK @ The Railway Inn **sold out**
Thurs 1 Feb - London UK @ Union Chapel **sold out**

Tickets available here
Photo credit: Pedro Ruiz