Interview: Swimming
Cloudrunner catches up with Swimming...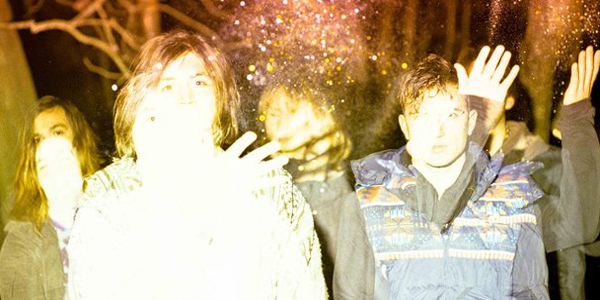 All five members of
Swimming
are present as I chat to them backstage at their show at the Louisiana, Bristol. They are yet to play and are just hanging out between the two support slots; friendly and forthcoming, they are disappointed at the small turnout.
After our initial exchanges it quickly becomes apparent that the quintet have an obvious spokesperson in singer/guitarist John Sampson; brother Peter is suffering from iPhone addiction but he pipes up whenever his brother stumbles, and throws in a few dry witticisms too, Blake Pearson, Andy Wright and Joff Spittlehouse all chip in when needed, but it is John who is the most lucid.
The five have all known each other since they were very young, having gone to school together. John explains how
Swimming
started out as a project.
"It was me, Peter, and a guy called Ben… We'd get together and make electronic, ambient music for hours and hours and hours..." That became their first EP, and, along with the addition of Andy on keys, they took the name
Swimming
. With the sound fast becoming more structured and song based, Blake then added his bass and graphic art, and Joff his guitars, to the first LP,
The Fireflow Trade
.
"…It was like, 'We're a band now!'"
I'm quick to comment on their collective branching out, into other fields of the arts, and ask them if Swimming is an exploration of, or a move into, a more all-encompassing art form. Or even a celebration of all these fields. Peter, who is well known outside the group as a beatbox artist, speaks out, giving time for John to construct his own response.
"It's not contrived, like, let's take a bit from that and a bit from that… It's been way more organic than that, way more instinctive."
The siblings are now displaying the kind of teamwork that makes a successful sibling partnership. John is eager to expand on the theme. "We could be an art collective and the medium could be a different thing; it could be visual arts, it could be weird contemporary dance, it happens that we love music and that's our medium for the moment… It's not about being a band, it's not about going 'Ah, I want to pick up the guitar, 'cause it feels cool to play the guitar, and I want to be like…' I don't know why Eric Clapton popped into my head…"
There is laughter, and the conversation breaks up for a minute before John continues, laying into more formulaic indie bands and into the industry as a whole. "(It's) geared up around supporting and making successful bands who fit into just repeating the same stuff again and again; repeating the same actions and having similar images"
With their credentials and ethos now hammered home, I move on to asking what inspires them as a band. John leaps in, now firmly the dominant voice.
"What is perceivable in everything, particularly with the new album, is…my personal beliefs, my religious beliefs, my beliefs on why we are here and what our role is, where the world's at and where it's going and why the problems that there are in the world are the way they are"
It is soon made clear that a lot of thinking goes on inside the lyricist's head; and these thoughts seem to channel themselves into the songs rather than being forced to fit. These are songs that are global in their nature; yet follow the journey of the band as individuals, and as a unit too, be that in a physical or spiritual sense. "We all kind of spent a long time in Nottingham, a lot of the problems that are there, societal problems, and cultural clashes… they're just manmade, they're ridiculous, and it's built on old world prejudices that don't need to be there anymore…it's kind of a reaction to that, but done in a way that it's like psychedelic pop music."
I ask John to follow this up by discussing whether the songs are somehow a celebration of escapism too, be that on this plane or another, I want to know if this comes from their roots, or from plugging into a global consciousness.
He explains that Peter and himself were born in Perth, Australia and moved around a lot in their first couple of decades; they ended up in the Sneinton area of Nottingham.
"There's grim parts of the world, and ours is in nowhere near as bad as many places but it…makes you reflect on 'Why's there no joy?' Why do we feel threatened? Why can we not walk safely? Why are there still these pockets of total lack of…inequality…and prejudice, and poverty?"
John highlights the example of a Kurdish community, a perceived threat, a displaced population, and the outrageous reactions to the building of a mosque next to a local branch of Tesco, but before getting too carried away he is quick to connect all this to the music. "The whole idea of 'Neutron', (recent iTunes single of the week, 'Neutron Wireless Crystal') based on the idea of the early wireless radios, is that you…suddenly have these connections with the world instantly, you can hear what's happening in other parts of the world, I'm not debating that it was used for propaganda, but the technology helped connect. Nowadays we have connections like never before, the hold that the media has is already unravelling, because we can find out information from multiple sources at an instant, and yet we're still a little bit afraid to find out exactly what it means when a Muslim moves in next door."
The message seems to be simple in the song itself, which cleverly links a few repeated refrains in an extended chorus that culminates in the line 'When its time to love, and be loved.' 'Sun in the Island' is another single from 2nd LP
In Ecstatics
: "Ultimately that's about personal change. It's been 'sloganised' a bit but Ghandi says 'Be the change you want to see.' By embracing the fact that it's only by putting positivity out, by changing your attitude within yourself… having an effect on yourself, your family, your community that that will actually have a positive effect…it's 'Sun in the Island', rather than 'Island In the Sun' because we could all consider ourselves as being islands… and where's the sun going to come from and radiate out and connect these islands with light. That's why it's that way round; everyone still gets it wrong."
This is still a band however, that are challenged by the logistics of making and performing pop music in the 21st Century, but they remain grounded when faced with a lack of screaming fans. "It forces you to do it for the right reasons"
So with 100,000 downloads of 'Neutron' in the States alone what's next on the agenda? There is suggestion of a US tour, but the band remain detached from any media hype, and although pleased, the numbers remain just that. Travel is defiantly on the horizon, even if it is just to hole themselves up in the mountains somewhere and write for a new release, and then maybe contrast that with some time in a desert somewhere. Again my thoughts turn to escapism, but I'm pleased that I've met a group who can fuse that with such productivity too, and play like they are performing to 100,000 people, even when it's more like 50.