Interview: Stinkin Slumrok
The East London MC chats to Bearded about his recently released acclaimed debut set Don Pong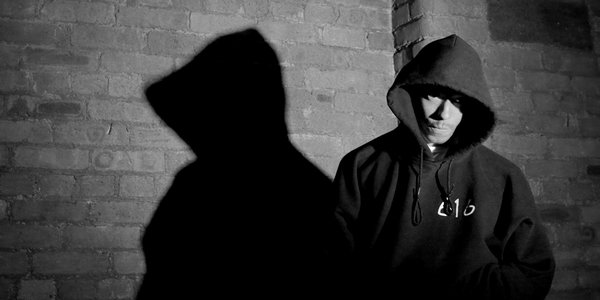 Blah Records is an independent label who have been representing quality hip-hop for years. From Children Of The Damned material of years past, to recent projects from Lee Scott, Black Josh and Danny Lover (and many more besides), the following the label has amassed isn't surprising when looking at the catalogue of impressive releases.
Stinkin Slumrok
, a rapper from Walthamstow, East London, is the latest to add to the list. He released his debut project
Don Pong
back in July, and Bearded caught up with him to chat about the release.
'I started rapping about 9 years ago, when I was 14' says Slumrok when I ask for a brief introduction into how he got started in music. 'About a year and a half, 2 years ago I decided to actually start making proper tunes and put something together, and get some shows and stuff'.
Don Pong
is the first release from Slumrok, and to start his career with material released through Blah is a testament to the Walthamstow MC's raw energy and talent. 'I was working an a few other projects at the same time as
Don Pong
' he says about the project. 'There were all these tunes that just needed to get out there before I could progress. It's basically all the things that I'd done before and released on YouTube or whatever, combined with a few fresh bits'.
I ask how he first linked up with Lee Scott, and what led to signing with Blah. 'I did a Holdin' Court show where I was opening up for Lee. I met him down there and we just kicked it. We just started doing a few tunes together, some bits and bobs. I've got another project that's finished that's coming out on Blah that I've been working on, and it just seemed silly not to put
Don Pong
out through Blah as well'. I ask whether
Don Pong
serves as an introduction to the upcoming project. 'I wouldn't say it's an introduction to the next project as such, I'd say it's more of an introduction to myself'.
Don Pong
is a really versatile project. Stinkin switches between electronic, futuristic production and raw, funky boom bap beats on the album, and I ask how he finds the right instrumentals. 'It's a hard one that'; he pauses to think. 'Some people master their one way of working and smash that. Other people like to play about, and I do like to play around a bit. To be honest I think if the beat bangs when you put it on you should just fuck with it. There's loads of beats that I've fucked with, and recorded to them and it just sounds shit. If you don't try you're never gonna find out'. That mentality is definitely apparent on the record; production is handled by a wide variety of names, including Reklews, Dr. Zygote, Illinformed and Sumgii. I wonder whether Slumrok's next project will be similar. 'With
Don Pong
it's a big long list. The second project is all handled by Morriachi.'
With a portion of
Don Pong
being comprised of tracks that had been released previously on YouTube, I ask how important he finds having a noticeable online presence. 'My first video came out like a year ago, and I didn't have a tape out' says Slumrok. 'Since then I've done loads of gigs. I've been able to go up and down the country off of my music, without ever having a project out. I wouldn't have been able to do that without the videos. I always wished that I could have saved those videos and just put them out when
Don Pong
came out, but that's also the reason why I had to put the project out as well. I had all these videos but the songs weren't on anything. If I hadn't bought those videos out, nobody would even know about me until the 20th July just gone, and we probably wouldn't be doing this interview! Then again, some people kill it without that. That's just what's done me well'.
I ask about how the features on
Don Pong
came about. 'Res; I think we just met at like a show or something. At the time, I was obviously fucking with what the Prophets were doing. I'd never really done any collaborations before so I always take my hat off to Res coz the Prophets have a good following. It was good to jump in; it did a lot for me. That was like my first big boost. I wasn't on Blah at the time either. Josh is just squad anyway. Me and Bisk went to school together from a young age. It's all fam on there man. I'm not gonna hunt for a collab unless there's someone who I think is really sick. I'm not like 'I have to work with this guy or else nobody's gonna watch me'. I don't think you should really work like that anyway. You should just do what you wanna do'. I ask about his creative process when working with other MCs. 'I like to just vibe in the studio. There have been times where I've been in the studio with someone, and for whatever reason I haven't written my verse. Then I go home and write and it still has that quality. I think it's still sick in a session just to listen to a beat, and then you know you're all on the same wavelength and take it with you and lay it down next time'.
I've seen Stinkin Slumrok live before a couple of times, and every time he's been energetic as hell. 'Playing live is probably my highlight of the whole package. That's the shit' he says. 'I've always tried to showboat and that, I've always been a fucking show-off. That's kind of why I like the performance element. When you put out CDs it's sick and you get gassed and stuff, but you're getting gassed in your room, you're not actually there seeing all the people buzz off of you; it's just an attention seeker thing innit (laughs)'.
'When I was younger got to do some sick shows with Reeps One, the beatboxer. We grew up together. When we were younger we did a few sick shows. I was like 16 or 17 at the time. I'd just come through and spit some bars and got to play on some sick stages. He obviously went bang and is still doing great shows. Obviously I'm doing my stuff now, it just took me a little longer (laughs)'.
I ask Slumrok about his experience of this year's
Boom Bap Festival
(
review
); he made an appearance on the Cult Mountain set, one of the best shows of the weekend. 'I did Word 2 Wazu man, but it was before it had come out. Because nobody had heard it I just had to bars it on my own, I couldn't jam for a breath on the chorus or anything. That was ridic. R.I.P. To Wazu! To do that on the Cult Mountain show, that's just gang. It's always a pleasure. Big ups the whole Boom Bap team'. I ask how important he thinks the festival is. 'I can't stress how important it is. England is a small country, but it's a big place. There's a lot of people in different places. Just seeing the people I know who I don't see often is sick. Networking as well, it's like a supermarket if you're a UK rapper. I went to Boom Bap the first year, and nobody knew who the fuck I was. The second year I went and I'd done a few tunes and stuff, a couple of people knew who I was, then the next year I had a set! I think it's fucking sick man'.
I ask Slumrok what his favourite show has been. 'The most banging was the full Blah showcase in London. We had a photoshoot in the day that was pretty jokes and then a show in the evening. I'm so bad at remembering venues' names, but it was some small place at the back of Oxford Circus. All these insane Rock bands had played there. It was a proper nice place, and we just came through and fucked the place up man. We had the whole team on stage, we got fucked up after, it was a great night'!
As the interview comes to a close, I ask what's next for Stinkin Slumrok. 'First thing; more shows! Then finding ways of doing different kinds of projects, which is easier said than done. Riding the wave and having fun with it while I can. Nothing too serious, but keeping what I've got afloat and progressing, keeping it Stinkin'.
Photos by Mark Worst