Interview: Seekae
Sam Kelly meets Australian electro dudes Seekae.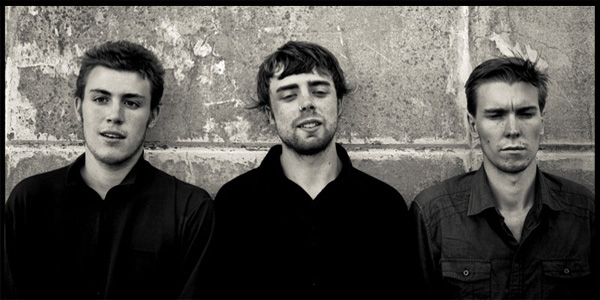 Australian trio
Seekae
are currently rounding up a victorious, and somewhat overdue tour on our beloved British soil. The electronic act have spent the last few years nurturing some of the most compelling experimental music for our ears, after the stable rising success of their debut album,
The Sound of Trees Falling on People
released back in 2008.
Bearded
caught up with John, Alex and George amidst their travels to discuss the new album
+Dome
, Russia, beards (ironically), and touring with home-grown favourites Mount Kimbie.
Hi guys, first things first, how does it feel to finally have the new album, +Dome released after dedicating 2 years of your lives to the final product?
It feels great. We spent a long time travelling and writing the record. I think its just a summary of all the work that we have been doing for the last two years, just with all the bad bits cut out and the tracks ordered so there is some sort of flow or narrative. The process was long, but certainly not arduous. That being said hopefully the next record won't take 2 years.
Burke Reid (Jack Ladder, Liam Finn, PVT) mixed the album for you, were things any different this time around in the writing or recording process?
Yeah, it was almost entirely different. We spent time together in our studio writing and mixing all the tracks to the point where we were happy with them. Then we went in to a different studio with Burke and he helped us a lot with the final touches. This album was much more of a team effort, with more instrumentation as well, instead of an almost entirely computer produced one (like the first album).
You were fortunate to receive a grant from the Arts Council Soundclash a couple of years ago; did this help adhere to any of your ambitions and desires for the album?
It did, definitely. We could finally afford to rent our own studio space that allowed us to write together in the same room.
You previously mentioned that you "really wanted to make sure this album sounded quite nice and crusty." Crusty's a rather bizarre term to describe it for us English folks haha, could you elaborate any more on this?
Haha, yeah, crusty is in a way crackly. I guess it means we wanted there to be organic noise on the record and for the overall aesthetic to be warm and saturated. We weren't so bothered with room ambience, and when we were compressing certain audio, it boosted the room noise with it. So the little taps and bleeding noise you hear are things that we wanted to keep. Our first record was really clean, with only a few microphone recordings, we wanted to do something different from that.
There are a couple of songs on +Dome where Alex plays live drums, John plays guitar, and there seem to be a lot more live instruments on the album in general. How does this transpire to a live performance?
When we were thinking about live performance – in regards to our new material, we wanted to approach the whole process with a new focus - actually playing the majority of the material. A song's not worth playing to us if we can't be challenged by it. That's why we wanted to include guitars and drums and everything else. It makes it more fun for us and we get to experiment a bit more.
This time around we've got two laptops, three keyboards, a guitar, drums and a melodica. As well as samplers and effects units. There's a lot for us to do and that's what makes it fun.
Rumours circulating the net claim that your instruments aren't actually midi synced in performances, and that it's completely live? Can you unravel the truth behind this?
It changes from song to song for us. Some of the newer tracks we have a clock working for us – but yeah, the majority of our live stuff is played with the gamble of missing queues. It can get pretty confusing sometimes switching between the two.
We hear you have quite a peculiar fan base over in Russia, which is where +Dome was leaked from before its release. What on earth is that all about?
That was confusing for us – it might have something to do with the fact that the vast majority of leaks of our album were on Russian hosted websites, then the content was subsequently posted on a number of Russian blogs. Though I had a Russian friend in year 4 who couldn't stop listening to techno and ambient electronica, so maybe there's an audience for it there.
Haha, incredible! Mount Kimbie's Crooks & Loverrs was cited as "one of the best electronic albums of 2010". For Bearded, +Dome is definitely filling that category for 2011, how did your tour go with them?
Mount Kimbie are awesome. Great people as well. We had a lot of fun touring with them – it was probably our first tour where we consistently took it the paint each night. They did a great job selling out all the shows, and it was a great opportunity for us to play new material. Hopefully we get to work together again at some capacity. I can't wait to hear their new material as well. Exciting band that one.
Were your influences and tastes any different when making +Dome, in comparison to the bands and music you were listening to when making The Sound of Trees Falling on People?
It was exciting for us, because we wanted to make a record that was higher in tempo and we'd learned so much since making
The Sound of Trees Falling on People
. When we were writing
+Dome
we were listening to a lot English electronic music like your Kimbies, your James Blakes and your Ramadanmen. And also bands like Portishead , Radiohead and The Talking Heads – which we've all be listening to for some time. A lot of Bowie as well.
Sweet! You're heading to France in July for a show after your last UK date, what have you got in store for the rest of the year?
Another record. We're going back to Australia to play some shows and finish our next effort. Lots of working and eating and sleeping – probably a few rounds of 'Ultimate Balderdash – the hilarious bluffing game' here and there. And then back in to it for 2012.
That sounds great! But finally, and most importantly... George: we've been noticing that there's a little phenomena growing over your facial hair, even creeping into band photos and skills (Facebook reads – George: synth/drum machine/shit beard) and at Bearded, we do like a good beard. Do you have any tips//secrets for our pubescent readers?
Eat plenty of grapefruit.
Seekae finish off their UK tour with a headline performance at The Camp Basement w/ Lapalux, Klaux, Rounds and ID3, in London on the 31st May