Interview: Nada Surf
Band leader Matthew Caws chats to Erick Mertz about Nada Surf's recent B-sides collection and gives a commentary on his favourite tracks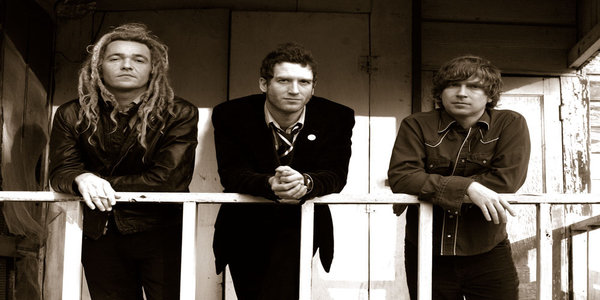 Bearded: Talk about the decision making process that goes into an album like B-Sides. How do you decide what goes in, and what gets left out?
Matthew: Minor Alps, the duo I had with Juliana Hatfield, did an English version of a
Nada Surf
B-side 'Je t'attendais', with added lyrics to reflect the passing of time (the luxury of covering your own song being that you can change it all you like without offending the writer). We called it 'Waiting For You', one night I felt like listening to 'Je t'attendais' again. It's weird maybe picturing someone listening to their own song in their house, but it does happen sometimes, I like that keyboard sound. Anyway, I don't own a French pressing of 'Lucky' (the only place it actually came out) and while you can find it on YouTube, it's not on iTunes.
I asked our manager about this and he said that just about none of our B-sides are on iTunes. A couple of days later, we were putting this collection together. That's really not the most romantic origin story, but there you have it. It doesn't take away from the fact that I really like a lot of these songs a lot and I'm a lot glad that you can listen to them too now, a lot, should you like to. To add to the haphazardness (which does not bother me at all), it's not all our B-sides, it's just the ones from the last four albums.
Obviously not a greatest hits collection, would you call these some of your favorite Nada Surf songs?
Yes. 'No Quick Fix' was on the US version of let go but not the European version, I can't remember why exactly. I loved making this song, we were very excited about it. We were listening to The Strokes' Modern Age EP a lot then, I remember it flying off the shelves in the record store I was working in at the time. I went to see them play at Maxwell's right around then, the friend I went with and I actually walked out after eight songs. I thought they were so brilliant, and I was so high off the gig, that I wanted to preserve that feeling, and I thought I had a better chance of doing that wandering back to the train on a lovely night than staying at the show. I'd be flattered if someone walked out on on one of our shows for that reason.
'From the Rooftop Down' was recorded on my four-track at home. One those glorious nights of just making music for yourself, no hurry, no goal, probably no plans to play it for anyone and made the words up on the spot. It's about the first time I went out the house by myself. My Dad wanted me to get him some manila folders at the local stationery store about three blocks away.
All I had to do was walk right out of our building then turn left on 3rd Avenue and it recognize it in a couple of blocks. I think I was six years old, seven the most. Well, when I got to Third Avenue, I turned right. I didn't recognize anything. I kept walking and walking. Realising that I'd walked nine blocks too far, I knew something was wrong, I was scared, ashamed that I'd messed up the instruction but at the same so excited to be out on my own in the big city! I turned around and made it home.
'Fools', my friend Joe Hobaica, who put our first single, 'The Plan', on his label Stickboy was involved for a long time with an online community / bulletin board called Echo. I used to live across the street from a wonderful singer called Lianne Smith, another member of Echo. We used to play music, learning songs, harmonizing, having a great time. She taught me this song by Johnny Duncan and we recorded it.
'Au Fond Du Reve Doré', I grew up about a block from a Goodwill (lesser known version of the Salvation Army). I used to go there pretty regularly to flip through the records and found a Francoise Hardy collection for 25c, I fell for this song right away.
'I Wanna Take You Home' Juliana Hatfield and I met years ago, neither of us can remember whether it was in Boston or at South By Southwest in Austin, Texas. We were on each other's radars, being mutual fans. I adored the Blake Babies and went to see them at CBGBs in 1992.
Juliana asked me to sing on a couple of songs on her album
How to Walk Away
, it was a great experience, we had really similar ideas about harmony. When I was working on this song, it seemed like the perfect candidate for a kind of full-time duet, that is to say with both of us singing the whole song.
'Everyone's On Tour', sometimes a song goes through so many changes late in the process that it's hard to say if it's done or not, or if you've overcooked it. If I could go back in time, I'd take the handclaps off this one and put it on 'Lucky'. It sounds great now.
'Je t' Attendais', Daniel (Lorca, bassist) and I met at a French school in New York when we were kids. I was there because my parents, who are both professors, had taken a sabbatical year in Paris when I was five and put me in the local school, where I didn't understand anyone for a couple of months. Daniel was there because he'd grown up part of the time in Belgium and France. The temptation to write in French has always been there, but for some reason (and French bands singing in English will confirm this) it's not easy. The language is somehow more inflexible, whereas in English songwriting, you're sort of encouraged to make up your own linguistic style. This is the only one I've written in French that I really like.
'The Future' the last five tracks on the collection were recorded all at once at Dulcitone studios, a converted chapel north of Cambridge, MA. I moved to there a few years ago and during my first week I saw a sign on the local pub that said 'Wednesdays: Cambridge Songwriters Night'. It was on that night but I was tired from moving and almost didn't go. Then I thought, 'You know, I don't know anybody here, I should really get out and meet other humans'.
I watched for a while, and then, waiting for a moment when he was free, told the guy who was running the night that I was in a band and had just moved in next door. He asked me if I wanted to play a song, didn't wait for answer, I had a fine time. The man in question, Ezio Lunedei, a great singer/songwriter as it turns out, played later and was fantastic, he had a great slide guitarist, Lee Russell, who I got to talking to later. When he mentioned that he had a studio, I said I wanted to record an EP of acoustic versions of songs from our album that was about to come out.
When I made it apparent that I was really serious about wanting to come and record, he became a little more reserved. I think he wasn't sure if I really had a band! I'm very trusting and positive in general, but in reaction to his new reservedness, I back off a little bit too, thinking 'OK, maybe he just has a laptop and an extra set of headphones'. I went home and Googled him, his studio was apparently very much for real, a beautiful place. He had looked me up too and was very friendly the following Wednesday, he picked me up the next morning and we got to work.
Nada Surf ran the gamut pretty fast, from runaway MTV smash to day job period in a matter of a few years. You've probably been asked a million times, but what's that arc like?
That was maybe about three years. It's hard to say, one thing that made the experience a lot better than it could have been is that I was 27 at the beginning of that arc. If I'd been much younger I think the way down would have been tougher. but I didn't take anything for granted. I'd had friends in bands and at record companies already and I knew that ups and downs were almost bound to come. As it happened, because the job I landed at was in a record store, it wasn't that unpleasant. Going back to temping would have been harder, just because I'd worked so hard to get away from that. The hard part was having our second record dropped, it seemed like a shame not to put it out.
Talk about how that time away affected the band's focus. In hindsight, was the record store job really the best job ever?
It was good for our musical focus. We've often said that it was like having the opportunity to make a first album all over again. There's no pressure and you have plenty of time. I think the general perception was that we were over, so we were just doing our thing. I loved my co-workers and discovering new and new old music. The band was just busy enough that I didn't feel I could in good conscience get a permanent job or go to grad school or something. It was a pretty golden era for me.
Coming back with a critically acclaimed album like Let Go had to feel terrific. By that time, did the critics even matter to you?
If you'd asked me then, I'd have said that they didn't, but I'd always secretly hoped they'd come around, so it was really nice when they did.
The decision to add Doug Gillard to Nada Surf really changed the dynamics. Had you been looking to add new elements?
We hadn't been necessarily. Whenever the idea of adding another person had come up, we'd dismissed it because it seemed like the chemistry between the three of us was something we shouldn't change. I was such a fan of Doug's and when, after meeting through some mutual friends, he offered to play on our covers album, If I Had a Hi-Fi, I took him up on it just for the thrill of it and for the record's sake. He played on a few songs and the parts were so good that we didn't want to play those songs without him. We took him out on the tour for that record and the chemistry was just the same, only better. A great guy and a great musician.
As much as I love the Nada Surf sound, I love the lyrical content even more. Your songs always manage a philosophical angle without being too heavy. Can you enlighten us on how you arrive at themes and content?
I'm so glad you like the words, thank you. I guess it's a constant process. I'm always jotting down phrases and ideas, a few words here and there, a paragraph trying to pin down a fleeting feeling. I write hundreds of lines that way, but I'll end up just using a fraction, they're just starting points. Most of the words come when I'm actually holding a guitar. I do a fair amount of sitting down and working on purpose, and I can sometimes force something out that way. Most often, the urge to write, and the ability to do it relatively easily (only compared to a scheduled moment, some amount of focus and attention is always needed) comes out of nowhere and unannounced.
Has that process become more challenging recently now that you're working on Minor Alps, your "soft goth" outfit?
Ha ha, soft goth, Susan and The Banshees! Juliana and I didn't exactly co-write together a lot but we certainly tried to and we did edit each other's songs a fair amount. That has made working in the band easier I think, because I've had to get used to making up words in front of somebody, of trying lyrical ideas in front of someone for the first time. Working on Minor Alps was definitely a learning experience. It was interesting to work with someone who has the exact same role in a project. Mostly it was a relief to only have to write half the songs!
In whatever terms strike you, where do you see Nada Surf going?
I am impelled to write and record songs and play them in front of people and this is my favorite band to do it in, so I see us going very far.