Interview: Love Inks
Joel Morgan chats to the Texan threesome...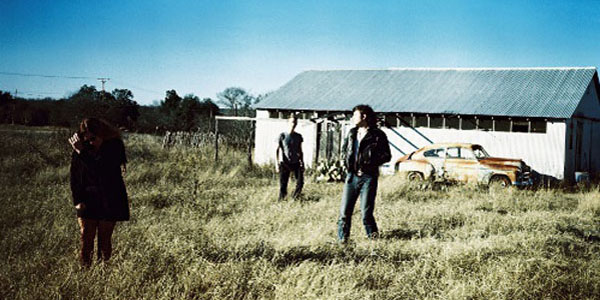 Love Inks are the trio from Texas' music capital Austin whose brand of minimalist guitar pop has brought the band success at home and in Europe too.
Sherry LeBlanc, their charismatic and insightful singer, took the time to chat to us about the nature of the band, the importance of personal hygiene and the need for a little mystery.
Your debut album E.S.P. has drawn comparisons with The xx, Beach House, Warpaint and Fleetwood Mac. What do you hear in the record other than yourselves?
I think it's hard as a musician to listen to your music and hear anything other than yourself. It's comparable to asking someone what celebrity they see when they look in the mirror. We were so involved with these songs from bare bones to recording that it may even be hard for us to have a basic understanding of what they sound like when heard for the first time. However, I'm absolutely wild about all of those bands and very flattered by the comparisons.
You've been together a relatively short time as a band. Did your sound come together naturally from the beginning?
We spent hours discussing what sound we were going for before we had our first rehearsal. I believe those discussions helped create a natural understanding and ease when we played for the first time. There's always going to be some fine-tuning and negotiation but, in general, we had the basic idea down from the get-go.
A 21st century band has to have skills beyond just the music to survive. Is everything a communal effort or do you play to individual strengths?
We play to individual strengths for sure, although we all do our best to help with the overall load. Kevin carries a lot of the creative weight by spending endless hours on songwriting and aesthetics. I generally handle more of the technical side - budgets, tour managing, website and basic organization. There really is so much more for musicians to accomplish than just playing the songs well.
The album has received strong reviews and you about to begin your first European tour. What is it like to be 'living the dream'?
Every day I wake up in the greatest mood thinking about the fact that I have been given the chance to share our music, be creative and travel. With that in mind, it's not the easiest lifestyle. We spend a lot of nights sleeping on strangers' floors or at highway rest stops. Most of our time is spent in a small car and we don't get to see much more than bars in the places we travel through. The hardest part for me is the uncertainty of having a shower everyday. Sounds silly but cleanliness is so important for my mental health. The best part of all of this is having an outlet for my art, meeting great people and travelling. I think there's a period of paying dues for all musicians before it becomes relatively comfortable. Although I honestly believe I'm 'living the dream', it may not be the glamorous, rock & roll lifestyle that a lot of people envision when they hear the word 'tour'.
You've all been musicians for some time now but was this always the plan?
It has always been the plan but each of us understood that there is a certain amount of luck involved in breaking into the industry. With that in mind, we all came prepared with back up plans and have all had a variety of jobs ranging from schoolteacher to bartender while diligently working on our passion for music.
What should we expect from a live show?
I hope it's a similar experience to listening to the album. Rather than demanding attention with loud music and extravagant stage moves, we try to demand attention with the opposite energy. We are quiet, emotive and calculated. Sometimes this is uncomfortable for people and that's what we're going for in a way. We want the energy of the songs to be so apparent that the listener feels we're stripped down, emotionally nude in front of you.
There has been some media confusion over the true story behind your breakthrough song 'Blackeye'. Does the issue of critics analysing your lyrical output unnerve you in any way?
It's not unnerving but it is interesting to me how many people want to know about that song. I feel like there are more lyrically interesting songs on the album. The simplicity of the lyrics seem to throw people for a loop. When writing songs, I always pull from a very specific event or emotion. I do my best to spin the lyrics in a way that anyone can empathize with. It may be a song about a phone conversation with my mother, but I want you to hear it and think it's about your lover or your own mother or maybe even yourself. And hopefully not understand that it's about a phone conversation at all. I guess that's the only frustrating part of being asked about lyrical content. If you know that the Beatles' song 'Martha My Dear' was written about Paul's dog, there's a risk of losing your personal attachment to the tune. Don't get me wrong, even though I'm over analyzing this, I'm ecstatic that people are listening and interested in what we have to say.
What are your passions outside of your music?
We're each into very different things. Kevin and I are ridiculous nerds about music history. We're always studying, listening, collecting. And we spend a lot of time working on perfecting mix tapes. Kevin makes a lot of art on his own, great collages and drawings, and is also in to watching old country western films. Adam runs every day and loves classic literature. I'm into connecting with people. I can't think of anything more interesting than spending time with friends
And finally, what of the future - can we expect the particular brand of minimalist pop shown on 'E.S.P.' to continue, or should we be prepared for something different?
It would be weird if we didn't grow or expand in some way, there would be no point in putting out a sequel to 'E.S.P'. Although, I think the general vision of the band will remain the same. We've learned a lot from all the great musicians we've played with in the past year, especially Dirty Beaches and the Blow. We're already working on new songs and can't wait for the chance to share them.
Debut album 'E.S.P.' was released earlier in the year on 'Hell Yes' and 'City Slang'. The European leg of their current tour starts in Bristol on September 21st. Catch them if you can for blissed-out thought provoking songs played and sung with aplomb. Also check out the new video for 'Rock On' here.