INTERVIEW: Kaiz La Kazie
Our man Deluzzion introduces Bearded to the world of London MC Kaiz La Kaize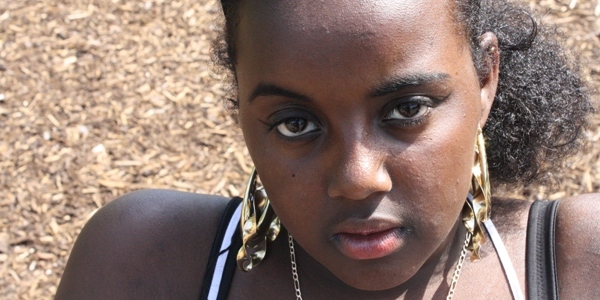 With a growing amount female MC's around these days, the new crop are bringing it in the same way as their male counterparts, if not better in some cases. Our very own Deluzzion catches up with 19 year old Kaiz La Kazie, an up and coming female MC from East London to talk about being real, femcees and her new release
Vandalised
.
Firstly, let the Bearded readers know who you are, what you do and where you're from.
I'm
Kaiz La Kazie
, I'm mainly an MC nowadays and I'm from East London but I'm originally from Archway, North London.
Who/what are your influences?
I've got loads of influences, ranging from hardcore Grime, Dubstep, Garage, D'n'B goin all the way to Jazz, Reggae and Indie. I appreciate all genres and always refer to different artists' approaches to songs so that I can challenge myself when it comes to my own material.
Before we even talk about Vandalised, you mention a few times throughout the release that people can't pronounce your name properly. Have you found that to be a problem?
Oh my gosh! I have to get really particular and write my name phonetically so it's pronounced correctly. Those that know me well just shorten it to Kaiz, Kahz or Kazie. Every show I perform at, I come on and it's like "Up next is Kays Leh Kayzee" or "Kahz La Kezzie".It's a difficult name but I suppose I'm a difficult person. It's only four syllables! Chill.
On your Soundcloud page, you describe your sound as "Bubble Grime". Where did that tag come from and what is meant by it?
"Bubble Grime" refers to the days when I was producing my own instrumentals. I was often told my beats had their own presence so I would say it was grime with some grafitti bubbles in it. I came across a MC/Producer Bamboss who came out with a song "Bubblegum Grime" which sparked a blog with Jazzle Dunne and encouraged me to collaborate with him and try and expand the movement.
Ok, let's talk about Vandalised. Would you say it's an album or a mixtape and how long did it take you to put together?
Vandalised
is a conceptual mixtape but the way it was put together, I would liken the lyricism and written aspect of it to that of an album. It was released on 30th June, straight after the London riots occurred. It's like I'd predicted the future. Spooky! It took me around two months to put together, different producers were called in, and it was all recorded and mixed at my place in the early hours of the morning between February and June 2011. Even though
Vandalised
is available as free download, the way street art has a temporary life span (in comparison to masterpieces), I feel that digital releases and downloads have made music's artistic value decrease. Before, art and music were timeless, legendary and elegant. Now art and music are opportunistic, rebellious, and evanescent.
Having had Vandalised on constant rotation, I'd liken your sound to that of the cheekyness of Lady Sovereign but also having the insightful lyrics of someone like Tor Cesay. What do you say to that?
I've just educated myself on Tor Cesay and it is a big compliment. She's a badgyal! I like to put some cheeky personality in my tracks because I don't like MCs that just spit about the same things in the same boring voice. Plus, I want my listeners to relate and understand me, not my facade. I love getting deep and exploring controversial topics and at the same time I love to crack jokes!
The instrumentals used during Vandalised have an old skool feel to them. Was that a conscious decision?
I'm old school to the max. I love referring to my cultural or social influences in my music because I feel like I have to paint a picture of my world to my listeners; all the little things that have come together and inspired me to write up the mixtape. The samples are like little clues to what it all is, and how it gets compiled inside my mind.
A lot of artists only like to reveal certain aspects of their life on record but your approach seems very different, laying bare your experiences ('I Scream' and 'Fare Evader' in particular) and political views for all to hear. Has that always been your approach and have you found that that's the best way for you to write?
I'm very blatant and very stupid. But I have nothing to hide when I write. I keep it real, write songs that maybe shouldn't be released and carry on as normal. With 'Fare Evader', it was simply survival. I had to get by and I was expressing a lot of frustration, which I'm sure lots of people in London (and in other cities) feel with regards to rising fares etc.
With 'I Scream', the song for me represents the difficulty with detachment when it comes to casual relationships. As the song goes on, the verses become more distorted and frantic, more desperate and less chilled about the arrangement, symbolising attachment and strong feeling that the protagonist thought they could handle.
You mix up your delivery between singing and rapping. When did you first start to mix the two and which do you prefer?
If I could sing, like nicely and beautifully, I would do it all day. I'd say the singing is more of a technique than an art. Too many cigarettes I'm afraid. I love rapping; it's the way the flows fall out and fit so perfectly with the beat, it grips me and holds me in place. When I'm writing, I always visualise the flows and effects. Both of them are passions and I entwine the two and experiment with technique all the time whilst I'm recording and writing.
With the amount of gigs you've done, how relevant do you think live gigs are in a world where a lot of focus is placed on radio play and the internet?
The experience of a real, emotional live performance can in no way be emulated by one youtube video, or a radio set. You as an audience member, can see the beads of sweat on the artist in front of you, immersed in reverb, alongside ten, twenty, a hundred, a few thousand people, who for that second are feeling the same emotions as you, being moved by the art in front of them; that is an irreplaceable experience.
Even a few years ago, the music industry was still heavily dominated by men with only a handful of female MCs around. Do you think the amount of female MCs around now is helping you push forward/stand out?
I've got a femcees folder on my PSP and I've got a lot of respect for these women getting their different voices and different stories out on their tracks; some heartache, some conscious, some with light hearted lyrics and some with lots of variety and energy. I'm one of these women making a difference with my words and I can spray my bars as hard as a man can.
What are your goals/ambitions within music?
I want people to appreciate the words and relate to them. I have no major interest in glitzy musical affairs. I want to get gritty and do intimate performances where my listeners feel included and real. It's such an effort to be fake and I haven't got the patience. I'm too lazy to paint the porcelain facade. All my effort goes in the lyricism, the emotion, the here and now.
What's next up after 'Vandalised'?
I've got lots of stuff planned. I'm always dropping songs and videos, so look out for me. I'm always performing and selling mixtapes around London, so follow the movement.
If people want to check out your music online or get in touch with you, where/how can they do this?
Ok, I'm terrible with technology but here's the main ones:
Twitter
,
Myspace
,
Soundcloud
, If you search for anything by me, search this:
Kaiz La Kazie - Vandalised Mixtape
. (It's free!)
Shoutout to Bearded Mag!! Kaiz La ...x