INTERVIEW: Japayork
If you've heard of Japayork, you'll have heard that he's one of the most exciting electropop prospects to emerge in years. His debut single, 'Teenagers', is a glorious account of adolescent decadence at its most romantic, dangerous and destructive. And the chorus is sublime. Bearded thought it best to chat with this new musical maverick quick-sharp.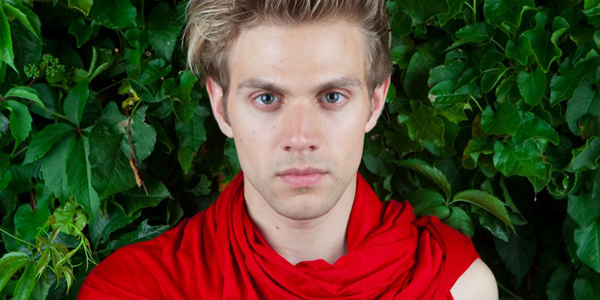 Bearded: So Japayork, what is the essence of you? As an artist, a writer, a performer and/or a human being?
Japayork: There is no difference between me as an artist and me as a person; I don't do the whole glam thing, I just like to make music a lot.
What encouraged you to become involved with music?
Watching grunge bands beating the shit out of guitars on video tapes my dad used to record for me when I was about 8.
'Teenagers' is an absolute anthem. How did you go about writing it?
It was first recorded a capella on my old phone after a heavy night out. It was recorded in a few hours the next day.
The 'Teenagers' video is completely beautiful too [can you do nothing wrong?!]. It looks like teenage decadence at its most exquisite, until the ominous unconscious girl at the end provides an essence of harsh reality. What is your analysis of this clip?
It's always been hard for me to let anything be done by others as I like to keep control, do my own art and have a massive ego, but when I met the guys that did the video I was just confident they'd make something worth people's precious YouTube time.
I hear your tracks and I hear Alphabeat's up-beat positivity, Sam Sparro's camp pop subtlety, Crystal Fighters' instrumental texture and third-album Bloc Party's electronic indie sensibilities. Do you resent or embrace any of these comparisons? Who are your actual musical influences?
I love the names you mentioned for sure, however I take most of my inspiration from oldies like Steely Dan, Robert Palmer, early Prince, and my love for beat generation writers like Kerouac also help every now and then.
Your intensely chart-friendly synth-pop has the potential to be absolutely huge. How would you deal with celebrity status and mainstream success if it happened?
Well, my album is taking a little turn away from songs like 'Teenagers' and is going to be a little less friendly for radio and press. At the moment I'm writing the album I want people to hear and if that means it'll take a bit more fighting to get it out there than that's for the greater good I guess.
Having visited japayork.com, why can you "never sleep again"? As much as it features in the lyrics to 'Teenagers', could this be a reference to the excessive demands of the music industry?
J: It refers to my lifestyle - music, art, design and drinking - which leaves little time for sleep.
What do you do when you're not music-ing?
Kissing, reading, illustrating, origami and philately.
We're pretty excited about your gig at Queen Of Hoxton in London on April 28th! Do you have other UK performances lined up that we should know about?
At the moment the Queen show is a try-out of new material which is quite different to the single. It's steering more towards "Afterlife", a song of mine that can be found on soundcloud.
When can we expect the full-length LP?
The record is nearly written and is gonna be recorded in my bedroom throughout spring/summer. It should be done and out before the new year!
* * * * * * * * * * *
Ahhh, what a nice chap. 'Teenagers' can be heard on Spotify and Soundcloud, or find the official video on YouTube. The track and video can also be found at
www.japayork.com
. If you like what you hear, come and join us at Queen Of Hoxton in London on 28th April for what is currently his only confirmed UK performance. If you can't make it, check back with Bearded for a review of the evening – he's impressed us suitably thus far, but whether he can continue this in a live environment with the new tracks remains to be confirmed…