INTERVIEW: In Lieu
In Lieu's recent release of Fuck Crz is perhaps one of the most exciting underground releases this year, and by stripping back the pensive layers of this little gem, hides one Martin Ruffin, a vastly talented producer & songwriter. Here he talks to Bearded and reveals the grandiose sounds that make up his style.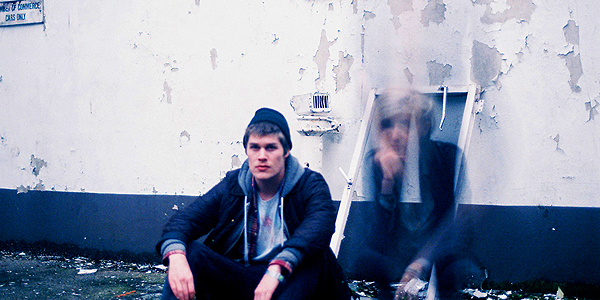 Fuck Crz has received incessant praise from both fans and journalists alike, and it's fast becoming a favourite amongst Bearded! First of all, for those previously unacquainted with In Lieu and your recent EP release, could you explain what your all about?
Holla! Well as far as what I'm all about, I'm as unsure as the next human, but first and foremost I guess I'm a musician, composer and producer, and In Lieu's the moniker under which I put my musical mind vomit out into the world, whatever form it may end up taking on.
What can you tell us about Fuck Crz? What's the record about, and what were your thoughts when recording?
The record started off not really being about anything, but I had a few instrumental tracks that I'd loosely based on colours, then from these I thought about the idea of having it sound like a drug induced course of a day, and sort of went from there in coming up with vocals, textures and other tracks to fill in the gaps. It was a pretty haphazard method of working, I knew I wanted to make a cohesive overall end product but didn't really know what was going on most of the time.
Can you enlighten us on the cover art for the EP, it's amazing!?
It's just one of my sisters drawings, which I think are rad! She just illustrates in her spare time sometimes, and this was one of those left in my parents house before she left England a while back.
Some might suggest that your music slides into sub-genres of ambient, electronic and shoegaze; can you describe your music for those unfamiliar with In Lieu?
Post-chill-tapes-math-poptronica-gaze, or something. In the end what people label my stuff as has more to do with their reference materials than anything else, and I'm pretty out of the loop, but if I had to describe my music in one word, how's 'floaty'?
Haha, 'floaty' suits it well.. Who would you list as your main influences, both for the record and in general?
Mainly just insomnia and skateboarding, but musically, in no particular order, GG Allin, At The Drive In, Ghosts & Vodka, A Sunny Day In Glasgow, American Nightmare, Manitoba, Peter Broderick and a whole load of others.
You previously released a record which was much more acoustically based, has your change in style been a natural progression, and where do you see it going next?
Haha I forget that that's still out there, that was just the result of taking my acoustic guitar to France one summer with no phone/internet/contact with the outside world, and came up with those songs, if Mike Kinsella ever reads this, sorry for massively ripping you off! In the end, we're just products of our environment in all senses and especially creatively, so depending on what's going on in my world, it could go anywhere. Of the songs I've written lately, I want them to be able to work with just me and a guitar before getting all production heavy, so make of that what you will. I still want to make a lot of music that sounds like my head exploding though.
You mentioned you're in the process of putting together an album, what can we expect from In Lieu in 2011? Future releases, live shows?
Well once this albums done and dusted and I find some humans up for releasing it, I want to make a Dntel esque EP with guest vocalists and some weird productions, then another arty trifecta project with music/writing/illustration being done based on one another then put out in some nice packaging, as well as scoring a few short films. In the midst of all that I'm putting a pretty complex live show together, mainly for occasional events rather than touring or anything, for example there's an art installation in June I'll be playing at amongst others, and maybe some other similar events in London a bit earlier.
That sounds great! Tell us a bit about your side projects and collaborations then, who are you working with, what's out already, and what have we got to look forward to?
I just did a remix of a Beach House song for No Fear Of Pop which should be out next week, but at the moment aside from In Lieu, i'm playing guitar/keys/laptop for The James Cleaver Quintet, guitar/singing in a twiddly band a bit like Algernon Cadwallader meets Saves The Day, which are both keeping me busy. As well as this i'm producing some tracks/records for Natalie Evans, Beeches, Adam Russell and Oh So Quiet in March which there's more details of on my various social internet resources. I need a holiday!
____________
In Lieu
kindly spent the time and effort to compile a sweet little exclusive spotify playlist for you all to indulge in and discover some awesome new music, check it out
here
!
FUCK CRZ
EP can be downloaded for free
here