'Dungeon Sex' with Hysterical Injury
Cloudrunner talks to the Bristol based band.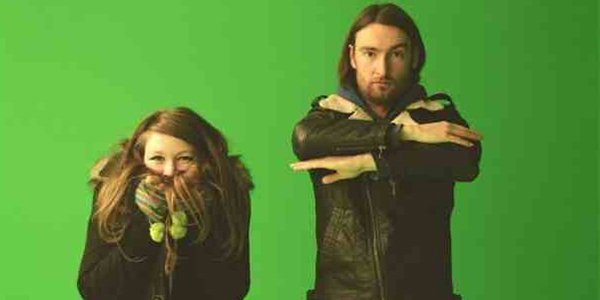 'Dead Wolf Situation', the debut LP from Bath/Bristol, sister/brother duo
The Hysterical Injury
has been a long time coming.
"Imagine driving Penzance to Penzance,"
Tom Gardiner says of the process of this realisation. Tom, who only joined the band in June of last year, is brimming with insightful and often hilarious one-liners that feel essential to the identity of the band. He walks the line between obsession and madness – tapping out a drum beat he's been practicing, dubbed the "paraquin" – and trying to teach it to his sister – voice of the band – singer/bassist Annie Gardiner, who is headstrong, equally enthusiastic and always ready to expand on a theme . . .
"It's a bit like . . . where extreme Conservatives meet extreme lefties – the circle becomes one."
The analogy seems to be an unconscious attempt to express the struggle of fighting for four years to make an album, and at the same time a reference to her lyrical style, where the personal and political often collide. In spite of the long journey, that has featured the release of two EPs, along with two lineup changes, Annie has realized her ambition and is happy; reservedly happy perhaps – as the work is never done – and fortunately "very pleased with its content;" meaning the Unknown Pleasures-like psychosis, the energy of Lightning Bolt and the songs themselves of course. Songs such as 'Maths' (available as a free download) which has an accompanying video of multiple Annies, posing as Mary Weiss of The Shangri-Las, singing and dancing over the euphoric, snarling soundtrack. Tom takes the role of TV host Lloyd Thaxton, but is ponytailed like Steven Seagall, because
"Steven Seagall is better."
Influences are a cause for celebration for Annie, but are but
"one part of a colour palette."
'Rosetta's Waves' is inspired by the often ignored gospel/rhythm and blues/jazz/pop artist, Sister Rosetta Tharpe, but ends up being about
"how things in music aren't as they seem."
'Cycle One' is another of the band's favourites, it's a classic example of their pop sensibilities, one which Annie describes as both "insulting" and "assaulting." The album, as a whole, achieves what each individual song does, which is to be both immediate whilst reassuringly unconventional, and yet remain a journey.
Annie finally got the break she was looking for in the form of several grants from The Joe Strummer Foundation, which enabled full studio production of the album – on her terms – achieving what is essentially a live sound, with no overdubs. Being a "bit of a purist", this pleases Annie to no end. It has led to more work in London and a boost in profile, though what the band have always lacked in terms of a big fanbase they have always made up for in radio play, high profile and hardcore fandom, and hard graft. The siblings both live full musical lives; involving side-projects, session work, teaching and teaching. Admittedly, Annie finds it "hard to switch off" from the music, but she clearly loves what she does; especially, it would seem, playing live with her brother, who is a self described "Aslan" of the drum-kit. "I never shoot early."
So next up is a small tour of the UK and Ireland, and Annie is typically excited about the acts they will be sharing the bill with, which include London DIY heroine She Makes War, Thought Forms, Lilies On Mars, The Broken Seas, Klad Hest (one of Bristol maverick Matt Loveridge's many guises) and Hesomagari. Of the many things this eclectic list shows, one is that HI have the potential for very broad appeal indeed. The positive reviews that
Dead Wolf Situation
has received already indicate that it will certainly assist them up several rungs of the ladder, and the songs themselves – especially if witnessed live – will worm their way into a wider collective consciousness, leaving the band with new goals to set, and achieve.
"It was a long operation, joining at the hip
says Tom. I can reveal that the operation was a success.