Interview: Hundreds
Brother-sister duo Eva and Phillip Milner of Hundreds chat about their new LP Aftermath to Erick Mertz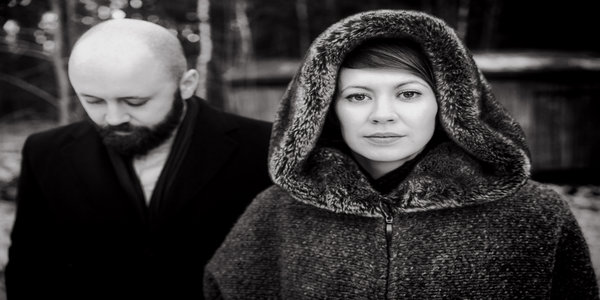 The first song on Hundred's
Aftermath
bears the album's title. Perhaps this is curious only to someone like me, a word person, whose inclination would be to sequence this song last. The album holds the event after all that the song refers to. Or does it?
Moving forward through the twelve-track album, one is immediately impressed with the idea that the entire album serves as cathartic reflection on a single event. This is not prelude; it is, instead postscript to something fragile and harrowing.
Hundreds
are a duo, brother and sister Eva and Phillip Milner, from Hamburg, Germany. Their sophomore record oozes elegance, a vein of unmistakable passion in Eva's haunted vocal styling. She displays light and urgency, tracks like "Ten Headed Beast" bordering on but not quite reaching that dreaded definition of precious.
That fence is precisely what defines the spectacular motif of
Aftermath
and lines it up as a work of rare maturity. It delivers on gorgeous song structures that feel arrestingly familiar complimenting the striking vocal cadences. One time through "Foam Born" and "Interplanetary" are simply not enough to appreciate their rare splendor. For all the talk of how emotionally complex Hundreds are, they prove still capable of generating a frenetic pulse as evidenced on "Rabbits On The Roof" the rare showcase of club chops and searing guitars.
Of course, that transformative feeling comes from the fact that Eva and Phillip are carrying you to a place you've been before: that place of unabashed need.
I had an opportunity to sit down with Eva as the duo passed through Los Angeles playing, among other places, at Musexpo
Bearded: Lets start with the obvious question, shall we? What is the dynamic working creatively with a sibling?
Eva: I would recommend it to everyone. As siblings you can fight, but still you have your connection. It's not easy to destroy. We have, like a silent language. We sometimes know exactly what the other one is thinking, even without words. And music is also a language without words, so it's easy for us.
Heading into Aftermath there were some comments written that you were both at a place of personal and professional optimism. How did that state of mind affect writing and recording?
I would say it sounds cleaner and sends more warmth to the listener. Insecurity is also always part of the creative work and I think it is very important to keep that. Only with insecurity you question yourself and try to find new ways. So it's both, we are grown up, more mature, but still we question every note and ask ourselves if it has its place on the album. Maybe we are also huge perfectionists…
How do you respond to the idea that optimism and serious music don't mix?
I am not a very optimistic person, but I try to fight against negative thoughts. So maybe, an artist is a person who fights with his inner voices a lot. In my case: true. But I don't want to make a testimony for every artist.
Talk about the writing and recording process on the album.
After we set up our studio, which was a lot of work, because all our stuff moved from Hamburg to a little village, one and a half hours away, we started very simple. Because of the calm and natural surrounding, it was very easy to concentrate on the essence. Some piano chords, a bit of singing along and then we started to produce the songs in the same moment. I started to find words, Philipp maybe searched for a bass drum. Then we met and showed one other the result of our work. Then this happened all over again and again. We criticized each other and helped each other. Some songs happened to have many versions, but in the end, we always knew when a song is finished. It was a lot of searching, listening and playing; a very concentrated way of working. I liked it.
Describe how this album's genesis contrasted with your debut record (the band's self titled debut came out in 2010)?
We had much more time for the debut, that's one main difference. And also, the sounds changed. I think "Aftermath" is cleaner and warmer and had a different approach. You can hear we weren't recording in the middle of a big city and also that we had to have clarity in the songs. It's more organic, more positive, but we still like doing our electronic synth stuff.
Why dramatically change your creative process?
It didn't change dramatically, just the circumstances were different to the first album. We knew, there is an audience waiting, there are people, who work with us. All of them want to hear our new songs. The first album was more into the blue.
What comes across as unique is how Aftermath manages to come across as urgent without devolving into sentimentality. How do you achieve that? Then you turn up the notch. Where did "Rabbits On The Roof" come from?
It is one of the oldest songs on the album. We played it on tour over years, but in a completely different version. When we planned the album track list, we knew we had to change it, because we couldn't stand the old version anymore. It is an apocalyptic song with pictures right out of my nightmares.
Give our readers a reason to hit the record stores. What are your influences?
Björk. The Notwist. Nature (not a band). Thom Yorke. Jon Hopkins. The absurdity of the human being (that's not a band, either)