Interview: Flume
Nicole Ryan speaks to Australia's Flume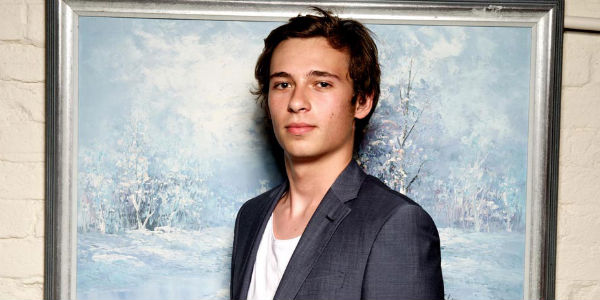 2012 might be remembered by most as the year of the apocalypse-that-never-happened but for 21-year-old Harley Streten aka Australian electro prodigy
Flume
, it couldn't have been more eventful. In the space of twelve months, Streten sold out two major tours in his native country, released a debut album that Rolling Stone described as 'scarily close to perfect' and beat One Direction in a battle for the number one spot on the Australian music charts.
Despite all this, 21 year old Streten seems relatively unfazed by the events of the past year, claiming that he only realised his 'little project was getting serious' when he packed out a 5,000 capacity tent at festival Splendour in the Grass. Streten, (who defines his sound as 'experimental electronica with a strong hip hop influence and catchy melodies') never imagined his music would be even be played live, explaining 'I was making Flume for iPods, so basically music that you'd listen to on the bus, and just listening at home'. He had been devoting his energy to another endeavour, with Flume being his 'weird, quirky little project'. But that all changed when his song 'Sleepless' was named runner-up in a competition run by record label Future Classic and his tracks were picked up by Australian tastemaker radio station Triple J.
Fast forward 12 months and Streten has secured record deals in the UK, Europe and the US and is currently making his way across the States after performing at SXSW. Playing eight shows in four days at the conference allowed him to test the waters internationally, observing 'It is interesting to see because in the US they definitely respond well to hip hop. As my set starts, I go into a lot of the hip hop tracks and it seems to take off really well here versus Australia'. The producer will have plenty of opportunities to compare audience responses across the globe when he returns to Europe for a series of appearances in the summer. Kicking off with a London show in July, Streten is particularly excited about bringing a new element of his live show to the UK; an image generator he calls the 'Infinity prism'. He tells me 'It's kind of hard to explain but I've basically spent a lot of money creating this big optical illusion light show.'
This Daft Punk-inspired addition to his performance is hardly surprising considering Streten's longstanding love of electronic music (he gave his best friend a copy of the duo's iconic
Homework
as a birthday present when he was 9). After discovering a promotional disc with music composition software in a box of NutriGrain when he was fourteen, Streten became obsessed with synthesisers and spent most of his adolescence developing his music production skills. Which might help explain how he has achieved such success at a relatively young age. 'People ask me about how it feels rising so quickly' he explains 'but this is the only way I've ever known it to happen. I know technically it seems like a really fast rise but I'm totally loving it. It doesn't feel too fast for me.'
However Streten does acknowledge that recognition in Australia has taken some adjustment after he had fans show up at his house and leave notes on his doorstep. He admits 'It was quite strange at first, the whole fan thing was a massive head fuck.' But a loss of anonymity hasn't been the only learning curve- Streten confesses that as a producer himself he's found it quite strange hearing people remixing his music; 'Yeah I find it difficult to get into remixes people have done of me. They have to be really good- I'm so used to hearing a track one way so hearing it a different way, unless it's better, it's quite difficult to swallow.'
Surprisingly savvy for a 21 year old, Streten is capitalising on the wave of interest around his music but has avoided putting all his eggs in one basket. He is still dedicating time to the aforementioned other project
What So Not
(working on remixes between interviews) although it's not as much as he'd like. 'I am getting pulled between the two a lot lately' Streten explains. But obviously Flume is taking up a lot of my time. It's probably about 70-30 at the moment so 70% Flume and 30% What So Not for me, although once the chaos dies down a little and I have some time off, my goal is to keep it 50-50.'
He's also been holed up in a beach house with fellow Australian electro muso Chet Faker working on a collaboration, adding to a list of partnerships that already spans Moon Holiday and rapper T-Shirt. Streten says his latest collaboration is quite different to either of their sounds, 'It doesn't sound like Flume, it doesn't sound like Chet Faker. It's quite unique. I'm really excited about it. I'm really happy with how the tracks have turned out and I'm quite interested to see how they're perceived by the public.'
Opportunities to work on new Flume tracks have been difficult to come by lately, with Streten on tour nine of the past ten months. He is looking forward to being in a studio again soon, telling me it's where he is most productive; 'I've got a bunch of new stuff on the way but it's quite tricky to work on the road. I definitely work better in a studio environment.' This might have something to do with the opportunity for experimentation this affords him, which Streten says is his favourite part of the production process.
The
Flume
juggernaut has clearly become the centre of the 21-year-old's existence. 'I don't have time for anything else in my life' he muses 'I actually have gotten to the point where, even if I wanted to have a girlfriend, I couldn't'. But Streten is clearly appreciative of the opportunities that his music has afforded him, explaining that he has had more than a couple of pinch-me moments, including playing a warehouse in Poland in minus fifteen degrees. 'It's just weird to think that this music I make in my bedroom has brought me to somewhere like Poland. I would probably never be here if it wasn't for that.'
www.flumemusic.com