Interview: Eric Gaffney
The US alt. rock stalwart and Sebadoh co-founder chats about his lauded new solo LP Land of Make Believe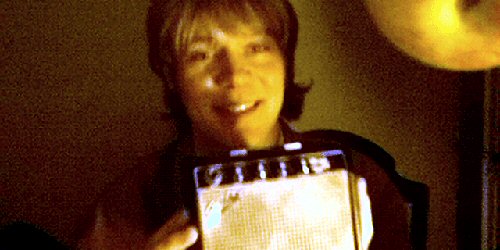 In one view of indie rock history,
Eric Gaffney
is merely a quiet contributor. In another, he's a threadbare lynchpin in the vital outsider rock movement that had its genesis in suburbs and towns like Rockville, Maryland and Athens, Georgia and in this case, the tweed paved sidewalks of Cambridge, Massachusetts. I ascribe to the second view.
Even before Gaffney was a bedrock member of cult US indie rock group Sebadoh, he was a burgeoning bedroom, 4-track artist, crafting oddball tracks blending rock, folk and weirdo experimental. The type of songwriter that fed off the freedom to feel inspired, write and record and move on. Since his departure from Sebadoh in 1993, Gaffney has picked up right where he left off, creating a one of a kind treasure trove of wry low fidelity, rock and roll which he peddles off his
Bandcamp
site.
His newest release,
Land Of Make Believe
is a record that exists outside of time. This is the kind of gem-laden collection that reminds you why you loved lo-fi rock in the first place. The raw riffs of 'What An Attitude' feel like they could have been cranked out of one of the many beer filled troughs at Satyricon, his sneering critique of his dead-eyed neighbors on 'America's Drug' is raw and blissfully wise ass in a post punk tradition. Gaffney lays everything bare on 'Lake Of Make Believe' (as he does on every recording) from his well heeled sense of humor 'Howlin' Krishna' to his keen ability to pay homage to '60's garage on 'No Telling Why' to a dose of downtrodden blues on 'Bouquet For A Siren'. This is the kind of variety which makes him such a rare and precious gem.
I had a chance to talk with Gaffney, one Eric to another. Although I spell mine with a "ck" at the end, a topic we never got to discuss.
Bearded: There is a thread of social critique that runs throughout this record, gentle but prevalent. How do you determine where best to weave your ideas about our collective place in society?
Eric: Really, I had no idea! Not sure if I meant to address or weave any thread… social critique… There's "Phil Spectre Mask," which I was inspired to write after reading that Phil Spector Biography… that I suppose speaks volumes without saying anything in addition to the verses.
"Happy Ending" I wrote in 1983 (at age 15) about a stereotypical drunk father, his offspring… kid on drugs, with the dad drinking wine and falling on the floor. Sort of a typical American 1950's scenario.
"America's Drug"… was the first song I wrote that I presented to the first band I started, Grey Matter, early 1983. Guess there's a sorta social commentary scenario presented with that too… "
Television eats away at your mind/America's drug that leaves you blind
." Mass media... mind control... what have you.
"Go Vegan" I suppose is more of a heavier social commentary or whatever. A song to address the rights of animals not to be used, exploited, harmed, tortured… manufactured into pieces, bought, sold, consumed, as some sick form of commodity. Not much gentle about it.
You're a prolific songwriter. What is your process for working on your songs? Are you always writing?
Good question… Sometimes I will come up with some chords that work together or a riff that I will add words to, or once in awhile will have the words first. Either way, I have a structure, and then track everything one by one. In more recent years I've spent the time to have proper song endings that resolve... in other words, end on the same ringing note.
I can go for ages without writing, so no. Generally speaking, I will write when it comes to me, an idea, a lyric, a melody, a few chord changes that work… Sometimes it can be a lot of songs at once or just one, and then nothing for ages. However, I do write just about every day but not song lyrics.
You've taken to selling your solo material through Bandcamp. How have you found that seemingly new platform?
In lieu of being on a proper label or any label at present, it has worked for me… as a means to release or host my records in digital form. So, I'm quite happy that it exists, as a small step platform at present.
I wish Bandcamp had been around when I started cassette recording back in 1981. And I like that anyone who attempts making music or recording or writing songs can put whatever up there... as opposed to begging some close-to-washed up A & R schlub to speak with the "big bossman" at the bigwig record company.
On the contrary, you've been a cassette recording maven for decades. How would you characterize the digital/physical divide in music distribution now as opposed to when you started out?
When I started out, I made little records on cassettes. I did this for my first band, Grey Matter in 1983, and sold them at Main St. Records. They took 10 cents on each tape. Again, I did the same for Gracefully Aging Hippie Solists in 1986, again for The Freed Man in 1988, and compilations I made in '89-90. And one more time for Lights Up & Spins Around in 1998. That's how I distributed music, by creating the product (cassette) and bringing it to the store, and setting up a display more often than not.
To be honest I don't like that digital has taken over to the degree it has, which at first, I didn't understand and was opposed to on every level, but it has it's merits as a way to get music out so it's existence is somewhat substantiated I guess.
Digital was not a thing listening nor learning about music for me growing up. Of many things I do not like about digital is that as we all know. Five thousand plays can equal a mere 24 cents or something… It has devalued music on that level and probably in ways I am not yet familiar with.
Physical distribution of actual records (vinyl) cassettes, compact discs... is an entirely different animal than the digital animal, which is basically a gross rip-off and contributes to the devaluation, so to speak of music.
What do you see as the future of music distribution? Especially for indie and self-representing artists?
From reports, it appears to be more streaming and less downloading as a trend. Who can blame 'em?
Land of Make Believe is out now, available from here