Interview: Efterklang
Efterklang return to the UK this week for an exciting series of shows entitled 'The Piramida Concerts'. Melanie McGovern chats with the band.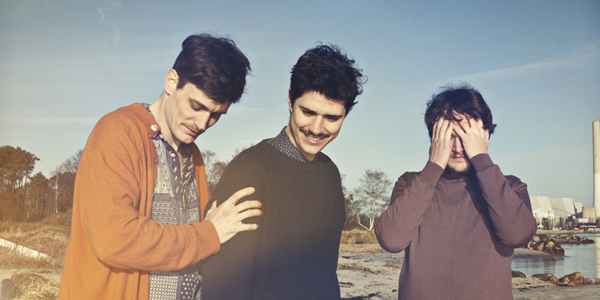 Working alongside the orchestra of The Sage Gateshead - The Northern Sinfonia - the Dane's endlessly experimental creations see them touring latest record
Piramida
over six dates with a condensed selection of players from the orchestra, alongside regulars Peter Broderick (piano), Katinka Fogh Vindelev (choir) and special guest drummer Budgie known for his work with Siouxsie and The Banshees and The Creatures.
We speak with Rasmus about the project's inception and their preparations for the live shows.
Bearded: You must have answered a lot of questions surrounding the creation of your new record which draws upon sounds from the abandoned landscape at the Russian settlement Piramida. The new concert series you begin this week in the UK with the Northern Sinfonia must have been a hugely ambitious project to undertake. How did the idea to employ orchestras initially come about?
Rasmus: When we came home from our trip to Piramida; the ghost town we visited in August 2011; we decided to start working on the album without having deadlines - this also meant that we did not want to play a single concert until the record was finished. We wanted to experiment with the material we had collected and to slowly get into the songwriting process. A month into this process we were contacted by Sydney Opera House. They presented us with an invitation to come down and do a project with their orchestra as per our liking. For an invitation like that we decided to change our plans and suddenly we had a massive deadline in front of us. Playing the album in full with a classical orchestra meant we had to start preparing immediately. It was very stressful, but it worked out great. We have never written as many songs for an album as this one. We quickly realized that it would be a shame to only play this concert in Sydney and we feel utterly amazed and thankful over the fact that we managed to get 15 of these orchestral shows arranged this fall.
The creation of the record was by no means easy, I hear you spent the better part of a year trying to arrange for permission to access the island itself. What challenges have the live shows brought with them?
The challenge when you work with bands and orchestras is the technical side of things. How do you get so many people to play music together so that it sounds good on stage and for the audience? And more importantly time is an issue. With so many people involved rehearsal becomes this super rare deluxe thing that you have to make the absolute most out of. Often we don´t get more than 6 hours with an orchestra and then we go on stage. That's one of the reasons why we are really excited about the UK tour with Northern Sinfonia. We have time to rehearse and we get to play 6 concerts with them.
You have performed with orchestras previously, what draws you to working on such a large scale?
It always gives us something in return. We are always surprised by how much it affects us. It is a lot of work to make such a concert work, but the payoff is equally bigger and amazing. We also love playing band shows - maybe what we really love is that fact that we can perform in different settings and formations.
You worked closely with arrangers to utilise as much of the orchestra as you could. How much of it is a collaborative effort, and how easy was it to express the sound and effect you wanted and for them and the players to create that.
The base of the arrangements are our own arrangements that are also featured on our albums. The arrangers then write this out so it can be played by the group of players we have and then they also often add a new key element or motive which we mostly love at first sight/sound - that's the nice thing about working with arrangers/composers whom we really admire and who's music we really enjoy. For the Piramida concert[s] we have also commissioned a piece to be played by the orchestra alone. It is one of the best parts of the concert in my opinion.
Piramida's live premiere took place at the Sydney Opera House, that must be up there as one of the landmark experiences of your career to date. Tell us about that experience.
For 9 months that concert was in my head - not one day went by without me thinking about it and trying to picture how it would be and so on. The month leading up to the concert was the most hectic and busy time for our band ever as we were finishing our album as well. We slept about 5 hours a day and then spent all our time in the studio and rehearsal space. The feeling I had when standing on stage and actually enjoying playing and thinking "this works" was incredible. Such a relief. We were all very high on joy after that concert.
Your music is often described as chamber pop although much of your earlier work, and indeed this current record experiment with minimal electronica. What does the term 'chamber pop' mean to you and how do you feel it describes what you are trying to create musically as Efterklang?
It doesn´t mean anything to me. We don´t really know what genre we are. Some kind of leftfield pop / art rock and yes we also love electronic music and classical.
As innovative musicians yourselves it must be important to work with those similarly minded. The Major Lift orchestra's ethos is very much about inclusion and engaging both local community as well as exploring and expanding musically as a collective. How did the process work for finding the various orchestras that you have gone on to work with? Were there certain characteristics you looked for during the selection process?
Well - we are quite desperate - we just want someone to sleep with but luckily the orchestras that say yes to such a project are often very open-minded and like the challenge. We always have an amazing time with the orchestra. It is always a process. We want all the players to get a feeling of community and that their part matters and is important. This is also where the arrangements are very important.
For Efterklang there seems to be no boundary where sound, creation and collaboration is concerned. You've worked with orchestras, children, local musicians, abandoned landscapes... are you looking beyond this current project to your next great feat? Where next for your sound and for the live shows?
We already have some ideas for the next album. But nothing we want to share. It is quite conservative and yes something completely different again.
And lastly, how would you describe Efterklang's ethos musically and as a group of people?
Curiosity and playfulness mixed with big and ambitious dreams and a pure joy of being able to play our music for people live and on record. We are quite easy-going, but we care a lot about the music we make.
The tour begins on Tuesday:

23.10 – Gateshead, Newcastle, UK – The Sage
24.10 – Edinburgh, UK – Usher Hall
27.10 – Coventry, UK – Warwick Arts Centre
28.10 – Brighton, UK – Dome
29.10 – Manchester, UK – Bridgewater Hall
30.10 – London, UK – Barbican