Interview: Chuck Ragen & Emily Baker, on the Revival Tour 2012.
On the penultimate night of Revival Tour in Bristol at Thekla we had the chance to speak to Emily Barker about her experiences of the tour and what it's like to collaborate with such a talented and varied group of musicians. As if that wasn't enough, halfway through the one and only Chuck Ragan also joined us and gave us his take on the Revival Tour and his take on a life spent on the road.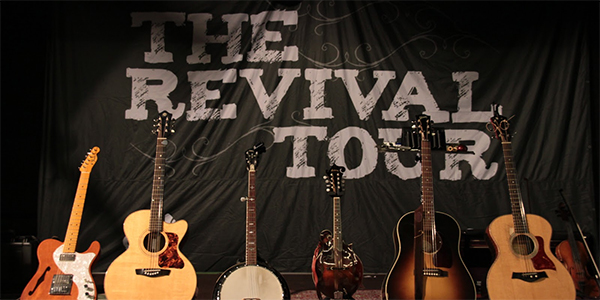 Bearded: Hi Emily, thanks very much for taking the time to speak to us. It's the penultimate night of the tour tonight, what have been some of your highlights of the last three or four weeks?
Emily Baker: A highlight for me was playing in Wiesbaden in Germany, where we played in this beautiful church. It sold out within seconds of it being on sale, so it was 500 people and just really incredible acoustics and a beautiful, beautiful setting, so that was a real highlight. Most of the Germany shows were pretty great because the Revival Tour just does really well there so we were selling out almost every night and there was just such a good energy. I haven't really toured on the continent very much so for me that was a real highlight to be over there, that was really cool.
B: That sounds fantastic, but has there been anything slightly less enjoyable happen over the tour?

E: Well we're all exhausted because it's 33 shows in 36 days and the three days off were about two weeks ago now, we've gotten into the swing of it but I think we're all looking forward to having a little break. But we'll also be sad to finish.
(At this point Chuck descended from the top deck of Thekla to join us)
B: We managed to make the first date of the tour in Cardiff, which was excellent.
Chuck Ragen: Oh great, well it's a very different show now!
B: I can imagine, over the tour what have been some of your personal favourite collaborations, both to watch and be a part of?
Emily Baker: Every night there's pretty much new collaborations happening. In my personal set Chuck, Joe Ginsberg (Double Bass) and Jon Gaunt (Fiddle) join me for two songs and that's great. So I start off solo, do two songs on my own and then the guys get up and it's great to have their influence on the song. Usually I play with the girls (from The Red Clay Halo) and I love their version as well but it's really fun exploring new ideas and doing things differently.
Chuck Ragen: For me it's wonderful because on my recordings I've had Audrey May, Jolie Holland and different female vocalists but we rarely get to recreate that live at all, and Emily brings it and then some with what she brings to the table. So it's been just a real joy singing some songs with a voice like hers, it's really something.
B: Chuck, it seems like between Hot Water Music, The Revival Tour and your solo act you never seem to stop doing something or other. Does it ever get draining, do you ever wish you could just stop and enjoy the little things?

C: Every day, absolutely, every single day. I would love to sit down and relax. But I fully respect the fact that all of this could be over in the blink of an eye, and I know that right now we're in the process of building this tour and I'm technically out still supporting Covering Ground which just came out last September, so it's not been out that long y'know? But taking on the Hot Water stuff on top of everything that I was already doing has been kind of a lot of weight and a lot work, extra work. I do enjoy it but it is maddening to be juggling all of these animals and still try and not be a completely absent husband or person or family member. It's brutal yeah. I'd love to be home more, and hopefully one day I will be home more so yeah, that I would change. I love playing music, I love making records, I love collaborating with all of these wonderful people but, y'know, I've toured and moved around the majority of my life and I would love to one day really slow down and actually enjoy the places that I always see through a moving window, including my home.
B: Emily, you're almost a native to the UK, having been here for the best part of ten years now.
E: Yeah I came here about twelve years ago on a working visa and worked in pubs and stuff and was using the UK as a base to travel around from, but I hadn't really set my sights on being a musician so I was just travelling around working out what I wanted to do and then I settled here properly about six years ago now.
B: What made you decide to settle here?
E: Well, it sort of came about through meeting a bunch of musicians at the point when I decided that that's what I wanted to try to do with my life. I lived in Cambridge and I formed a band with two local musicians. We were called The Low Country and we started having some little successes over here, John Peel used to play us a lot on his radio show, and I just built all of my contacts here over the years and it just happened quite organically. But Australia is a long way away unfortunately, which is heartbreaking.
B: Chuck, on past versions of the Revival Tour you've had artists from hugely successful bands, such as Brian Fallon of the Gaslight Anthem and Dan Adriano from Alkaline Trio. This time it seems the focus is more on artists who are predominately solo artists. Was that something intentional?
C: Well every single Revival Tour is different, in terms of calibre the artists on this tour are of the same calibre as the artists on the last tour, just maybe in different scenes or markets or places. I mean a lot of the draw last year was from Brian and him being on board and that was wonderful. But I think it hasn't totally registered to people how this tour actually works and what it's all about. I mean, this tour is just about showcasing music in a completely different, unique fashion that you're not going to see at the majority of the shows you'll see. For anyone who's coming to see any particular artist whether it be Emily, Rocky, Cory, Jay or myself, they're going to see that artist in a completely different element than they'll every see them at one of their own shows. It's totally different and it's very possible that you'll not even see this combination of people the way you'll see it tonight ever again.
B: Folk's enjoying something of a resurgence in the mainstream with what could be called folk artists receiving a lot of recognition, is that sort of recognition that you particularly strive, is it something you sort of want to distance yourself from or are you just happy doing your own thing?

E: I don't mind where it comes from really to tell the truth! I mean, the next record I have coming out is a bit of a step away from folk, it's a bit more rock/pop but it's still heavily influenced from country and folk and I think my music will always be because that's what I grew up listening to. But, I am happy for people to just enjoy what I do and get it.
B: Well we'll leave it there guys, I'm sure you've got preparations to be making for this evening, but it's been a pleasure to speak to you.