Interview: Armellodie Records
"...a tiny wee rock co-operative, label, stable, collective, whatever, based in but not exclusive to Glasgow, Scotland. D.I.Y with a bit of pride, that's what it's all about..."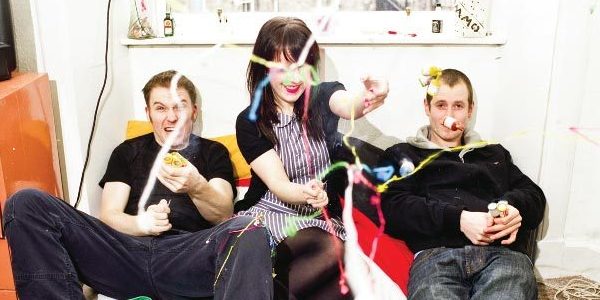 Taking a look at the labels which bring you some of your future favourite bands and artists, Bearded head North of the border to catch up with Armellodie Records...Och aye the noo! (apologies to all Scots for that)
Initially coming to life in early 2007 as a means for members of
Le Reno Amps
to release their own 7" singles, Glasgow collective Armellodie Records have begun to expand their horizons and offer up some of the most exciting underground records grinding the circuit at the moment, including Bearded favs
Cuddly Shark
,
Kill The Captains
, and
Super Adventure Club
.
To make sure they're keeping their egos firmly on the ground, Bearded caught up with head honcho Alan Souter to find out what they're all aboot!
How would you describe the bands on Armellodie's roster and what sort of sound do you go for when looking to sign someone?
Armellodie's roster is, in a nutshell, the finest roster of independent bands and artists in the whole of the United Kingdom. To describe it neopolitan style, it's a chocolate slab of leftfield rock, a strawberry layer of ice-cold indie and a vanilla scoop of the avant garde. There's no prerequisite in terms of sound that we look for perse, we just have to have our ears tickled. It goes without saying that you have to be physically pretty hot to get through the door though, male or female, every individual on Armellodie is a bona-fide pin-up. Thankfully on no occasion so far have we had to say, "we'll sign you guys if you ditch your three-toothed ostrich-necked guitarist" but believe me if it came to that we wouldn't hesitate.
Being based in Glasgow, do you only deal with Scottish artists? What do you think Armellodie does to enhance the local talent of Scotland?
We're based in Glasgow but we're most definitely not exclusive to Scottish artists. For practical reasons naturally it's easier for us to go and see bands close to home but our eyes and ears are always open. Several of our artists are based south-of-the-border, Kill The Captains are Sheffield dwellers and Thirty Pounds of Bone is a Gloucester-born, Shetland raised vagrant, who for the most part seems to just sail round Europe steamin'.
Scotland has a lot of music communities throughout, from the cities, to the highlands, to the borders, there's many people, labels, blogs, promoters, and allsorts that expose local talent and support Scottish music. In the grand scheme of things Armellodie is just another little fish in the Clyde but we work exceptionally hard with the artists on our label to maximise the amount of people that hear their music and maintain a quality aesthetic, musically, sonically and visually at all times.
What has been your biggest success so far? How do you measure this success?
We measure success with a fun-o-meter, everybody knows you can't ration fun and I have know doubt in my mind that based on this bullet-proof method that Armellodie is the most successful label on these shores. I don't know if the words 'big success' could be used to describe anything other than the releases themselves. I'm exceptionally proud of every single, EP and album that Armellodie have put out, from the music to the artwork, each one has been the result of a lot of love and great effort from many good people. What happens after a release comes out, good reviews, bad reviews, radioplay, sales, buckets of royalties, lines of cocaine and a midget prostitute, it doesn't matter, we stand by every single note.
What does a typical day entail for you?
A typical day at Armellodie Hq never has there been. We have regular team-building exercises, sports days to keep us in shape, nature-spotting trips for the shrewdist unit movers of the month, you know to let them see a dragonfly instead of a drag-and-click once in a while. For me I schmooze with the ladies in the Post Office, work closely with the each of the bands to ensure everyone's taken their pop vitamins, and spit and holler at the press all day.
If a major label offered you a fancy job title and a matching salary, would you take it?
Is this a would you sell-out question? Well I don't think there's any value in being indie for indie's sake. Armellodie is independent because it was born from a DIY ethic and creative control is first-and-foremost. However I'm not opposed to major labels, if creative control can be maintained essentially a major label is just a fat bank account and I could do with one of them at Armellodie. Depending on the job I'd probably take it, and use the exposable income to bankroll Armellodie for years to come.
Your name comes from a solo piano song by Chilly Gonzales......how and why?
Chilly Gonzales is a massive inspiration as an artist and an entertainer to us at Armellodie. He's basically the real-life Dude as opposed to the fictional Jeff Bridges character. We could have picked any of his songs to name the label after but Armellodie seemed to have a nice ring to it. It's a bit unusual I guess. That's it really no big revelation. Do check
Gonzales
out though, if your ears aren't painted on you wont regret it.
What is your mantra (if you have one)?
Kahlua, vodka and milk. Kahlua, vodka and milk, Kahlua, vodka and milk. Kahlua, vodka and milk. Kahlua, vodka and milk, Kahlua, vodka and milk. Kahlua, vodka and milk. Kahlua, vodka and milk, Kahlua, vodka and milk. Spew.
The Punisher of IV30 by Cuddly Shark by Armellodie
Super Adventure Club Links