Interview: Andrew Combs
Bearded caught up with the Texas-via-Nashville songwriter before his show supporting label-mate Justin Townes Earle at the Union Chapel this month.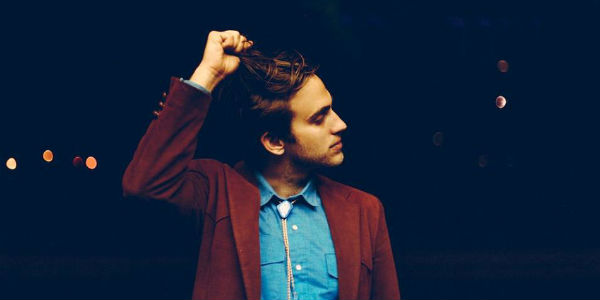 Bearded: Thanks for taking the time to sit with us today. So, you're a staff writer in Nashville and you've just released your second full-length record. Presumably you don't just wake up one morning and go, "Right, I'm off to Nashville..."
Andrew Combs: Yeah, when I first decided that I wanted to write songs I got really into Guy Clark, Townes Van Zandt, Kris Kristofferson and Willie Nelson and they ALL did the publishing deal thing and they all either still live or lived in Nashville. I didn't really know how much the publishing game has changed... but I knew that's what I wanted to do, I was just like if they did it then that's what I've got to try and do.
So, I came to Nashville and I got a publishing deal and I realized it was different, it was a courting process where you have to write with their writers for 6 to 12 months and if they get good feedback and stuff then they might sign you. It was kind of frustrating being led on but eventually it worked out.
My favourite part of this business is the actual creating of the song, so as far I'm concerned at this point in my life and career I have no plans to give that up…that's what pays my bills and that's what enables me to go on tour and come over to Europe and maybe lose a little bit of money.
What is that so grasps you about songwriting?
It's this craft and it can be really tedious and really aggravating and it's almost kind of unexplainable... I mean someone hired me to do a songwriting workshop and I had never done that and I was so awful because there is something that you can't really talk about.
It's chasing the muse and you don't really know where that comes from. But it's what keeps me going and sometimes I compare it to kids and video games; like buying a new game the day it comes out and sitting there and playing it for hours and hours and days upon days until they beat it. And that's kind of how I feel with the song, I have to work really hard at it, I'm not like some of these people that write 12 songs a year and 10 become the record. I have to write 20 songs to get two good ones so that's why I write a lot and then the publishing company thing comes in kind of handy because it keeps me writing a lot. I guess it's like any craft that people are drawn to and you just want to keep chasing that white horse because you know there's something better out there.
For me, this record feels like it was crafted not just song-by-song but also as an album. I wonder if when you went into the studio you had a particular idea of what you wanted from this album, beyond just recording the songs?
There is a common thread with seeking a spirituality, you know, closer to whatever the higher power is, and obviously there's a few love songs too. But I guess I just wanted to prove myself, my first record was pretty raw and 'in the moment' and I wanted to do something totally different and I always will. I never want to make the same record twice.
A big part of the sound was the producers (Skylar Wilson and Jordan Lehning) and the band. It was great because they're all my best buds you know and we all just hung out for two weeks and drank and played music which was really fun and to be honest we didn't have a goal of saying something or presenting something exactly but we had something good going on and we just kind of went with it and when all those puzzle pieces are in the right place it works and I'm really proud of what came out of it.
I read a lot about the influence of the Texan songwriter tradition on your music, but are there other, more contemporary, influences?
No one new really. Songwriting wise its Guy Clark, Mickey Newbury and Kris Kristofferson. Mickey Newbury does have some pretty intense arrangements compared to those other guys. Those are like my songwriting heroes and then my parents listened to Jackson Browne and J.D. Souther, Simon and Garfunkel, Paul Simon's solo records and so that's a huge thing for me too. I love that stuff just as much. Their presentation of an album as a whole is very important to me, probably more so than the country songwriters, because they were writing great songs and it didn't necessarily form into one cohesive piece.
Tell me about your lyrics. There is a passage in 'Rainy Day Song' where you talk about only being able to enjoy laughing if you've experienced crying. That's an interesting take on the negative associations of melancholy retrospection. I often read your records being reviewed as melancholy or bleak. Do you see your music that way?
No, I see it as hopeful. That song is about saying thank God for a rainy day, because you can only see the positive if you've felt the negative. The same with 'Pearl', it's trying to find the glimmer of goodness or hope in what other people might see as a dark or dreary situation. I like sad songs, and I always have but I think its important to not just be a total bummer (laughs) and it's important to put stuff in there to make someone think "Why am I sad?" and "What's going to get me out of this?".
You're on tour without the studio band. How does it feel to present this album as one man on one stage?
It feels fine; with the exception of one or two songs in my career I've always written songs so that I could play them by myself. Whether or not the audience would rather have a band or just me is their thing. It's been great this tour with Justin because his audience responds to what I do.
(With time for one last question Bearded explains the concept of Radio 4's Desert Island Discs. A guest chooses a selection of musical pieces, a book and a luxury item that they would deem essential if castaway on a desert island.)
What would be your selections for being castaway in a tour bus around the UK?
Well, with the dreary English weather (laughs) the Bill Fay record, that one self-titled record. That has been really cool because I've been renting a car and driving through the UK. I love Lucinda Williams and there's a Canadian folk-country dude called Doug Paisley who I've been into… Bill Callahan is always great.
I've read three books already and I need to get another one. I read a lot. I don't know what my favourite is right now, maybe Steinbeck's 'East of Eden'. I really love Southern gothic literature, Larry Brown, he died in the 90's, but he is kind of a contemporary of that.
And, a luxury item? Chapstick, gotta have that!