Interview: aave
The Nashville psych rock quartet aave chat about their recent debut LP There's Nothing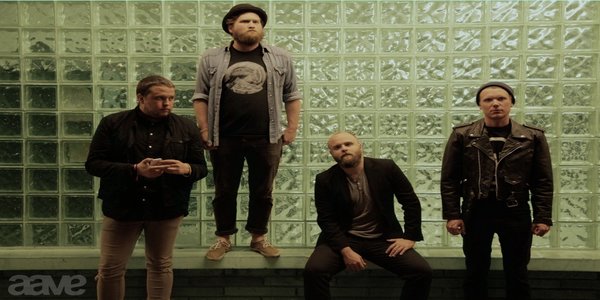 Give
aave
's latest album
There's Nothing
five minutes, and it will assuredly infiltrate your imagination; give it a full listen, you won't be able to put it down.
The Nashville, Tennessee band's dynamic brash record, their first as a full band is a dark horse for best psychedelic rock recording of the year, filled with discrete and spectacular moments of lasting impact. I had the opportunity to talk with guitarist Lloyd and bassist Parrish of the curiously dubbed aave (you'll find out what that means later on, I promise) to discuss the who and what and, most importantly, the why of
There's Nothing
and what might next cross the bar for the quartet.
Bearded: I thought for purveyors of dreamy, spacious psychedelic rock the sound on There's Nothing was pretty dense and robust. Can you discuss how you went about writing and recording the album? Was it with a thicker sound in mind?
Lloyd: The first EP we put out relied a lot more on ambient sounds and electronic elements, for this record we had a new rhythm section in Parrish and Pete. The sound on
There's Nothing
is really just the result of the four of us getting in a room and starting from scratch. I don't think any of us really knew what the finished product would sound like, but it kind of documents our journey of starting a band and just experimenting.
Your site calls There's Nothing a headphone album. Couldn't agree more. Was that the intent going into the studio?
Parrish: We never said to each other, "Let's make a headphones album," but it's definitely how it shaped up. I think it just comes down to us all really liking that genre...the headphone album genre, if there is one...and shooting for that tonal character (plenty of delay and reverb on guitars and vox, fuzz on the bass, raw and roomy drums). I always like that dichotomy between listening to albums out loud and listening in headphones. Each is a totally different experience, and I hope that our record provides some nice ear candy in both environments.
Talk about your earlier EP Sleep To Forget and how it connects and contrasts with There's Nothing
Lloyd:
Sleep to Forget
was an EP that Kyle (vocals) and I created in our basement studio. We would write the songs as we recorded them. It was meant to be just a fun project, but we were so happy with the results we expanded the project into a full band. There's Nothing was a little more of a dedicated process. Each song has several different demos, as we experimented with arrangements and parts. It was truly a four-way collaboration, and it helped Kyle and I expand aave into something new.
In the last few years, your band has expanded. What has that done to the aave sound dynamic?
Lloyd: We added a bassist and drummer to the band, and it not only contributed to tighter rhythms and better groove, but also freed the guitar and vocals up to focus on melody and subtler textures. In my mind, the guitars don't have to carry the weight of the song and can become experimental within the arrangement.
What are your influences?
Parrish: I'm influenced by lots of things musical and otherwise, but when writing for and thinking about aave, I think about a nice round and jangly bass tone (reminiscent of U2 or Nine Inch Nails)...plenty of body, but not too smooth and plenty of bite, but not too distorted; a great cup of coffee (shout-out to Crema here in Nashville for their fine java beans); and places I've travelled before like New York City, Rome, San Francisco, and Sao Paulo...places where the energy of the city is unique to itself and permeates the landscape.
Lloyd: A few of us are visual artists as well, so I think a lot of our inspiration comes from things we see and interact with, not just other music.
What is an aave show like?
Lloyd: We want to make the live show unique, not just us playing the record. We try to always have a visual element present, and we want to make sure we stay engaged during the show. If it doesn't look like the music is making us feel anything, than why should we expect the audience to feel anything.
The first draft of my review misrepresented aave's meaning. Has that ever happened before? Or am I alone?
Lloyd: We have not experienced a lot of misunderstanding of our band's name. The word comes from the Finnish word for "ghost" or "apparition." Our singer's grandfather is from that part of the world, and I gained more than a slight obsession with the city of Helsinki after I visited a few years ago. But really it's not supposed to mean anything, it's just an interesting combination of letters that will hopefully be viewed as unique. Any other meaning is purely coincidental.
I read that aave will open Villain Place as a studio. What was the inspiration behind that new venture?
Lloyd: Villain Place has been open for a while now, offering audio, video, and design for bands. We use that as a way to help out and stay involved with the music community. It's been a lot of fun and we've gotten to meet some really cool artists. We expanded Villain Place into a record label this year, and we released our record and will be releasing some more music through the venture soon. Check it out and get in touch with us
here
, thanks!