Buzz Label: Smoky Carrot Records Interview
With the upcoming release of the Sunbirds EP creating a tangible wave on the internet, Bearded checks in with the label causing the storm. Chatting to esteemed member of the SC crew Roshan Singh, we find out what makes this indie tick...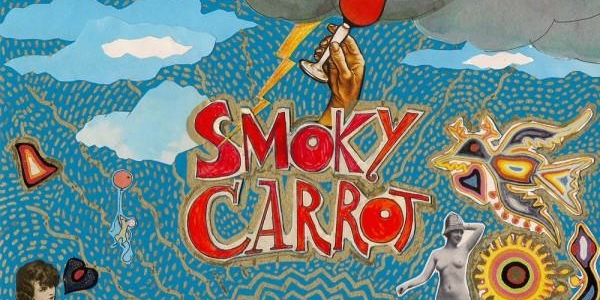 How did the label get started?
Smoky Carrot Records actually started its life as a music PR company. It was founded by music industry lawyer Pete Dyson and artist manager Paul Perrelet and after a year or so I guess they saw that they were being exposed to a lot of great music and the next logical step was to start a label to service their PR clients. The label itself is probably just about a year old, and we are prepping for SCR010, which I think is pretty healthy growth for a small label like ours but we have still managed to remain discerning along the way, there have been a couple of mistakes along the line but that is the nature of the beast really.
The idea was to start a label that really puts the artists at the forefront of the operation, every decision is geared towards helping them along the way and our main objective is for our artists to achieve their goals and be a stepping stone for them in their careers. If they get an amazing offer from a large label we are in no way going to stand in their way, that's exactly what we want.
How would you describe your current roster and the sound you usually go for when looking for new artists?
We really don't want to tie ourselves down to one genre or another, but there definitely seems to be a theme with our current roster. We have Rodeo Massacre who bring a psychedelic bluesy edge to things, and this has shown through in our recent signing Sunbirds who are psychedelic but poppy, so on that level there is definite correlation, and although the two bands are completely different there is a common ground between the two. On the other hand there is an Americana/folk side to our roster which can be seen in The Border Surrender and Spindle and Wit, yet again both are extremely different but the common ground is definitely there.
I think having acts that can sit side by side and give a good coherent indication of the labels music policy is a good thing, but not necessarily the most important thing to look for when searching for new signings. Some labels find this and defiantly service a niche and I guess it comes down to the personal tastes of the guys making the decision, as far as Smoky Carrot Records go, this remains to be seen. It's early days yet, but we definitely keep an open mind and don't specifically look for one sound.
What excites you about the records you have coming? What should we be looking out for?
Where to begin?! This month we have the debut release by Sunbirds coming out, and these guys are bloody brilliant, it is a shoe-gazy psychedelic sound, but one that is really catchy and poppy. It's so layered and intricate that it never gets boring - I think I have listened to this EP over 100 times since we got the masters back - it's simply fantastic and I am expecting big things for these guys. The feedback we are getting is already very encouraging, so definitely keep an eye out for these guys. Actually you can download a free track from sunbirds.co.uk at the moment.
Then we have Spindle and Wit with their debut single 'Way Down The Street', it's a perfect little folk-pop song that while being pretty downbeat in its sentiment, listening to it is so full of optimism that you can't help but smile, tap your foot and hum along. I defy anyone to come to one of their shows and not come out of it feeling uplifted, it marries excellent harmonies with banjos, violins, cellos and a bucket load of fun. They have some big shows coming up at KOKO and Bestival so look out for them there; it is perfect festival music, no lie.
After that, in August sometime we are going to be putting out a new single by The Border Surrender, they have just finished recording some tracks with an amazing producer by the name of Phil Brillo and they are sounding ridiculously good. The last EP we released by these guys was good, but this is just on another level, it's darker and grittier than before but keeps the beautiful harmonies and searing mandolins we are used to from their live show, we are chomping at the bit to get these tracks out there.
Finally to top our summer off we have a single out by Rodeo Massacre, this is a cover of Alice Cooper's 'I'm Eighteen', it is the first cover we have put out, but it sounded so good that we really couldn't say no. I would highly recommend checking Rodeo out live, it is spellbinding, and their guitarist plays guitar and drums, at the same time. I say no more.
What has been your biggest success so far?
This really depends on what you class as a success, because to us it really is the small little victories that make us tick, each time we hear one of our artists on the radio or read a good review we still get giddy with excitement, and to us that is success! But on a bigger scale we put on a label showcase at The Borderline in Soho, which was full to capacity and was really good night for both the label and the guys who played on the night.
The Border Surrender were recently featured on the cover-mount CD of Word magazine, track one no less, which was a really big deal to us, similarly Sunbirds were featured as The Guardian's Band of the Day. This is amazing exposure for the guys and you can tangibly see the buzz on the internet with bloggers picking up on it and Twitter lighting up with activity, it really is exciting to watch.
Ultimately each time someone buys one of our records or downloads one of our tracks I like to think we have succeeded.
How do you source the music you put out?
MySpace is obviously a great source for music, I think it has lost its edge as a social networking platform but for discovering music it really still holds its own. Also there is a lot of serendipity in doing this, obviously spending a lot of time at gigs and with bands you get exposed to a lot of new music and it's a great way to source new signings and I think we have made most if not all of our signings this way.
Is there any artist you wish you'd put out or nearly did but didn't?
There are plenty of acts out there that I wish I had signed, the lovely folks at Communion records have an act called Matthew and The Atlas, who are sublime, and I would have loved to work with those guys. There was this artist from Minnesota called Jeremy Messersmith who we were talking to for a while, and I was actually quite heavily invested in this one as I am a big fan of his and we were on the cusp of getting him over to tour and release a record, but it broke down somewhere along the way.
On the whole, I don't think as a label we have any regrets at all, there has been no real tales of near misses or could have been's. We have been pretty lucky and managed to work with most of the artists that we wanted to.
What, for the artists, is the best thing about being on an independent label?
With a smaller label it really is about the artist, and every small label says that, and they say it because it is true. That is our competitive advantage, we work with the artists when they are starting out, and we have the patience to nurse them through any insecurity that they may have. We also do not impose anything on them, at Smoky Carrot we make sure that our artists are involved with our process, that they are personally happy with everything that we do. There are a few stories that do the rounds about indies that find some success or some money and try to operate like a bigger record label, messing with their artists, disputing over contracts and so on, and it generally ends badly for the artist, which really is just counterproductive.
An independent label also offers artists the chance to establish grass roots fans, which is massively important these days, you hear stories about artists that get signed up by big labels, get churned round the A&R process for three years and then get dropped, three years older with an album they can't release and no core fanbase. An independent label will give you the chance to find your true core audience and develop it to the point where it is self-sustaining which opens doors to try and take it to another level safe in the knowledge you have done enough work honing your sound and building a following to fall back on. Also let's be honest, meetings are more fun when held in the beer garden of a pub than in a boardroom somewhere.
What, in terms of the music industry, has been the best invention in the last 50 years?
The internet, no doubt about that. Obviously piracy has all but killed off the major labels, but this is due to their unwillingness to adopt and nothing to do with the internet itself. For labels like ours it has basically meant that we can be fully operational, we are now our own press office, our own shop, we have an A&R network at our fingertips. No longer do we have to rely on word of mouth to hear about the next big thing, we get it real time via Twitter. Services like Spotify and Youtube have basically given us our own radio channels and MTV, all of the things that made music successful in the 80's are available to everyone. The music industry has been democratised, obviously this means that there is some real garbage out there as the A&R men of yesteryear are no longer our buffer, but we now have other methods in the form of blogs and online tastemakers, a quick look on a band's MySpace will tell you in three minutes if you are into them or not.
What does a typical day entail for you?
Everyone involved with Smoky Carrot actually works a day job to pay the bills. Like many in our position this is our passion but it does not pay hugely well, all our money goes back into the label to fund future releases, and there is no way we would do this if we didn't love every second of it.
A typical day would start with the alarm at 7am ruining what was probably the best sleep of my life, full day at work during which obviously some label stuff occurs, emails will be answered etc…Come 6 o'clock it's on the bus home, replying to more emails on the way, or to a meeting or gig, depending what we have on. Once home I guess it's dinner time, and then on the laptop getting work done, be it writing press releases, doing the actual PR or listening to bands etc... It's not really the most glamorous of operations, but it really is fun, I guess it is a bit strange not having much free time, but in all honesty, what would I be doing in my free time - sitting on the sofa watching Grand Designs and checking Facebook intermittently?
What format do you prefer for releasing music and where do you see format wars going in the future?
We set out as a digital and vinyl only label and to date we have stuck to this, you really can't ignore the lure of digital, granted it has its flaws but it's pretty much a free way for a label to get music out there and also a great way to keep the money rolling in. We love the feeling of a record in our hands, which is why we chose to release on vinyl, it's tactile and the sound adds a warmth even to modern recordings and we all buy most of our music on vinyl. We are looking into getting CDs made, we have seen some amazingly packaged CDs recently that have really turned our heads so that may be something popping up in the future.
Personally I buy all my music on vinyl, and then download the albums for my iPod, increasingly labels like Jagjaguwar are including a download code with the vinyl, which is amazing and really makes sense!
Digital is not going away, I think that is going to be the format for quite some time now, but I think the question will come down to how important ownership of music becomes. Services like Spotify really could become the normal way for us to consume music, I have found that the majority of the time I put music on it is Spotify (currently trawling through Ed Harcourt's back catalogue - somewhat dodgy territory) and it really offers a great choice but it comes at the expense of ownership of the music so we will have to see about that one.
And finally, a major label offers you a fancy job title and a matching salary, do you take it?
I would love to categorically say NO, but it really does depend on the details. I don't buy into this notion that major labels are inherently evil, they are corporations and run as such, I have experience working at a major and it wasn't totally soulless, in fact I met some incredibly passionate people there. If I could carry on working with Smoky Carrot and explore other avenues and projects on an extra curricular level then I would probably consider it, but if it was a straight swap, Smoky Carrot Records for a major, I would definitely say no, that one is a no brainer.