Bearded's Guide To… Oxford
Guest contributor Alex Kealy lets us in on what's going down in Oxford.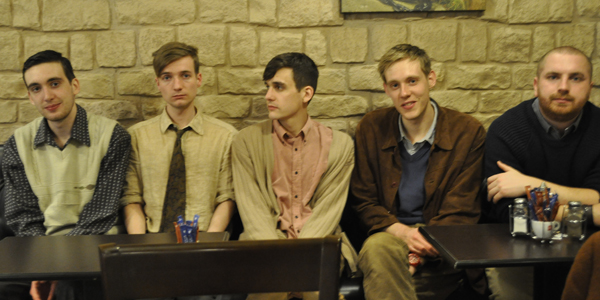 Writing a guide to a region's music scene can be an even faster way to make enemies than telling your gran that you don't give a monkey's about the royal wedding. However, while idealistic republicanism might merely ruin a Christmas dinner, telling a town's residents what their scene is can alienate you from swathes of fans if you miss off a pet band. So, y'know, apologies in advance for my tastes not running the full gamut from nu-metal to nu-folk. Hey, as long as it's 'nu', though, right…?
That spineless pre-apology stems from the furore that surrounded
THIS
, where the NME waded in to
Oxford's
gig culture and promptly had their hands bitten off by the foam-flecked fanatics of Oxford gigging. This was a pity, as it highlighted some cool bands, particularly the folk-tinged indie-bop of
Jonquil
, but constructive musical appreciation of upcoming bands descended into a gruelling slogging match.
Still, there is a lot to Oxford's music scene. Sure, there's the obligatory
O2 Academy
where you have to conjure Mephistopheles up for a Faustian pact just to afford a pint. There's also the gaggle of achingly cool kidlets who typically hail from the university and wear far more wool than befits a non-ovine species, but don't worry; there's a good chance these banjo-wielders won't invite you anyway. There's a happy medium between the corporate and the commune, though, and it's generally to be found in venues like
The Wheatsheaf
, and
The Jericho Tavern
(a pub that's seen the first gigs of many of Oxford's finest).
Bands working this circuit include named-for-Inspector-Morse trio
Dead Jerichos
, who push a pop-punk sound that sees the rhythm section of the Arctic Monkeys married to some complex, and reverb heavy, guitar work reminiscent of more famous fellow Oxford alumini – and Mercury nominees – Foals. Also grafting away are the likes of
Phantom Theory
, who peddle pleasingly muscular riffs, and
Gunning For Tamar
, whose looping opus 'Norse Blood' kicks seven shades of shit-bat awesome out of its math/post-rock rivals. These two released a split together towards the end of 2010 and it's well worth checking out.
You can also catch Gunning for Tamar on April 7th at
The Bullingdon Arms
(ignore the name – no fancy uniforms or gratuitous destruction for daddy to pay for here) supporting
Spring Offensive
, who will be launching their new single. Spring Offensive have been making waves of late with their brand of intelligent lyrics, angular sound and intricate riffs. Their debut mini-album (self-released last March) contained tales of mathematicians gone mad and relationships vitriolically cast aside, and album highlight 'Every Coin' sees frontman Lucas Whitworth tell a harrowing story of a man force-fed the contents of his wallet supported by a powerful musical crescendo. They also released a free single in the summer, 'The First of Many Dreams About Monsters'; it's a 14 minute, five part epic based on the five stages of grief. It's understandably, er, heavy but wonderful. 2011 will see them continue to release fantastic music in an innovative fashion: Valentine's Day heralded a pay-what-you-like acoustic EP. They've been compared to - sadly now-defunct - progressive Oxford outfit Youthmovies but really a more apt comparison would be Danish math-pop group Mimas, who are also worth a listen.
Other excitement in the area will likely stem from events promoters
YMD!
, who help with the organisation for many of the music festivals in the area including the superb
Truck Festival
, headlined last year by the brilliant Danish math-poppers (yup, it's a very common genre dontchaknow) Mew. There'll also be a new album from
The Young Knives
at the beginning of April, and
Fixers
seem set to make it big with their ridiculously catchy indie-pop (cf. 'Iron Deer Dream'). There's your snapshot and I hope I haven't missed anything important, otherwise I'll never become head of radio at the BBC. Ha.