Bearded's Guide To… Norwich
This week Glen Westall takes a look at an emerging talent from Norwich...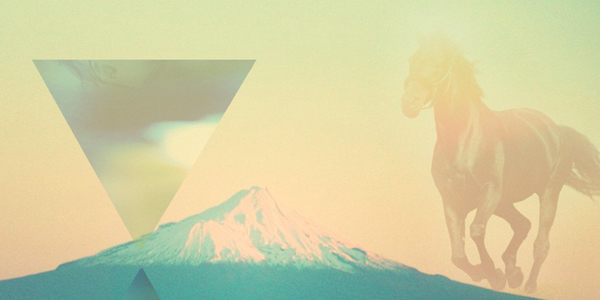 On Saturday 23rd April, minimal electronicists
Mount Kimbie
used
Norwich Arts Centre (NAC)
to show the city why they've made an international name for themselves. Also on the bill that night were two other bands: New York witch house duo
Creep
, who's stunning visuals outshone the fair to middling music, and local producer Jamie Robson AKA
Magic Panda
. Despite being first up, Magic Panda set an incredibly high benchmark with epic tracks that combined glitchy melodies, piano lines and bass that you could drown in, all tied together by the NAC's great acoustics. Though no pandas were present on stage (sadly), the first half of Jamie's moniker is a more than apt description of his music. It is not your average club floor filler.
Listening to Magic Panda's layered and driving sound, it comes as no surprise that Jamie has a diverse taste in music himself. "My musical background is very much alternative rock (Sonic Youth, Sebadoh, Pixies, Pavement, etc)," he says, "although I've always had an interest in the more experimental, less generic elements of dance music. I was blown away (and continue to be blown away) by DJ Shadow's
Entroducing
and also anything by Fourtet and Aphex Twin and it is these three artists that got me really interested in producing my own electronic music and continue to influence my music. I also got really into artists like Mum, Bjork, The Postal Service. Portishead, Thom Yorke and The Notwist, who were all using electronics in really exciting and pioneering ways. All of these have influenced what I do. More recently, I've really been getting into Border Community artists such as Nathan Fake, Luke Abbott and James Holden."
Taking these influences - the cinema of DJ Shadow, the finely chopped samples of Aphex Twin, the urgency of Sonic Youth - Magic Panda released its first official EP, the two track
The Glass Mountain
, digitally on April 28th via
Maripoza
. Yet, despite this being Magic Panda's first public milestone, it is in fact the culmination of many years experimenting. Originally a bassist for rock band Ghostrider, Jamie began utilising electronics out of curiosity for the medium and as a hobby aside from Ghostrider. This interest grew with time, however, and once the members of Ghostrider went their separate ways it became Jamie's primary concern. "I really missed the live experience of being in a band," he explains, "so was determined to get my electronic music on to the stage."
And he has done with great success. Believing that music is first and foremost a live experience, Magic Panda launched its music onto unsuspecting Norwich gig goers at the start of 2010 and has since gained support slots with DMX Crew and of course Mount Kimbie. Playing throughout the city, Magic Panda is fast becoming part of the city's audial fabric.
But what of Jamie's own opinion on fellow local movers, shakers and music makers? "There is certainly lots of really great stuff happening at the moment. It's great to see Norfolk electronic musicians like Nathan Fake, Luke Abbott and Luke's Anger experiencing international success. It's also great that Spectro have started hosting big name electronica acts such as Kelpe and Mount Kimbie as well as giving opportunities to local acts (like myself). They are proving that there's a big audience locally for this type of music and I hope it continues to grow at other venues as well. My favourite local band at the moment is
Sargasso Trio
- their songs are just so hauntingly beautiful."
At April's NAC show, free copies of Magic Panda's self-released and self-titled CD was up for grabs. There are three tracks on this: 'The Glass Mountain', 'Akasha' and 'Dream Theory'. The recent digital release contains two of these tracks – 'The Glass Mountain' and 'Dream Theory' - in a remastered format and is currently available from Amazon, iTunes, Juno Download and Maripoza's own website. The original versions of these two songs along with several others, including the delicious 'Beyond the Burning Horizon' that kicked off the night at NAC, can be found at Magic Panda's Soundcloud and Facebook pages.
What is next on the cards for Magic Panda? More music of course! "I just want to continue making and releasing music that I am passionate about. I'd also like to continue to develop my live set and will hopefully be playing at a couple of small festivals in Europe this summer (though this is currently to be confirmed)." Apart from this, Jamie is also involved with another unique project:
Norwich Face Transplant
, an electronic punk poetry group for which he provides music to accompany the rantings of former Aisle 16 member Archie MacJoyce. "We have songs about such eminent figures as Byron, Ghandi, and Terry Wogan, oh and a ballad about bum-waxing as well. It's occasionally silly and occasionally profound." Intriguing.
Having had a great start and coming so far in just a year, and with so much more scope to develop, Magic Panda looks determined in casting its spells locally, nationally and internationally. Good luck to him.
Oh, and one last thing. The name? "It stems from a song I was working on a while back. It had a mystical fairy tale feel to it and I wanted to find a name that reflected this. After a bit of research into Japanese and Chinese fairy tales I couldn't find anything quite right so I came up with my own - The Curse of the Magic Panda. Then I realised the name didn't just fit the song but a lot of the other music I was making at the time, so the track was renamed 'The Glass Mountain' (this became the title track of my first EP) and renamed myself from mbutterfly to Magic Panda. I was gutted to find out that there was a whole spate of other similar minded electronica musicians working under the Panda moniker - Gold Panda, Panda Bear, Panda Valium etc but by this point I had already grown very accustomed to the name so made an executive decision to persevere with it, for better or for worse."